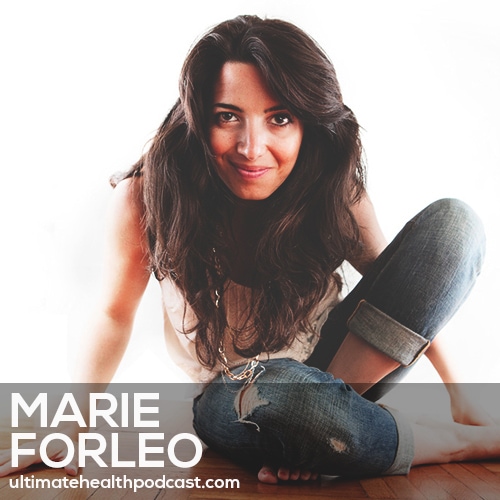 Marie Forleo's mission is to help you realize your greatest potential and use your gifts to change the world.
She's the creator of the award-winning show MarieTV, founder of B-School, and has been featured in Entrepreneur magazine and Fast Company, among others. Marie was named by Oprah as a thought leader for the next generation.
MarieForleo.com is one of Forbes.com's Top 100 Websites for Entrepreneurs.
In this episode, we discuss:
Marie's Mom taught her to trust her intuition
The voice in your head isn't really you
Overcoming imposter syndrome
Action is the antidote to fear
Marie's network… her team, her man (Josh), and her friends
Don't let perfectionism slow you down – done is better than perfect
Living a busy life can keep you productive
Managing multiple passions/multi-passionate entrepreneurship
You don't have to monetize everything your interested in
Continuing to break through plateaus… in business and in life
Allow yourself to play and creativity will flow
It's imperative that entrepreneurs schedule in vacations and downtime
Maintaining balance when it comes to social media
Create before you consume
Meditation… Marie's daily practice
Most people underestimate what exercise does for their productivity and creativity and overestimate what it does for reshaping their body
What does Marie's diet look like?
If you don't take the time to decide what's most important for you the world will decide for you
Marie's morning routine
Show sponsors:
Sunwarrior <== 20% off all Sunwarrior products & free shipping over $50 (US only)
CoreChair <== 15% off your CoreChair purchase by using the code tuhpcc at checkout (free shipping in North America)
Related links:
Marie Forleo's Website (MarieTV)
Follow Marie Forleo on Facebook, Instagram, and Twitter
Marie Forleo's B-School
Marie's free guided meditation – Right Click (PC) or Control Click (MAC) on the link to download
Marie Forleo – Make Every Man Want You (book)
Moment app (iOS) – screen time tracker
Deepak Chopra – The Seven Spiritual Laws of Success (book)
Listen to Deepak Chopra previously on TUHP (episode #141)
SoulCycle
Pop Physique
Dr. John Ratey – Spark (book)
Related episodes:
313: Chase Jarvis – Creativity Is A Habit (Not A Skill) Available To Everyone
306: Haemin Sunim – Let Go Of Perfectionism, Combat Depression, Take Things Slowly
296: Dr. Joe Dispenza – Becoming Supernatural, Reprogram Your Mind, Trust Your Intuition
274: Ryder Carroll – The Bullet Journal Method • Declutter Your Mind • Avoid The Perfectionism Trap
215: Robyn Youkilis – Thin From Within • Hot Button Foods • Let Your Intuition Guide You
Note: Some of the links above are affiliate links. Making a purchase through these links won't cost you anything but we will receive a small commission. This is an easy, free way of supporting the podcast. Thank you!
How can you support our podcast?
1. Apple users, please subscribe and review our show on Apple Podcasts, we make sure to read them all. Android users, be sure to subscribe to our show on Google Podcasts. Subscribers never miss any of the action 😉
2. Tell a friend about The Ultimate Health Podcast. They will surely thank you later. You can use the envelope button below to email a friend or tell them about TUHP in person.
3. Join TUHP Facebook community (FREE). This is where we all stay in touch and ask questions in between episodes. Join our community.
4. Follow our adventures on our favourite social media platform, Instagram.
5. Download The Ultimate Health Podcast app (FREE). This way you'll have our whole library of episodes right at your fingertips. Download our iOS/Apple app or our Android app.
6. Share using the buttons below.
Thank you!