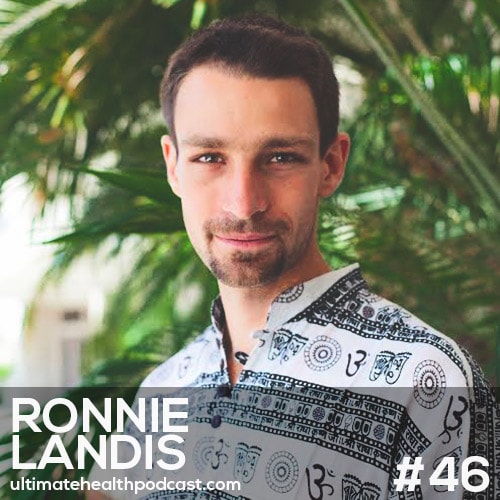 On this week's episode, we are speaking with raw food + superfood expert, Ronnie Landis. He is an author and professional speaker who also specializes in elixirs, tonic herbalism, and functional nutrition.
In early 2014 Ronnie released his first book, The Life Food Peak Performance System. He is about to release a new book to the world, The Inner Alchemy Youthening Program.
Enjoy our in depth conversation.
In this episode, we discuss:
Ronnie's stellar morning routine
Being stressed is draining your adrenals
Adrenal burnout can lead to thyroid issues
Is a virus at the root of your chronic fatigue syndrome?
Constipation and digestive issues could be a sign of too much stress
Cordyceps mushroom is great for the adrenals, endurance & sports performance
Fats are like a log on a fire, carbs are like paper
Ronnie's morning elixir recipe
Salting up your tonics, smoothies, and water with sea salt
Including caffeine in a healthy way
The most caffeinated plant in the world
Mycotoxins in coffee
Stimulants should be used as a delivery system
Calcium supplement don't work
Cacao is the #1 food source of magnesium
Chlorella contains more chlorophyll than any other food on the planet (trumps wheatgrass)
Silica, the beauty mineral
Dissolve bad calcium with MSM
Ronnie's dietary evolution, over the years
The power of liquid nutrition
Taking the middle path in life, whenever possible
Forgiveness and its role in your healthy life
Related Links:
Ronnie Landis' website
Ronnie Landis – The Inner Alchemy Youthening Program (book)
Holistic Health Mastery
Follow Ronnie Landis on Facebook, Instagram, and YouTube
Listen to Dr. Joel Kahn previously on TUHP (episode #018)
Jonny Kest – Center for Yoga
Mushroom Science
Jing Herbs
Yerba mate tea
Guayusa tea
Richard Evans Schultes – Plant of The Gods (book)
David R. Hawkins M.D. Ph.D. – Power vs. Force (book)
Spring Dragon Longevity Tea
Corentin Louis Kervran
Natural Vitality – Natural Calm
Daniel Vitalis
Dr. Roy Dittmann – Brighton Baby (book)
Related episodes:
278: Robin Sharma – The 5 AM Club • Mastery Is A Process • The Power Of Solitude
015: Tero Isokauppila – Balance Your Hormones And Immune System With Superfood Mushrooms
080: Josh Gitalis – Getting To The Root Of Depression & Anxiety | Protect Your Adrenals With Adaptogenic Herbs | Synthetic vs. Whole Food Supplements
256: Dr. Datis Kharrazian – Why Do I Still Have Thyroid Symptoms? • Understanding Iodine • Vitamin D & Autoimmunity
180: Julie Daniluk – Performance Enhancement • Your Adrenals Love Sea Salt • Stimulants vs. Adaptogens
Note: Some of the links above are affiliate links. Making a purchase through these links won't cost you anything but we will receive a small commission. This is an easy, free way of supporting the podcast. Thank you!
How can you support our podcast?
1. Apple users, please subscribe and review our show on Apple Podcasts, we make sure to read them all. Android users, be sure to subscribe to our show on Google Podcasts. Subscribers never miss any of the action 😉
2. Tell a friend about The Ultimate Health Podcast. They will surely thank you later. You can use the envelope button below to email a friend or tell them about TUHP in person.
3. Join TUHP Facebook community (FREE). This is where we all stay in touch and ask questions in between episodes. Join our community.
4. Follow our adventures on our favourite social media platform, Instagram.
5. Download The Ultimate Health Podcast app (FREE). This way you'll have our whole library of episodes right at your fingertips. Download our iOS/Apple app or our Android app.
6. Share using the buttons below.
Thank you!