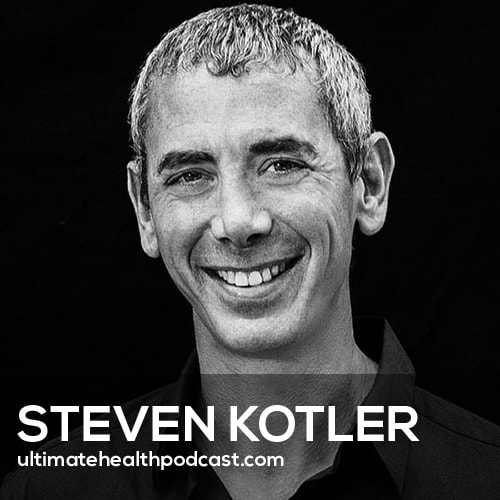 Steven Kotler (IG: @kotler.steven) is one of the world's leading experts on peak performance. He's an author, an award-winning journalist, and the founder and executive director of the Flow Research Collective.
Steven has written the national bestsellers The Future Is Faster Than You Think, The Rise of Superman, Stealing Fire, Abundance, and Bold.
His work has been nominated for two Pulitzer Prizes, has been translated into more than forty languages, and has appeared in more than one hundred publications, including The New York Times, The Atlantic, The Wall Street Journal, Forbes, WIRED, and TIME.
Today we're discussing Steven's new book, The Art of Impossible. The core message of his book – We are capable of so much more than we know.
Watch the full video version of this conversation below.
In this episode, we discuss:
The crossover between magic and neuroscience
Facing fear is a lesson in peak performance
Neuroscience and action sports were catching everybody's attention in the 1990s
Flow is optimal performance
Flow states have triggers
How the Flow Research Collective began
Steven recalls the first time he was in flow
The highlights of our life tend to be flow states
Steven's battle with Lyme disease
Steven shares a near mystical experience he had while surfing
Heightened creativity shows up in flow
What is a collective flow state?
Great collaboration is a shared state of consciousness
The art of impossible starts with motivation
Flow resets the nervous system
Reboot your primary flow activity
The basics of positive psychology
If you want to perform at your best, you need social support
Anxiety blocks peak performance
The three best tools to calm yourself down
People who practice gratitude are more prone to flow
Steven's thoughts on caffeine, supplements, and nootropics in relation to flow
Building a biophysical based flow detector
Flow is better than psychedelics for creativity
Psychedelics outperform flow for spiritual experiences and trauma work
Flow in animals
Steven and his wife run a dog sanctuary
The difference between intuition and insight
The experience of writing fiction vs. nonfiction
Book are the most condensed knowledge form available
Steven's current health status
When the impossible becomes possible
Show sponsors:
BLUblox <== 15% off the world's most advanced blue light glasses
Organifi <== 20% off all Organifi products
Paleovalley <== 15% off all Paleovalley products by using the code ultimatehealth at checkout
Garden of Life <== Try Garden of Life's Grass-Fed Collagen Peptides
Related links:
Steven Kotler – The Art of Impossible (book)
Steven Kotler's website
Flow Research Collective
Follow Steven Kotler on Facebook, Instagram, and Twitter
Steven Kotler – The Rise of Superman (book)
Steven Kotler – Abundance (book)
Steven Kotler – Tomorrowland (book)
Steven Kotler – A Small Furry Prayer (book)
E.E. Cummings (books)
Samuel Beckett (books)
Laird Hamilton
Listen to Laird Hamilton previously on TUHP (episode #323)
Andrew Hesssel
The Human Genome Project
Herb Benson – The Breakout Principle (books)
Burning Man
passionrecipe.com
Martin Seligman (books)
Mihaly Czikszentmihalyi (books)
Robin Carhart Harris
Tim Ferriss (books)
Roland Griffiths – Johns Hopkins Center on Psychedelic and Consciousness Research
Charles Yu – How to Live Safely in a Science Fictional Universe (book)
Rancho de Chihuahua
Related episodes:
382: Dr. Pedram Shojai – Becoming A Taoist Monk, Meditation Is the Ultimate Drug, Managing Your Life Garden
381: Dr. Dan Siegel – The Mind Is Broader Than The Brain
375: James Sebastiano – Chasing The Present
368: Jordan Younger Albrecht – Healing From Lyme Disease, Eating Vegan (Again), Psychedelic Transformations
361: Dr. Alejandro Junger – Living In A Higher State Of Consciousness
Steven Kotler photo credit: Ryan Heffernan
Note: Some of the links above are affiliate links. Making a purchase through these links won't cost you anything but we will receive a small commission. This is an easy, free way of supporting the podcast. Thank you!
How can you support our podcast?
1. Apple users, please subscribe and review our show on Apple Podcasts, we make sure to read them all. Android users, be sure to subscribe to our show on Google Podcasts. Subscribers never miss any of the action 😉
2. Tell a friend about The Ultimate Health Podcast. They will surely thank you later. You can use the envelope button below to email a friend or tell them about TUHP in person.
3. Join TUHP Facebook community (FREE). This is where we all stay in touch and ask questions in between episodes. Join our community.
4. Follow our adventures on our favourite social media platform, Instagram.
5. Download The Ultimate Health Podcast app (FREE). This way you'll have our whole library of episodes right at your fingertips. Download our iOS/Apple app or our Android app.
6. Share using the buttons below.
Thank you!