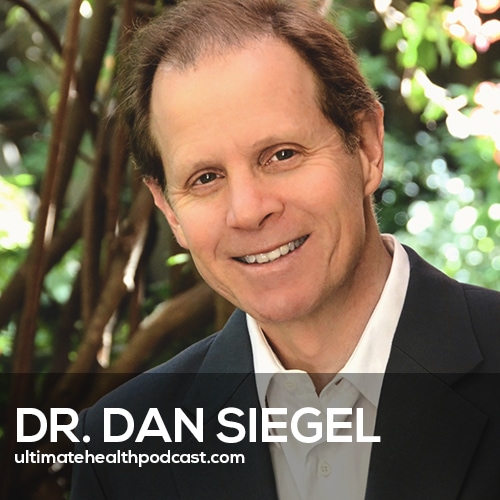 Dr. Dan Siegel (IG: @drdansiegel) is a clinical professor of psychiatry at the UCLA School of Medicine and the founding co-director of the Mindful Awareness Research Center at UCLA. He is also the Executive Director of the Mindsight Institute which focuses on the development of mindsight and teaches insight, empathy, and integration in individuals, families and communities.
Dan has published extensively for both professional and lay audiences. He has five New York Times bestselling books.
(Subscribe in Apple Podcasts)
(Subscribe in Google Podcasts)
In this episode, we discuss:
How Dan became fascinated with the mind
What is mindsight?
Applying mindsight to medical training
When you shut off your mindsight circuits, you shut off your empathy
The 5 parts to empathy
Active versus passive compassion
What leads to empathy fatigue?
The connection between the mind and the brain
What is interpersonal neurobiology?
The mind is broader than the brain and bigger than the body
The brain in your head is the third brain
Me + We = MWe
The 9 domains of integration aka The Wheel of Awareness
The best predictor of health, happiness & longevity is your relationships
How to live a more integrative life
Building inner resilience
Show sponsors:
Sunwarrior <== 20% off all Sunwarrior products (free shipping on orders over $50)
Organifi <== 20% off all Organifi products
Beekeeper's Naturals <== 15% off all Beekeeper's Naturals products (free shipping on orders $60 or more)
Paleovalley <== 15% off all Paleovalley products by using the code ultimatehealth at checkout
Related links:
Dr. Dan Siegel – Aware (book)
Dr. Dan Siegel's website
Follow Dr. Dan Siegel on Facebook, Instagram, and Twitter
Mindsight Institute
Dr. Dan Siegel – Mindsight (book)
Dr. Dan Siegel (books)
Hippocrates
William James (books)
David Hubel (books)
Edward O. Wilson – Consilience (book)
Antonio Damasio (books)
Susan Harter – The Construction Of The Self (book)
Related episodes:
374: Dr. Jud Brewer – The Craving Mind, Finding Joy In Meditation, Overcoming Addictions
356: Sayer Ji – Unlocking Your Body's Radical Resilience
321: Neil Pasricha – You Are Awesome, Intentional Living, Becoming Anti-Fragile
296: Dr. Joe Dispenza – Becoming Supernatural, Reprogram Your Mind, Trust Your Intuition
240: Bruce Lipton – The Honeymoon Effect • Conscious Parenting • You Have 2 Minds
Note: Some of the links above are affiliate links. Making a purchase through these links won't cost you anything but we will receive a small commission. This is an easy, free way of supporting the podcast. Thank you!
How can you support our podcast?
1. Apple users, please subscribe and review our show on Apple Podcasts, we make sure to read them all. Android users, be sure to subscribe to our show on Google Podcasts. Subscribers never miss any of the action 😉
2. Tell a friend about The Ultimate Health Podcast. They will surely thank you later. You can use the envelope button below to email a friend or tell them about TUHP in person.
3. Join TUHP Facebook community (FREE). This is where we all stay in touch and ask questions in between episodes. Join our community.
4. Follow our adventures on our favourite social media platform, Instagram.
5. Download The Ultimate Health Podcast app (FREE). This way you'll have our whole library of episodes right at your fingertips. Download our iOS/Apple app or our Android app.
6. Share using the buttons below.
Thank you!