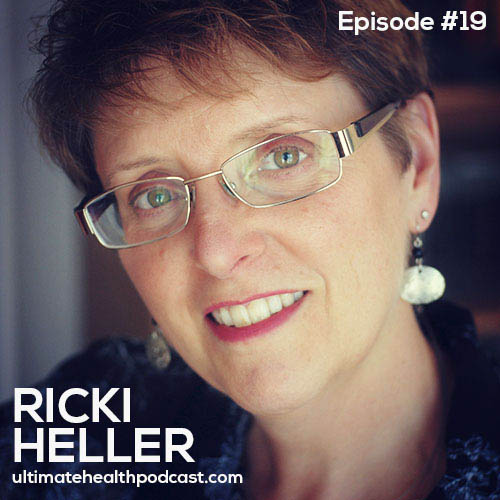 On today's show, we are speaking with Ricki Heller, a natural health expert who promotes a plant-based diet. She has a strong focus on candida and just released a new book titled Living Candida-Free. During the interview she really distills down her vast knowledge on candida and explains how to keep your level in check.
In this episode, we discuss:
Ricki's health journey & struggle with candida
What is candida?
Sugar, birth control, antibiotics, stress and other causes candida overgrowth
Common symptoms of an overgrowth
How to check for candida at home (for free)
Stevia and xylitol are safe for people on an anti-candida diet
It's possible to reverse low bone density through diet and supplementation
The one supplement everyone on a plant-based diet needs to take
Coconut oil can kill candida
It's possible to live a normal life with candida
Related Links:
Ricki Heller – Living Candida-Free (book)
Ricki Heller's website
Follow Ricki Heller on Facebook, Instagram, and Twitter
TUHP 017: Sugar Addiction, Say Goodbye To Aspartame, Balance Your Blood Sugar
Elaine Gottschall – Breaking the Vicious Cycle (book)
Coconut Brittle (recipe)
Andrea Nakayama
Ellen Abraham – Simple Treats (book)
Ricki Heller – Naturally Sweet & Gluten-Free (book)
Ricki Heller – Sweet Freedom (book)
Related Shows:
029: Andrea Nakayama – Health Starts In The Gut | Top 3 Inflammatory Foods | The Perfect Poop
089: Dr. Josh Axe – Eat Dirt • Leaky Gut Is The Root Cause Of All Disease • Soil-Based Organisms
248: Evan Brand – Parasites, H. pylori, & Candida • Cavitation Surgery • Addressing Mental Health
258: Samantha Gladish – Healing Hashimoto's • Coming Off The Pill • Tracking Your Cycle
045: Kim & Amy Sedgwick – Red Tent Sisters | It's Time To Say Goodbye To The Pill | Naturally Boost Your Fertility
Note: Some of the links above are affiliate links. Making a purchase through these links won't cost you anything but we will receive a small commission. This is an easy, free way of supporting the podcast. Thank you!
How can you support our podcast?


1. Apple users, please subscribe and review our show on Apple Podcasts, we make sure to read them all. Android users, be sure to subscribe to our show on Google Podcasts. Subscribers never miss any of the action ;)


2. Tell a friend about The Ultimate Health Podcast. They will surely thank you later. You can use the envelope button below to email a friend or tell them about TUHP in person.


3. Join TUHP Facebook community (FREE). This is where we all stay in touch and ask questions in between episodes. Join our community.
4. Follow our adventures on our favourite social media platform, Instagram.


5. Download The Ultimate Health Podcast app (FREE). This way you'll have our whole library of episodes right at your fingertips. Download our iOS/Apple app or our Android app.
6. Share using the buttons below.
Thank you!