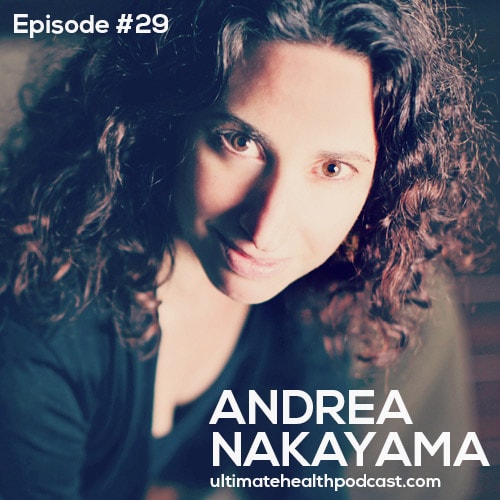 Today we are speaking with functional nutritionist, Andrea Nakayama. Through the power of the internet, Andrea has worked with thousands of clients from around the globe.
She emphasizes that we must look for the root of the condition and there is no one-size-fits-all approach, as we are all unique.
She is an expert when it comes to whole food nutrition, autoimmune conditions, inflammation and gut health.
In this episode, we discuss:
Andrea's journey to becoming a leader in the current health movement
Andrea's Hashimoto's diagnosis and how she manages it naturally
The 3 components of all autoimmune conditions (genetic predisposition, leaky gut & gut microbiota imbalance)
Autoimmune conditions aren't cured but are managed
Functional medicine gets to the root of the condition
We are all genetically diverse
The top 3 inflammatory foods – gluten, refined sugar & dairy
Quality matters… when it comes to all foods
Are eggs considered a health food?
Health starts in the gut
The digestive system is like a donut
We are not what we eat but what we assimilate
A protocol for repairing the gut
The best probiotic supplement
How to test your probiotic supplements, at home
Food first, supplements second
The perfect poop
The four signature supplements most people need
The iodine controversy
Getting the proper balance of omega-3 to omega-6 EFAs
Cold drinks can impede our digestive fires
Digestion starts well before the food enters your mouth
Andrea's morning and evening routines
Sleep is critical for thriving health
Andrea's elixir ingredients
Related Links:
Holistic Nutrition Lab – Andrea's website
Replenish pdx website
Food Mood Poop Journal
Follow Andrea Nakayama on Facebook, Twitter, and YouTube
Dr. Mark Hyman
Dr. David Perlmutter
MindBodyGreen
Native Forest (product)
Natural Value (products)
GutPro probiotic
Klaire Labs probiotics
026: We Love Fermented Foods! (minicast)
Eden Foods (products)
Squatty Potty
Bristol Stool Scale
Vital Nutrients fish oil (supplements)
Ascenta NutraVege Plant Sourced Omega 3
Dragon Herbs
Ricki Heller
Ricki Heller & Andrea Nakayama – Living Candida-Free (book)
Related episodes:
214: Dr. Mark Hyman – What The Heck Should I Eat? • Ketogenic Diet Hype • Meat As A Condiment
084: Dr. Mark Hyman – Saturated Fat Isn't The Enemy | Eat Fat, Get Thin | Stop Fearing Cholesterol
074: Dr. Mark Hyman – Create An Emergency Food Pack | The Pegan Diet | Sugar Is The New Fat
273: Dr. David Perlmutter – Grain Brain • Cholesterol Is Your Friend • What Is Keto Cycling?
019: Ricki Heller – Managing Candida Overgrowth, Safe Sweeteners, Self Testing At Home
Note: Some of the links above are affiliate links. Making a purchase through these links won't cost you anything but we will receive a small commission. This is an easy, free way of supporting the podcast. Thank you!
How can you support our podcast?
1. Apple users, please subscribe and review our show on Apple Podcasts, we make sure to read them all. Android users, be sure to subscribe to our show on Google Podcasts. Subscribers never miss any of the action 😉
2. Tell a friend about The Ultimate Health Podcast. They will surely thank you later. You can use the envelope button below to email a friend or tell them about TUHP in person.
3. Join TUHP Facebook community (FREE). This is where we all stay in touch and ask questions in between episodes. Join our community.
4. Follow our adventures on our favourite social media platform, Instagram.
5. Download The Ultimate Health Podcast app (FREE). This way you'll have our whole library of episodes right at your fingertips. Download our iOS/Apple app or our Android app.
6. Share using the buttons below.
Thank you!