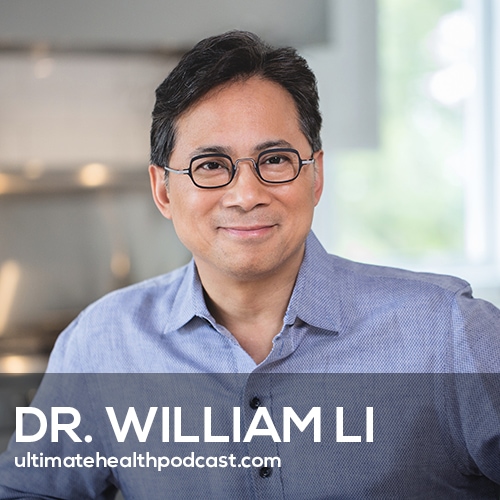 Dr. William Li (IG: @drwilliamli) is a physician, scientist, president & medical director of the Angiogenesis Foundation, and author of Eat to Beat Disease: The New Science of How Your Body Can Heal Itself.
Our conversation explains how to integrate the foods you already love to fight cancer, autoimmune disease, and other debilitating conditions.
Watch the full video version of this conversation below.
In this episode, we discuss:
What is ​​angiogenesis + why is it important?
We all get microscopic cancers forming in our bodies
Food is medicine
Eating dietary fiber during immunotherapy improves cancer survival rate
How to build a healthy gut microbiome
Grand slammer foods that activate all 5 health defense systems
Consuming lycopene from tomatoes is anti-angiogenic
Dr. Li focuses on foods that have shown human benefits through science
Soy does not cause breast cancer + why it's actually beneficial
Men shouldn't fear soy
Foods that stimulate regeneration through stem cells
Stem cell therapy is still being refined
Specific foods that kill cancer stem cells
Foods that lower inflammation
Whole foods first + when supplements may be helpful
Choosing from 200+ foods that activate your health defenses
Dr. Li's motto is "love your food to love your health"
Specific foods that boost immunity
What are telomeres + foods that slow down cellular aging
Show sponsors:
BiOptimizers <== 10% off BiOptimizers' Magnesium Breakthrough by using the code ultimatehealth10 at checkout
Paleovalley <== 15% off all Paleovalley products by using the code ultimatehealth at checkout
Oura Ring <== Buy the Oura Ring Generation 3 and get 6 free months of Oura membership
Related links:
Dr. William Li – Eat to Beat Disease (book)
Dr. William Li's website
Follow Dr. William Li on Facebook, Instagram, and Twitter
Listen to Dr. William Li previously on TUHP (episode #316)
Eat to Beat Disease Online Course
Related episodes:
Dr. Valter Longo on How to Get All the Health Benefits of Fasting Without the Hunger (#442)
Eat This Way to Overcome Anxiety & Depression | Liana Werner-Gray (#437)
Dr. Steven Gundry on Boosting Your Mental and Physical Energy (#404)
380: Dr. Jason Fung – A Revolutionary New Understanding Of Cancer
280: Dr. Josh Axe – Keto Diet • Treating Cancer With Food • Collagen Is Essential
How can you support our podcast?
1. Apple users, please subscribe and review our show on Apple Podcasts, we make sure to read them all. Android users, be sure to subscribe to our show on Google Podcasts. Subscribers never miss any of the action 😉
2. If you'd prefer to watch vs listen to the interviews, head over to our YouTube channel and enjoy the full video conversations. Be sure and subscribe while you're there.
3. Tell a friend about The Ultimate Health Podcast. They will surely thank you later. You can use the envelope button below to email a friend or tell them about TUHP in person.
4. Join TUHP Facebook community (FREE). This is where we all stay in touch and ask questions in between episodes. Join our community.
5. Follow our adventures on our favourite social media platform, Instagram.
6. Download The Ultimate Health Podcast app (FREE). This way you'll have our whole library of episodes right at your fingertips. Download our iOS/Apple app or our Android app.
7. Share using the buttons below.
Thank you!