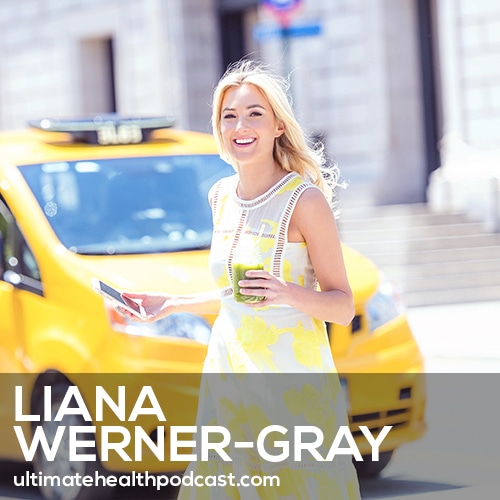 Liana Werner-Gray (IG: @lianawernergray) is a certified nutritionist and natural-health advocate.
After she experienced the power of healing multiple health issues by embracing a natural lifestyle, she created The Earth Diet and started lecturing and teaching internationally.
Liana's recipes have helped people with acne, anxiety, diabetes, depression, heart disease, obesity, and more.
She is the resident nutritionist at Complete Wellness in New York City.
Liana's latest book is Anxiety-Free with Food.
Watch the full video version of this conversation below.
In this episode, we discuss:
Growing up in the Australian Outback, learning to live off the land from the Aboriginals
Liana's addiction to processed food before having a major wake-up call
Being influenced by her parents unique lifestyles
Finding a tumor in her neck at age 21
Get multiple opinions when dealing with cancer
Bloodwork can show early stages of cancer
Breaking free of addiction
The gut-healing & detox protocol recommended by Liana's naturopath
Just eat real foods + juicing
Using replacement therapy to fight food cravings
From feeling like a failure to feeling empowered
Prioritize your health and ask for help
Liana's miraculous healing journey
Creating The Earth Diet
Juicing helped her mother remain cancer-free
Make sure your supplements are the highest quality
One of the causes of depression & anxiety is an omega-3 deficiency
Getting bloodwork to rule out deficiencies
Drinking a green juice every day
Dark chocolate is high in magnesium
The top 10 foods to help with anxiety & depression
Dairy & gluten are the most neurotoxic foods on the planet
Caffeine is on the controversial list
Will CBD work for you or not?
Research shows vegans suffer more from mental health conditions
Ashwagandha was a game changer for Liana
Show sponsors:
Organifi <== 20% off all Organifi products by using the code ultimatehealth at checkout
Paleovalley <== 15% off all Paleovalley products by using the code ultimatehealth at checkout
BiOptimizers <== 10% off BiOptimizers Magnesium Breakthrough by using the code ultimatehealth10 at checkout + stock up and get a free bottle of MassZymes and P3-OM
AquaOmega <== 20% off the world's best omega-3 supplements by using the code ultimate at checkout
Related links:
Liana Werner-Gray – Anxiety-Free with Food (book)
Liana Werner-Gray's website (The Earth Diet)
Follow Liana Werner-Gray on Facebook, Instagram, and Twitter
Liana Werner-Gray – Cancer-Free with Food (book)
Liana Werner-Gray – The Earth Diet (book)
Liana Werner-Gray – 10-Minute Recipes (book)
Anita Moorjani (books)
Liana's Organics
Ancient Nutrition – Magnesium (supplement)
Listen to Dr. Josh Axe previously on TUHP (episodes #089, #280, and #390)
Jordan Rubin (books)
Garden of Life – B Complex
Related episodes:
Doctor Reveals the Hidden Causes of Anxiety, Depression, OCD & More in Children | Dr. Kenneth Bock (#427)
Nutritional Psychiatrist Reveals Top Foods to Beat Depression and Anxiety | Dr. Drew Ramsey (#424)
380: Dr. Jason Fung – A Revolutionary New Understanding Of Cancer
365: Dr. Uma Naidoo – This Is Your Brain On Food
276: Chris Wark – Chris Beat Cancer • Toxic Emotions Suppress Immunity • Gratitude Is The Secret To Happiness
How can you support our podcast?
1. Apple users, please subscribe and review our show on Apple Podcasts, we make sure to read them all. Android users, be sure to subscribe to our show on Google Podcasts. Subscribers never miss any of the action 😉
2. If you'd prefer to watch vs listen to the interviews, head over to our YouTube channel and enjoy the full video conversations. Be sure and subscribe while you're there.
3. Tell a friend about The Ultimate Health Podcast. They will surely thank you later. You can use the envelope button below to email a friend or tell them about TUHP in person.
4. Join TUHP Facebook community (FREE). This is where we all stay in touch and ask questions in between episodes. Join our community.
5. Follow our adventures on our favourite social media platform, Instagram.
6. Download The Ultimate Health Podcast app (FREE). This way you'll have our whole library of episodes right at your fingertips. Download our iOS/Apple app or our Android app.
7. Share using the buttons below.
Thank you!