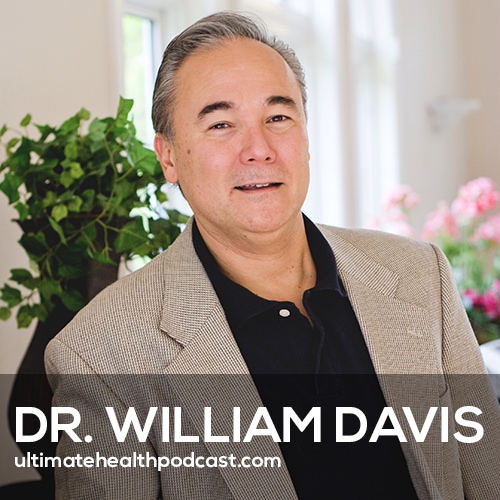 Dr. William Davis (IG: @drdavisinfinitehealth) is a renowned preventive cardiologist and author of the groundbreaking #1 New York Times bestseller Wheat Belly. He's also written three other New York Times bestsellers and several other books including Undoctored, which is the book we discussed the first time he was on the show.
Today we're chatting about Dr. Davis' latest book, Super Gut and his new approach to gut health. This strategy not only gets to the root of many diseases, but also improves levels of oxytocin (the hormone of love and empathy) & brain health + promotes anti-aging and weight loss.
Watch the full video version of this conversation below.
In this episode, we discuss:
Dr. Davis' fascination with gut health
Defining SIBO, SIFO and dysbiosis
How microbes & LPS can enter the bloodstream
Signs & symptoms of SIBO
2 herbal antibiotic recommendations to treat SIBO
Treating SIBO with good bacteria
Dr. Davis' L. reuteri fermented yogurt
Paying attention to probiotic species & strains
Lactobacillus reuteri releases the hormone oxytocin
The disappearance of L. reuteri over the years
What are keystone species? + Ways to restore them
The secret to making fermented yogurt at home
Ideally, mom will expose baby to Bifidobacterium infantis
The probiotic of the future
Fermented foods vs. prebiotic fibers
Dr. Davis' "love dream"
The overuse of antibiotics
The tragedy of statin drugs
How to minimize the damage of antibiotics
Dr. Davis' fermented cider recipe
Machine recommendations for making fermented yogurt
Prebiotic fiber recommendations
SIBO & prebiotic fiber
How much prebiotic fiber should you consume?
Raw white potato is a great source of prebiotic fiber
Tips to avoid the recurrence of SIBO
Treating SIFO (fungus) with supplements
Die-off reactions + supplements to help tame them
Show sponsors:
Organifi <== 20% off all Organifi products by using the code ultimatehealth at checkout
Paleovalley <== 15% off all Paleovalley products by using the code ultimatehealth at checkout
BiOptimizers <== 10% off BiOptimizers' Biome Breakthrough by using the code ultimatehealth at checkout
Related links:
Dr. William Davis – Super Gut (book)
Dr. William Davis' website
Follow Dr. William Davis on Facebook, Instagram, and Twitter
Dr. William Davis – Undoctored (book)
Dr. William Davis – Wheat Belly (book)
Listen to Dr. William Davis previously on TUHP (episode #153)
AIRE device
BioSource
Evivo Baby Probiotic – Bifidobacterium Infantis EVC001
BioQuest – Sugar Shift
Florastor
Related episodes:
This Is How to Live Longer & Prevent Disease by Fixing Your Gut Health | Tina Anderson (#451)
367: James Hamblin – The Impact Of Not Showering For 5 Years
289: Dr. David Perlmutter – Brain Maker • Reconnecting With Nature • Exercise Impacts The Microbiome
124: Dr. Jill Carnahan – Toxic Mold • The Gut-Mind Connection • SIBO 101
078: Dr. Robynne Chutkan – Microbiome 101 | Stop Sanitizing Yourself Sick | Having A Dog Will Boost Your Health
Dr. William Davis photo credit: Kelly Steinberg
How can you support our podcast?
1. Apple users, please subscribe and review our show on Apple Podcasts, we make sure to read them all. Android users, be sure to subscribe to our show on Google Podcasts. Subscribers never miss any of the action 😉
2. If you'd prefer to watch vs listen to the interviews, head over to our YouTube channel and enjoy the full video conversations. Be sure and subscribe while you're there.
3. Tell a friend about The Ultimate Health Podcast. They will surely thank you later. You can use the envelope button below to email a friend or tell them about TUHP in person.
4. Join TUHP Facebook community (FREE). This is where we all stay in touch and ask questions in between episodes. Join our community.
5. Follow our adventures on our favourite social media platform, Instagram.
6. Download The Ultimate Health Podcast app (FREE). This way you'll have our whole library of episodes right at your fingertips. Download our iOS/Apple app or our Android app.
7. Share using the buttons below.
Thank you!