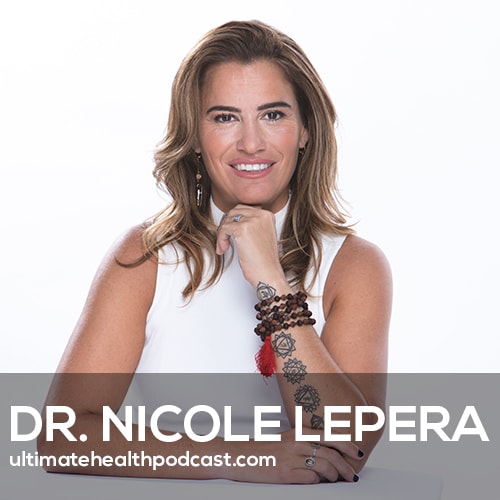 Dr. Nicole LePera (IG: @the.holistic.psychologist) is a clinical psychologist and #1 New York Times bestselling author.
In private practice, she often found herself frustrated by the limitations of traditional psychotherapy. Wanting more for her patients and herself, Nicole began a journey to develop a united philosophy of mental, physical, and spiritual health that equips people with the tools necessary to heal themselves.
Nicole is the creator of the #SelfHealers movement where people from around the world are joining together in a community to take healing into their own hands.
Watch the full video version of this conversation below.
In this episode, we discuss:
Where to begin to "do the work"
What is a census check-in?
Returning to the present moment
Getting more connected with yourself
A small daily promise
The voice of resistance
Tune into your intuition
The role of our nervous system
How to tone your vagus nerve
Becoming conscious = becoming empowered
Communicate your why
Setting healthy boundaries
The relationship between parent and child
The wounded inner child
Nicole's journey into becoming the Holistic Psychologist
Beliefs are your repeated thoughts
Experimenting with binaural beats and affirmations
What is your ego story?
Name your ego
Looking within for answers
Connecting with similar stories
Show sponsors:
Thrive Market <== Join Thrive Market today and get 40% off your first order AND a FREE gift worth over $50
BiOptimizers <== 10% off BiOptimizers' Magnesium Breakthrough by using the code ultimatehealth10 at checkout
Paleovalley <== 15% off all Paleovalley products by using the code ultimatehealth at checkout
Organifi <== 20% off all Organifi products by using the code ultimatehealth at checkout
Related links:
Dr. Nicole LePera – How to Do the Work (book)
Dr. Nicole LePera's website (The Holistic Psychologist)
Follow Dr. Nicole LePera on Facebook, Instagram, and YouTube
SelfHealers Soundboard hosted by Dr. Nicole LePera and Jenna Weakland
Dr. Bruce Lipton (books)
Listen to Dr. Bruce Lipton previously on TUHP (episodes #142 and #240)
Related episodes:
How to Harness the Healing Power of Music | RIOPY (#454)
Therapist REVEALS the Secret to HEALTHY RELATIONSHIPS | Nedra Glover Tawwab (#429)
Annaka Harris on What Is Consciousness? Where Is It Located? Mysteries Unravelled (#412)
Dr. Caroline Leaf on Eliminating Anxiety, Depression, and Intrusive Thoughts by Managing Your Mind (#402)
296: Dr. Joe Dispenza – Becoming Supernatural, Reprogram Your Mind, Trust Your Intuition
How can you support our podcast?
1. Apple users, please subscribe and review our show on Apple Podcasts, we make sure to read them all. Android users, be sure to subscribe to our show on Google Podcasts. Subscribers never miss any of the action 😉
2. If you'd prefer to watch vs listen to the interviews, head over to our YouTube channel and enjoy the full video conversations. Be sure and subscribe while you're there.
3. Tell a friend about The Ultimate Health Podcast. They will surely thank you later. You can use the envelope button below to email a friend or tell them about TUHP in person.
4. Join TUHP Facebook community (FREE). This is where we all stay in touch and ask questions in between episodes. Join our community.
5. Follow our adventures on our favourite social media platform, Instagram.
6. Download The Ultimate Health Podcast app (FREE). This way you'll have our whole library of episodes right at your fingertips. Download our iOS/Apple app or our Android app.
7. Share using the buttons below.
Thank you!