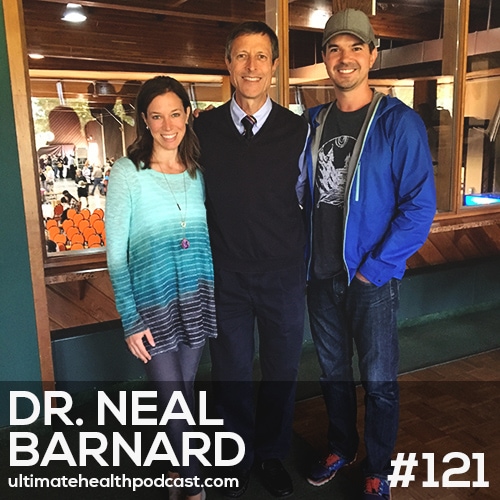 On today's minicast, we are speaking with Neal Barnard MD at the first annual VegFest Windsor. We dig deep into power foods for the brain.
Dr. Barnard is a clinical researcher and author and he's one of America's leading advocates for health, nutrition, and higher standards in research. Dr. Barnard is the founder and president of the Physicians Committee for Responsible Medicine.
In this episode, we discuss:
Power foods for the brain
What is bad for your heart is bad for your brain
Saturated fat negatively impacts your heart
Vitamin E can help decrease your risk of Alzheimer's by about 50%
Blueberries help boost your memory
Consuming colourful fruits and veggies for antioxidants
Why cheese is so addictive
The importance of a quality social life and exercise
Music triggers dopamine release
Greasy foods slow your conversion of ALA to DHA
Eating for colour
The importance of quality cookware
The brains of people with Alzheimer's often contain aluminum
Your memory and emotional control are influenced by poor sleep
Dr. Barnard's #1 sleep tip
Related links:
Dr. Neal Barnard – Power Foods for the Brain (book)
Dr. Neal Barnard on PCRM
Dr. Neal Barnard (books)
VegFest Windsor
Related episodes:
294: Dr. Sara Gottfried – Brain Body Diet, Start To Surrender, Reset With Intermittent Fasting
273: Dr. David Perlmutter – Grain Brain • Cholesterol Is Your Friend • What Is Keto Cycling?
267: Dr. Datis Kharrazian – Why Isn't My Brain Working?
255: Dr. Dale Bredesen – The End Of Alzheimer's • Remove Amyloid Naturally • The Ketoflex 12/3 Diet
244: Dr. Will Cole – Plant-Based Keto Diet • Women & Ketosis • Fats For Brain Health
Note: Some of the links above are affiliate links. Making a purchase through these links won't cost you anything but we will receive a small commission. This is an easy, free way of supporting the podcast. Thank you!
How can you support our podcast?
1. Apple users, please subscribe and review our show on Apple Podcasts, we make sure to read them all. Android users, be sure to subscribe to our show on Google Podcasts. Subscribers never miss any of the action 😉
2. Tell a friend about The Ultimate Health Podcast. They will surely thank you later. You can use the envelope button below to email a friend or tell them about TUHP in person.
3. Join TUHP Facebook community (FREE). This is where we all stay in touch and ask questions in between episodes. Join our community.
4. Follow our adventures on our favourite social media platform, Instagram.
5. Download The Ultimate Health Podcast app (FREE). This way you'll have our whole library of episodes right at your fingertips. Download our iOS/Apple app or our Android app.
6. Share using the buttons below.
Thank you!