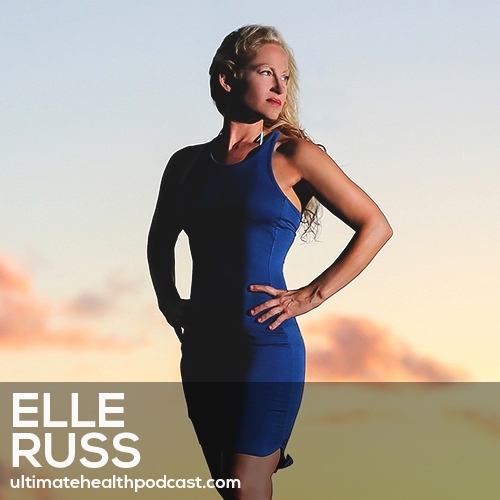 Elle Russ is a writer, health coach, and host of The Primal Blueprint Podcast. She's passionate about spreading the paleo/primal health message and coaching people on how to live an amazing life, with ease.
Over the course of 10 years, Elle suffered from two bouts of severe hypothyroidism. She healed herself on her own, reclaiming her health and happiness.
In this episode, we discuss:
The thyroid is the master gland of the body
T4 and T3 – the main thyroid hormones
The 6 essential thyroid tests
Gluten and grains raise Hashimoto's antibodies
Be careful with iodine supplementation
We have more T3 receptors in our brain than anywhere else
If you're suffering with psychiatric issues, get your thyroid tested properly
Elle's two severe bouts of hypothyroidism and how she fixed her thyroid
The reverse T3 number is a great wellness marker for everyone
Endocrinologists are the worst people to go to with a thyroid problem
Make sure you understand your lab test results
Hashimoto's disease – what's happening in the body?
High Hashimoto's antibodies = inflammation
A simple way to support your thyroid before an issue starts
The paleo/primal lifestyle is the ultimate in blood glucose and adrenal management
Nobody needs to get type 2 diabetes
If you're dealing with hypothyroidism, the worst thing you can do is workout
Elle's morning routine
Is there a connection between carbs and hypothyroidism?
FEAR: False Evidence Appearing Real
If you feel great, get a comprehensive thyroid test now
Show sponsor:
Sunwarrior <== 20% off all Sunwarrior products & free shipping over $50 (US only)
Related links:
Elle Russ – The Paleo Thyroid Solution (book)
Elle Russ' website
Follow Elle Russ on Facebook, Instagram, and Twitter
Primal Blueprint Podcast
Dr. Izabella Wentz (books)
Listen to Dave Asprey previously on TUHP (episode #61)
EcoNugenics – PectaClear
Listen to Dr. Christiane Northrup previously on TUHP (episode #73)
Stop the Thyroid Madness website
Mark Sisson – The Primal Blueprint (book)
Life Extension selenium (Se-Methyl L-Selenocysteine)
Dr. Sarah Ballantyne (books)
Eileen Laird
Timothy Noakes (books)
Related episodes:
285: Dr. Izabella Wentz – Hashimoto's Food Pharmacology • Thyroid Testing • Stress, Trauma & Autoimmune Conditions
256: Dr. Datis Kharrazian – Why Do I Still Have Thyroid Symptoms? • Understanding Iodine • Vitamin D & Autoimmunity
254: Sarah Ballantyne – Pregnancy And Hypothyroidism • Reintroductions On AIP • The Cruciferous Vegetable Myth
241: Dr. Aviva Romm – The Adrenal Thyroid Revolution • Permission To Pause • Embracing Adaptogens
119: Dr. Amy Myers – The Thyroid Connection • The Impact of Goitrogens • Hyper vs Hypothyroidism
Note: Some of the links above are affiliate links. Making a purchase through these links won't cost you anything but we will receive a small commission. This is an easy, free way of supporting the podcast. Thank you!
How can you support our podcast?
1. Apple users, please subscribe and review our show on Apple Podcasts, we make sure to read them all. Android users, be sure to subscribe to our show on Google Podcasts. Subscribers never miss any of the action 😉
2. Tell a friend about The Ultimate Health Podcast. They will surely thank you later. You can use the envelope button below to email a friend or tell them about TUHP in person.
3. Join TUHP Facebook community (FREE). This is where we all stay in touch and ask questions in between episodes. Join our community.
4. Follow our adventures on our favourite social media platform, Instagram.
5. Download The Ultimate Health Podcast app (FREE). This way you'll have our whole library of episodes right at your fingertips. Download our iOS/Apple app or our Android app.
6. Share using the buttons below.
Thank you!