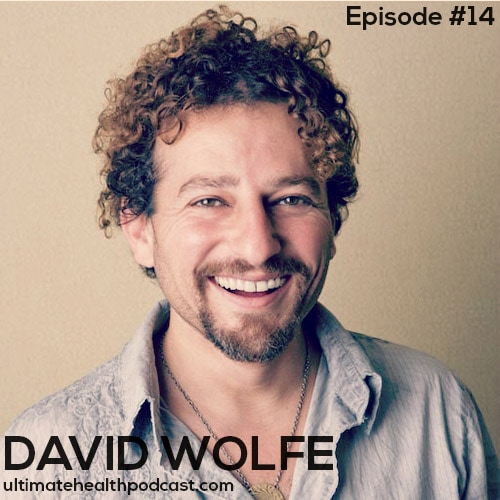 Today we are speaking with longevity & superfood expert, David Avocado Wolfe. He has been an integral part of the current health and wellness movement. David travels the world sharing his health message, inspiring others to live the best life ever!
In this episode, we discuss:
The health benefits of various colour pigments
How modern science has things backwards
Carmel colouring in processed foods is a carcinogen
How nature likes to fake the colour blue
Nobody has truly blue eyes
Foods that are contain a true blue pigment
How David first got into the alternative health world
David's mentors and inspirations
David's dietary evolution and what he is currently eating
A vegan diet isn't ideal for everyone
How to get more superherbs and superfoods into your diet
You need more nutrients than what organic fruits and vegetables from the supermarket provide
A food that is 40-50 times more concentrated in chlorophyll than wheatgrass
Raw chocolate is a delivery system for superherbs
Where the health world is going over the next five years
David's random "morning routine"
Spring water – the best water ever
The difference between spring water from the earth vs. purchased plastic bottles
Anti-fat diets can lead to neurological problems
How to get more energy without using stimulants
The power of beets
How to naturally eliminate jet lag
Grounding to reduce EMF exposure by 100 times
Carpal tunnel syndrome and other chronic pains are relived by grounding
David's biggest accomplishment and fear
The recipe of the elixir David is drinking during the recoding
David's desert island food
The importance of keeping hydrated
Related Links:
Connect with David Wolfe on Facebook, Instagram and Twitter
E3 Live – Blue Majik (supplement)
Stephen Buhner – Sacred And Herbal Healing Beers (book)
Douglas Adams – The Hitchhiker's Guide to the Galaxy (book)
Find A Spring
Steve Adler (Sacred Chocolate)
Viktor Schauberger
Summit Spring Raw Water
Longevity Warehouse cacao
David Wolfe – The Sunfood Diet Success System (book)
David Wolfe (books)
Related Shows:
096: Dr. Joel Kahn – The Gut-Heart Connection • Paleo vs. Low-Fat Vegan Diet • Top Heart Health Foods
030: Nathane Jackson – Barefoot Training | To Be Or Not To Be… Vegan | Rethink Cleansing & Detoxification
264: Daniel DeBaun – Understanding EMFs & How To Protect Yourself
052: Shawn Stevenson – Sleep Smarter | Living Spring Water | Solutions For Snoring
046: Ronnie Landis – Power Up Your Adrenals | Calcium Supplements Don't Work | The Most Caffeinated Plant In The World (It's Not Coffee)
Note: Some of the links above are affiliate links. Making a purchase through these links won't cost you anything but we will receive a small commission. This is an easy, free way of supporting the podcast. Thank you!
How can you support our podcast?


1. Apple users, please subscribe and review our show on Apple Podcasts, we make sure to read them all. Android users, be sure to subscribe to our show on Google Podcasts. Subscribers never miss any of the action ;)


2. Tell a friend about The Ultimate Health Podcast. They will surely thank you later. You can use the envelope button below to email a friend or tell them about TUHP in person.


3. Join TUHP Facebook community (FREE). This is where we all stay in touch and ask questions in between episodes. Join our community.


4. Follow our adventures on our favourite social media platform, Instagram.


5. Download The Ultimate Health Podcast app (FREE). This way you'll have our whole library of episodes right at your fingertips. Download our iOS/Apple app or our Android app.
6. Share using the buttons below.
Thank you!