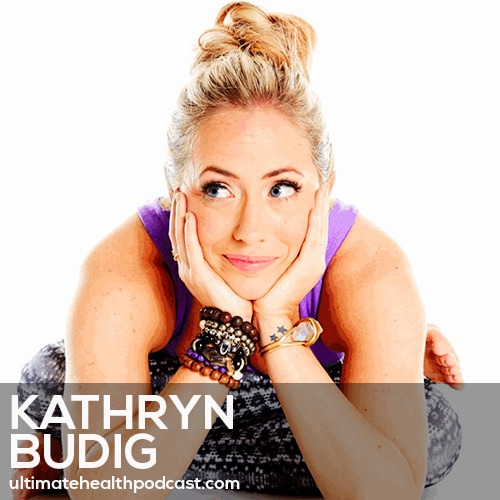 Kathryn Budig is an internationally celebrated yoga teacher, author of Aim True, and cohost of the podcast, Free Cookies.
She served as the yoga editor to Women's Health magazine for five years, and regularly contributes to Yoga Journal, and MindBodyGreen.
In this episode, we discuss:
What life was like growing up in Kansas
How the yoga community has changed over the years
What changed yoga?
What initially drew Kathryn to yoga?
Seane Corn showing up to Kathyrn's yoga class, unexpectedly
Forming a tight knit community off the yoga mat
The message behind "Aim True"
It's easier being the vanilla cupcake that everyone likes
Feeling totally cool being yourself
Don't get caught up in needing the approval of others
We all have some level of body image issues
Speak positively for yourself and those around you
Everyone is so beautiful
Writing positive affirmations on your mirror using a Sharpie
Every single day is a new opportunity
Connecting to yourself and loved ones through rituals
Has Kathryn's focus shifted from yoga?
Kathryn's morning routine
Turning off your phone
Show sponsors:
CoreChair <== Apply the code tuhpcc at checkout for your listener discount (free shipping in North America)*
Sunwarrior <== 10% off all Sunwarrior products (free shipping over $100)*
Related links:
Kathryn Budig – Aim True (book)*
Kathryn Budig – The Women's Health Big Book of Yoga (book)*
Kathryn Budig's website
Free Cookies Podcast with Kathryn Budig & Kate Fagan
Follow Kathryn on Instagram, Facebook, and Twitter
Poses for Paws
YogaGlo
Manduca yoga mats*
YogaWorks
Maty Ezraty
Seane Corn
Kripalu
Moment app – screen time tracker*
Listen to Marie Forleo previously on TUHP (episode #151)
Follow Goji (our dog) on Instagram
Gypsy on Netflix
Note: Links marked with an asterisk (*) are affiliate links. Making a purchase through these links won't cost you anything but we will receive a small commission. This is an easy, free way of supporting the podcast. Thank you!
How can you support our podcast?
1. Apple users, please subscribe and review our show on iTunes, we make sure to read them all. Android users, be sure to subscribe to our show on Google Play Music. Subscribers never miss any of the action 😉
2. Tell a friend about The Ultimate Health Podcast. They will surely thank you later. You can use the envelope button below to email a friend or tell them about TUHP in person.
3. Join TUHP Facebook group (FREE). This is where we all stay in touch and ask questions in between episodes. Join our community.
4. Our favourite social media platform is Instagram. Follow our adventures.
5. Download our Habits app for iOS. You choose the healthy habits you want to implement and maintain and our app will help keep you on track. Download Habits app.
6. Share using the buttons below.
Thank you!