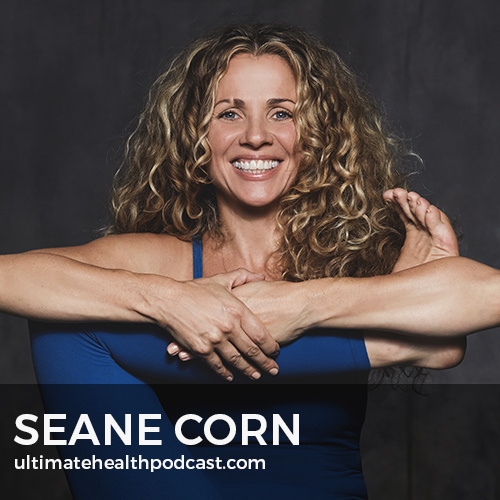 Seane Corn (IG: @seanecorn) is an internationally acclaimed yoga teacher and public speaker known for her social activism, impassioned style of teaching, and raw, honest and inspired self-expression.
Featured on over 40 magazine covers and countless media outlets, she has chosen to use her platform to bring awareness to global issues including social justice, sex trafficking, HIV/AIDS awareness, generational poverty, and animal rights. Since 2007, Seane has been training leaders of activism through her co-founded organization Off the Mat, Into the World.
Her first book, Revolution of the Soul is releasing today.
(Subscribe in Apple Podcasts)
(Subscribe in Google Podcasts)

In this episode, we discuss:
Seane's cathartic experience writing Revolution of the Soul
Growing up hypersensitive & intuitive
OCD triggered by childhood trauma
Alcohol, drugs & New York City
Therapy & yoga helped tame Seane's OCD
The high school teacher that transformed Seane's learning
Finding God
A lesson in spirituality
Breaking through tension with yoga
The difference between shock trauma & developmental trauma
Vulnerability leads to surrendering
The mind-body connection
A deeper level of awareness
Understanding the chakras
The power of breath work
Forgiveness = liberation
Yoga is an art
Show sponsors:
Organifi <== 20% off all Organifi products
Outerknown <== 25% off all Outerknown clothing by using the code ultimatehealth at checkout
Thrive Market <== As a new customer you get a free 30-day membership, 25% off your order, and free shipping (US only)
Perfect Keto <== 20% off all Perfect Keto products (free shipping in the US)
Related links:
Seane Corn – Revolution of the Soul (book)
Seane Corn's website
Follow Seane Corn on Facebook, Instagram, and Twitter
Off The Mat Into The World
Alice Walker – The Color Purple (book)
Bryan Kest
Yoga Works
Related episodes:
303: Emily Fletcher – Stress Less… Accomplish More, Mindfulness vs. Meditation, Secrets To Manifesting
298: Kate Northrup – Do Less, Surrender Your Control, Yoga Nidra
259: Dr. Gabor Maté – Trauma, Addiction, & The Use Of Psychedelics
208: Gabby Bernstein – Judgment Detox • Forgiveness As A Practice • Why We Avoid Vulnerability
163: Kathryn Budig – The Yoga Community Has Changed • Positive Affirmations • Aim True
Note: Some of the links above are affiliate links. Making a purchase through these links won't cost you anything but we will receive a small commission. This is an easy, free way of supporting the podcast. Thank you!
How can you support our podcast?
1. Apple users, please subscribe and review our show on Apple Podcasts, we make sure to read them all. Android users, be sure to subscribe to our show on Google Podcasts. Subscribers never miss any of the action 😉
2. Tell a friend about The Ultimate Health Podcast. They will surely thank you later. You can use the envelope button below to email a friend or tell them about TUHP in person.
3. Join TUHP Facebook community (FREE). This is where we all stay in touch and ask questions in between episodes. Join our community.
4. Follow our adventures on our favourite social media platform, Instagram.
5. Download The Ultimate Health Podcast app (FREE). This way you'll have our whole library of episodes right at your fingertips. Download our iOS/Apple app or our Android app.
6. Share using the buttons below.
Thank you!