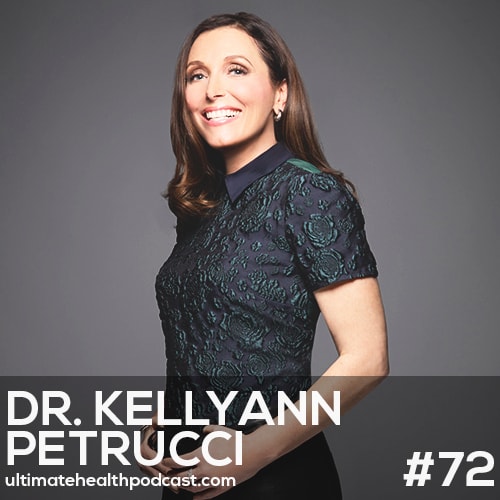 This week, we are speaking with naturopath, Dr. Kellyann Petrucci. She is a weight loss, anti-aging, and bone broth expert, making regular TV appearances that includes Dr. Oz and The Doctors. We are thrilled to announce the release of her new book, Dr. Kellyann's Bone Broth Diet.
In this episode, we discuss:
Discovering the power of real food
There is a big difference between gluten free and grain free
Our body renews if you give it the right raw materials
Paleo plus… what is it?
The nutritional difference between soup and bone broth is incomparable
Bone broth can help with autoimmune issues, chronic fatigue, achy joints, weight loss resistance and so much more
Details on making bone broth at home
Inflammation can be really good or really bad
Your skin tells the story of your gut health
"We are bags of bugs"
The difference between collagen, gelatin, and bone broth
Bone broth soothes and heals the gut
CLA… the belly-fat blaster
Too much protein is just as bad as not enough
If you choose to consume dairy, it needs to be full fat & high quality
Avoid the fake "frankenfoods" found in the plant-based world
Quality sources of plant-based protein
Testing your blood for C-reactive protein (CRP) can detect hidden inflammation
The power breakfast (it's simple)
A couple of easy to incorporate, fermented foods
Don't forget about the probiotics + two great examples
Foods for glowing skin + a natural wrinkle blaster
Avocado oil produces natural collagen in your skin
Kellyann's morning routine
Nothing shifts the energy in your body like gratitude
Get rid of all your processed oils and vegetable oils
Links to things we mentioned:
Sunwarrior <== 10% off all Sunwarrior products (free shipping over $100)
Join The Ultimate Health Podcast Facebook Community
Follow TUHP on Instagram
Dr. Kellyann Petrucci's website
Dr. Kellyann's Bone Broth Diet (book)
Dr. Kellyann's PBS Special – 21 Days To A Slimmer Younger You
US Wellness Meats
Great Lakes Gelatin Company
Marni Wasserman – Plant-Based Diet For Dummies (book)
Marni Wasserman – Fermenting For Dummies (book)
Yoso Coconut Yogurt
Louise Hay
Lets Do…Organic – organic coconut items
How can you support our podcast?
1. Subscribe and review our show on iTunes and Stitcher. We make sure to read them all.
2. Tell a friend about The Ultimate Health Podcast. They will surely thank you later.
3. Share using the buttons below.
Thank you!