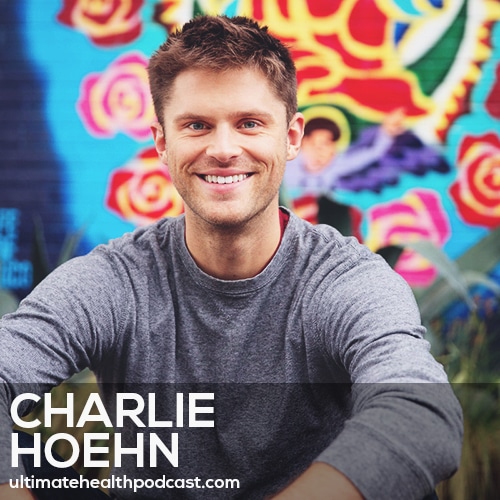 Charlie is the author of Play It Away and Recession-Proof Graduate. He's spoken at the Pentagon, TEDx, and universities around the world. Charlie is the Head of Podcast & Video for Book in a Box. He lives in Austin, Texas with his wife and two dogs.
Today we're talking about Charlie's experience with extreme anxiety and how he cured it primarily through play and switching to a play mindset.
In this episode, we discuss:
How he coordinated a huge event for Tim Ferriss
The 1:3 sleep to wake ratio
Charlie's slow and steady build to debilitating anxiety
The various modalities Charlie tried to help relieve his anxiety eg. meditation, supplements, psychedelics, & fasting
The book that was the tipping point during Charlie's anxiety recovery
How play completely cured Charlie of anxiety and depression within a few weeks
How improv allowed Charlie to embrace what was going on in the moment
Adopting a play mindset
Children generally fall into one of 3 categories: secure, avoidant, or anxious
We can all choose to view the world as a playground and the world tends to respond accordingly
How to figure out what types of play best suits you
Start by scheduling in as little as 30 minutes of play a week
Outdoor sports are one of the best ways to reduce anxiety, especially in men
Pay to play
Fitting play into the workday
It's ideal to find work that doesn't feel like work
Finland has up to 2 hours of recess a day
Are tracking devices such as Fitbit's and social media taking away from the play experience?
The less screen time you get, the happier you're going to be
It's liberating to get rid of stuff – minimalism
Finding an environment/location that supports your wellbeing
Start smiling and saying hello to strangers on the street
Intentional vs. random acts of kindness
The more sleep you get, the better your work is
The ultimate cheat in life… a 15-20 minute nap
Show sponsors:
Perfect Keto <== 20% off Perfect Keto products and they ship worldwide (free shipping in the US)
Sunwarrior <== 20% off all Sunwarrior products & free shipping over $50 (US only)
CoreChair <== 15% off your CoreChair purchase by using the code tuhpcc at checkout (free shipping in North America)
Related links:
Charlie Hoehn – Play It Away (book)
Charlie Hoehn's website
Follow Charlie Hoehn on Facebook, and Instagram
Charlie Hoehn – Play For A Living (book)
Charlie Hoehn – Recession Proof Graduate (book)
Author Hour with Charlie Hoehn (podcast)
Stuart Brown – Play (book)
Tim Ferriss – The 4-Hour Chef (book)
The Five-Minute Journal
Tucker Max (books)
John Bowlby (books)
Trophy Kids (documentary)
Cal Newport (books)
Move – Daily activity to stay healthy (iOS app)
Napoleon Hill – Outwitting the Devil (book)
Related episodes:
305: Dave Asprey – Game Changers, Practicing Gratitude & Forgiveness, Holotropic Breathing vs. Ayahuasca
303: Emily Fletcher – Stress Less… Accomplish More, Mindfulness vs. Meditation, Secrets To Manifesting
286: Cal Newport – Digital Minimalism • Create Time For Solitude • Stop Socializing On Social Media
252: Srinivas Rao – Creating For An Audience Of One • Creativity Leads To Happiness • Cognitive Bandwidth
222: Focus Friday – More Play
Note: Some of the links above are affiliate links. Making a purchase through these links won't cost you anything but we will receive a small commission. This is an easy, free way of supporting the podcast. Thank you!
How can you support our podcast?
1. Apple users, please subscribe and review our show on Apple Podcasts, we make sure to read them all. Android users, be sure to subscribe to our show on Google Podcasts. Subscribers never miss any of the action 😉
2. Tell a friend about The Ultimate Health Podcast. They will surely thank you later. You can use the envelope button below to email a friend or tell them about TUHP in person.
3. Join TUHP Facebook community (FREE). This is where we all stay in touch and ask questions in between episodes. Join our community.
4. Follow our adventures on our favourite social media platform, Instagram.
5. Download The Ultimate Health Podcast app (FREE). This way you'll have our whole library of episodes right at your fingertips. Download our iOS/Apple app or our Android app.
6. Share using the buttons below.
Thank you!