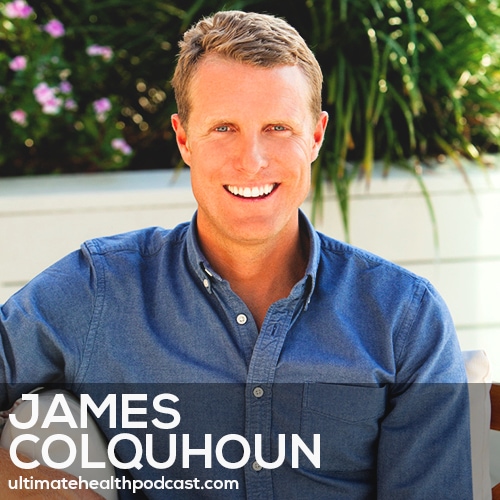 James Colquhoun, filmmaker of Food Matters and Hungry For Change and founder of FMTV. Along with his wife Laurentine, James founded Food Matters, giving people the tools (films, books, website, TV) to take charge of their own health.
In this episode, we discuss:
Going from working at sea to building a huge health brand
His father's health crisis and transformation
Sharing health information with family members
The birth of Food Matters
How to connect with health experts, early on
All health transformation starts in the mind
Divorcing yourself from nutritional dogma
How to remain a critical thinker, in the health world
Raising a child on a healthy diet
Building a thriving online community
Changing the world through how we approach the next generation of children
A new era… a freedom of cinema
The trojan horse in our living rooms
We actually live in a very peaceful time
What are you feeding your mind?
James' meditation practice
Bringing meditation into day to day activities
Spending time in the now makes you happier
Drink more water/form a hydration ritual
Show sponsors:
Sunwarrior <== 10% off all Sunwarrior products & free shipping over $100*
CoreChair <== Apply the code tuhpcc at checkout for your listener discount (free shipping in North America)*
Thrive Market <== As a new customer you get a free 30-day membership, 25% off your order, and free shipping (US only)*
Perfect Keto <== 20% off Perfect Keto products and they ship worldwide (free shipping in the US)*
Related links:
Food Matters (James' website)
Follow Food Matters on Instagram & Facebook
FMTV
Food Matters (documentary)*
Hungry for Change (documentary)*
Jerome Burne
Listen to Dan Buettner previously on TUHP (episode #170)
Jon Gabriel*
Listen to David Wolfe previously on TUHP (episode #14)
Listen to Dr. Bruce Lipton previously on TUHP (episode #142)
Fahrenheit 9/11 (documentary)*
Note: Links marked with an asterisk (*) are affiliate links. Making a purchase through these links won't cost you anything but we will receive a small commission. This is an easy, free way of supporting the podcast. Thank you!
How can you support our podcast?
1. Apple users, please subscribe and review our show on Apple Podcasts, we make sure to read them all. Android users, be sure to subscribe to our show on Google Play Music. Subscribers never miss any of the action 😉
2. Tell a friend about The Ultimate Health Podcast. They will surely thank you later. You can use the envelope button below to email a friend or tell them about TUHP in person.
3. Join TUHP Facebook group (FREE). This is where we all stay in touch and ask questions in between episodes. Join our community.
4. Our favourite social media platform is Instagram. Follow our adventures.
5. Download our Habits app for iOS. You choose the healthy habits you want to implement and maintain and our app will help keep you on track. Download Habits app*.
6. Share using the buttons below.
Thank you!