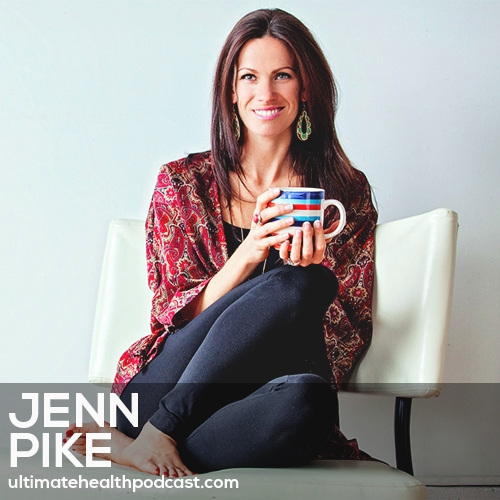 Jenn Pike is a holistic nutritionist and the bestselling author of The Simplicity Project. She's been on her own personal health journey and mission for 21 years and works with women, helping them feel amazing.
In this episode, we discuss:
Why Jenn would walk out of yoga class early and not embrace Shavasana
Experiencing burnout running her yoga studio
Shifting from a brick and mortar business to the online world
Important lessons learned from owning and running a physical business
Adult field trips
The importance of investing in yourself
Exposing yourself to different fields, outside of your scope
With little money and little time how can you connect with different groups of people?
Don't barf on your audience
Stop comparing your beginning to someone else's journey
What drove Jenn to tackle the topic of hormones
We are pressed for time, over scheduled, and overwhelmed
More being… less doing
Thyroid and adrenals go hand in hand
Become the CEO of your health and body
Maintaining balance as an entrepreneur and a Mom
Allow your children to be part of what you're doing instead of keeping things separate
How to get your kids and partner eating healthy
Simplify your life
Choose not to snooze
Show sponsors:
Perfect Keto <== 20% off Perfect Keto products and they ship worldwide (free shipping in the US)
Raw Elements <== 10% off all Raw Elements products – Apply the code TUHP at checkout (free shipping over $100)
Thrive Market <== Get your membership for as low as $5 a month & receive $20 in shopping credit with a 1 year membership (US only)
Sunwarrior <== 20% off all Sunwarrior products & free shipping over $50 (US only)
Related links:
Jenn Pike – The Simplicity Project (book)
Jenn Pike's website
Follow Jenn Pike Facebook, Instagram, and Twitter
Toastmasters
DUTCH hormone testing
Related episodes:
298: Kate Northrup – Do Less, Surrender Your Control, Yoga Nidra
262: Jen Oliver – Core Rehab • Travelling With Young Kids • Saying Thank You
258: Samantha Gladish – Healing Hashimoto's • Coming Off The Pill • Tracking Your Cycle
256: Dr. Datis Kharrazian – Why Do I Still Have Thyroid Symptoms? • Understanding Iodine • Vitamin D & Autoimmunity
165: Focus Friday – Life Simplified
Note: Some of the links above are affiliate links. Making a purchase through these links won't cost you anything but we will receive a small commission. This is an easy, free way of supporting the podcast. Thank you!
How can you support our podcast?
1. Apple users, please subscribe and review our show on Apple Podcasts, we make sure to read them all. Android users, be sure to subscribe to our show on Google Podcasts. Subscribers never miss any of the action 😉
2. Tell a friend about The Ultimate Health Podcast. They will surely thank you later. You can use the envelope button below to email a friend or tell them about TUHP in person.
3. Join TUHP Facebook community (FREE). This is where we all stay in touch and ask questions in between episodes. Join our community.
4. Follow our adventures on our favourite social media platform, Instagram.
5. Download The Ultimate Health Podcast app (FREE). This way you'll have our whole library of episodes right at your fingertips. Download our iOS/Apple app or our Android app.
6. Share using the buttons below.
Thank you!