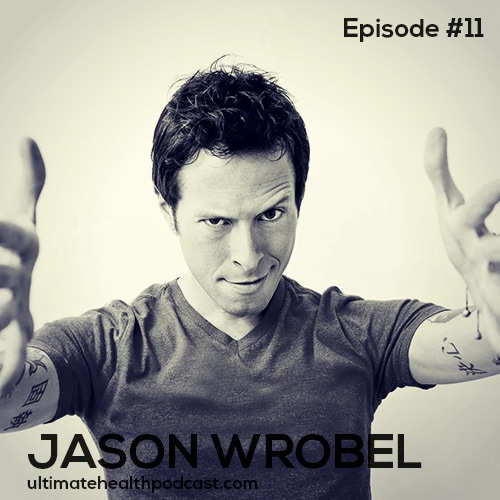 On today's show, we have a lively interview with health expert, Jason Wrobel. He is a raw, vegan chef with a passion for creating new healthy recipes. Jason combines local organic produce with nutrient rich superfoods to make some of the healthiest and delicious dishes on the planet.
In this episode, we discuss:
Jason's knack for connecting with people
The evolution of Jason's diet
Taking your health to the next level with superfoods
What foods Jason consumes on a typical day
Differentiating between raw foods and living foods
Can vegans get enough DHA and EPA?
The importance of having our minerals, hormones, nutrients etc. tested
The many health benefits of including more raw food into your diet
Hydrating with raw foods
The health benefits of tonic herbs
Why many health gurus are turning to animal products
The importance of organic, non-gmo foods
The one appliance that will completely change your relationship with healthy eating
Jason's morning and nighttime routines
Magnesium supplementation for a better night's sleep
The health benefits of gorunding mats
Related Links:
Jason's website
Follow Jason Wrobel on Facebook, and Instagram
The J-Wro Show
How To Live To 100
ChlorOxygen Chlorophyll Concentrate (supplement)
Bulletproof Coffee
Longevity Coffee
Nordic Naturals – Algae Omega (supplement)
Erewhon Natural Foods
Healthy, Organic Vegan on a Budget (ebook)
Dr. Gabriel Cousens
Kirlian photography
Living Light Culinary Arts Institute
Vitamix – Blender
Blendtec – Blender
Metagenics – SeroSyn (supplement)
Natural Calm (supplement)
Castle Rock Water
Spicy Pad Thai Noodles (video)
Related Shows:
084: Dr. Mark Hyman – Saturated Fat Isn't The Enemy | Eat Fat, Get Thin | Stop Fearing Cholesterol
027: Shawn Stevenson – Optimize Your Sleep | Don't Underestimate Walking | Blue-Light Blocking
264: Daniel DeBaun – Understanding EMFs & How To Protect Yourself
136: Julie Daniluk – Hot Detox • Spark Your Digestion With Herbs & Spices • We Haven't Evolved To Eat Cold Food
006: Joe Cross – Reboot Your Body With Juice
Note: Some of the links above are affiliate links. Making a purchase through these links won't cost you anything but we will receive a small commission. This is an easy, free way of supporting the podcast. Thank you!
How can you support our podcast?


1. Apple users, please subscribe and review our show on Apple Podcasts, we make sure to read them all. Android users, be sure to subscribe to our show on Google Podcasts. Subscribers never miss any of the action ;)


2. Tell a friend about The Ultimate Health Podcast. They will surely thank you later. You can use the envelope button below to email a friend or tell them about TUHP in person.


3. Join TUHP Facebook community (FREE). This is where we all stay in touch and ask questions in between episodes. Join our community.


4. Follow our adventures on our favourite social media platform, Instagram.


5. Download The Ultimate Health Podcast app (FREE). This way you'll have our whole library of episodes right at your fingertips. Download our iOS/Apple app or our Android app.
6. Share using the buttons below.
Thank you!