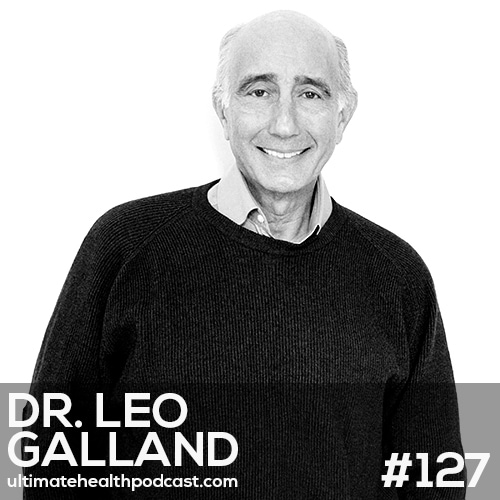 Dr. Leo Galland is internationally recognized as a world leader in integrated medicine and a founder of Functional Medicine.
Educated at Harvard University and the NYU School of Medicine, he won the Linus Pauling Award for his trailblazing vision that created a bold new way to practice medicine for thousands of doctors.
Dr. Galland has appeared in The New York Times, The Wall Street Journal, on the Dr. Oz Show, The Today Show, Good Morning America, PBS, CNN, and Fox.
The past spring he released a new book titled The Allergy Solution.
In this episode, we discuss:
Why have we become so allergic?
The majority of people in the US today will have an allergic reaction in their lifetime
Automotive pollution is a major factor contributing to our allergy epidemic
The relationship between formaldehyde and allergies
Allergies start in your stomach
A healthy microbiome has a high level of diversity
Anti-plaque toothpastes may still contain triclosan
Eating fast food three times a week increases your risk of developing allergies
Your diet is essential to having a diverse microbiome
Having outdoor pets leads to a significant reduction in allergies
An immune deficiency allows the allergic reactions to become overactive
The link between stress and allergies
Allergy means altered reactivity
An allergic reaction can produce almost any symptom
30-40 years ago… it was easier to lose weight and harder to gain weight
If you have allergies you're more likely to become overweight AND if you're overweight you're more likely to develop allergies
Two factors that can increase a child's risk of developing a peanut allergy
Related links:
Raw Elements <== 10% off all Raw Elements products – Apply the code TUHP at checkout (free shipping over $100)
Sunwarrior <== 20% off all Sunwarrior products & free shipping over $50 (US only)
Dr. Leo Galland – The Allergy Solution (book)
Dr. Leo Galland's website
Follow Dr. Leo Galland on Facebook, Twitter, and YouTube
Jonathan Galland
Laird Hamilton
Related episodes:
304: Trina Felber – Primal Skincare, Remineralize Your Teeth, Foods That Cause Acne
122: Dr. Kara Fitzgerald – Stress Is Destroying Your Health • Methylation 101 • Farmed vs. Wild-Caught Fish
087: Dr. Robynne Chutkan – The Bloat Cure | Stress Changes Your Gut Bacteria | Cruciferous Vegetables Cause "Good Gas"
078: Dr. Robynne Chutkan – Microbiome 101 | Stop Sanitizing Yourself Sick | Having A Dog Will Boost Your Health
071: Alan Smith & Julie Daniluk – Fresh Coffee Is A Must | Gratitude Before Bed | Adrenal Burnout Can Lead To Allergies
Note: Some of the links above are affiliate links. Making a purchase through these links won't cost you anything but we will receive a small commission. This is an easy, free way of supporting the podcast. Thank you!
How can you support our podcast?
1. Apple users, please subscribe and review our show on Apple Podcasts, we make sure to read them all. Android users, be sure to subscribe to our show on Google Podcasts. Subscribers never miss any of the action 😉
2. Tell a friend about The Ultimate Health Podcast. They will surely thank you later. You can use the envelope button below to email a friend or tell them about TUHP in person.
3. Join TUHP Facebook community (FREE). This is where we all stay in touch and ask questions in between episodes. Join our community.
4. Follow our adventures on our favourite social media platform, Instagram.
5. Download The Ultimate Health Podcast app (FREE). This way you'll have our whole library of episodes right at your fingertips. Download our iOS/Apple app or our Android app.
6. Share using the buttons below.
Thank you!