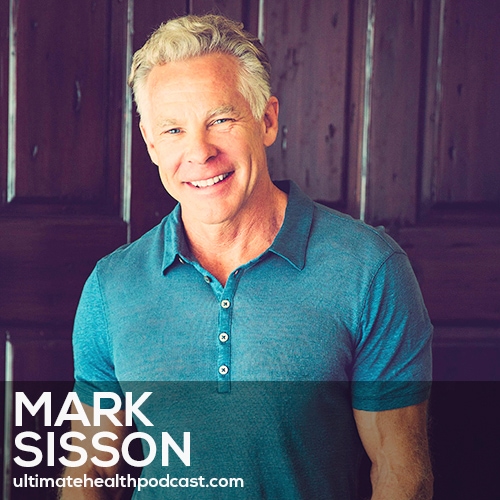 Mark Sisson is a former elite endurance athlete who has made health and fitness his life's work.
He's written a series of bestselling health and fitness books and his blog MarksDailyApple.com is the world's most popular ancestral health website.
Mark is also the creator of Primal Kitchen which makes high quality sauces and dressings and he just opened the second Primal Kitchen Restaurant.
In this episode, we discuss:
Mark took his health to the next level by going keto
Mark ditched his plans of going to medical school and decided to train for the US olympic team for the marathon
Combining the keto diet with endurance sport
Rebooting your metabolism so you can burn fat more efficiently for the rest of your life
When you go keto… hunger no longer runs your life
If you need to lose body fat, keto might be your answer
Being in ketosis can help you build and spare muscle mass
Your brain loves ketones and runs better on them vs. glucose
How Mark's brain went from a 10 to an 11 when he went keto
Ketones can help manage certain types of neurological disorders (epilepsy)
The ketogenic diet has been shown to eliminate seizures
When does Mark use exogenous ketones?
Comparing ketosis to a cleanse
How Mark doesn't eat until 1pm – he skips breakfast
Pickles are "free food"
Mark's big ass salad
The healthiest of all oils
Eating keto doesn't mean you give up veggies
Are people abusing protein on a keto diet?
Stop sweating to eat
Women and the ketogenic diet… things to consider
Make exercise fun
Strategies for next level sleep
How Mark manages stress while running four businesses
Sometimes you just need to "enjoy life"
The less sugar you eat in your lifetime, the healthier you'll be
Show sponsors:
Perfect Keto <== 20% off Perfect Keto products and they ship worldwide (free shipping in the US)
Thrive Market <== Get your membership for as low as $5 a month & receive $20 in shopping credit with a 1 year membership (US only)
CoreChair <== 15% off your CoreChair purchase by using the code tuhpcc at checkout (free shipping in North America)
Sunwarrior <== 20% off all Sunwarrior products & free shipping over $50 (US only)
Related links:
Mark Sisson – The Keto Reset Diet (book)
Mark Sisson's website (Mark's Daily Apple)
Follow Mark's Daily Apple on Facebook, Instagram, and Twitter
Mark Sisson – The New Primal Blueprint (book)
All of Mark Sisson's books
Primal Kitchen – Mark's sauces and dressings
Listen to Leanne Vogel previously on TUHP (episode #174)
Artisana Coconut Butter
ChiliPad Cube
Laird Superfood Turmeric Coffee Creamer
Related episodes:
323: Laird Hamilton – Born To Surf, XPT (Extreme Performance Training), Ice Baths & Saunas
311: Leanne Vogel – Keto For Women, Loving Your Body, Sailing Through Life
299: Drew Manning – Complete Keto, Embracing Vulnerability As A Strength, Learn To Love Yourself
229: Melissa Hartwig – The Whole30 Origin Story
291: Dr. Joseph Mercola – KetoFast • Near-Infrared Saunas • Stop Eating Before Bed
Note: Some of the links above are affiliate links. Making a purchase through these links won't cost you anything but we will receive a small commission. This is an easy, free way of supporting the podcast. Thank you!
How can you support our podcast?
1. Apple users, please subscribe and review our show on Apple Podcasts, we make sure to read them all. Android users, be sure to subscribe to our show on Google Podcasts. Subscribers never miss any of the action 😉
2. Tell a friend about The Ultimate Health Podcast. They will surely thank you later. You can use the envelope button below to email a friend or tell them about TUHP in person.
3. Join TUHP Facebook community (FREE). This is where we all stay in touch and ask questions in between episodes. Join our community.
4. Follow our adventures on our favourite social media platform, Instagram.
5. Download The Ultimate Health Podcast app (FREE). This way you'll have our whole library of episodes right at your fingertips. Download our iOS/Apple app or our Android app.
6. Share using the buttons below.
Thank you!