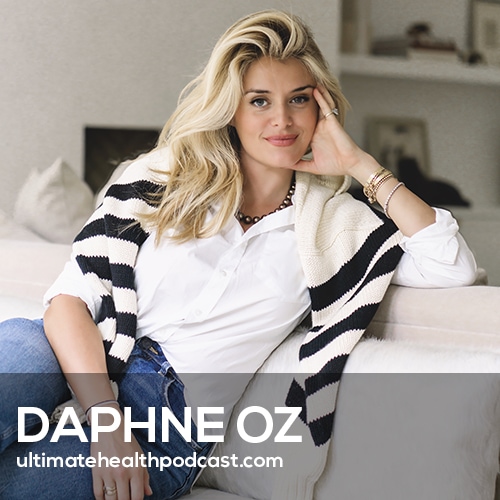 Daphne Oz (IG: @daphneoz) is an Emmy Award-winning television host, New York Times bestselling author and a natural foods chef.

She cohosts The Good Dish, a new syndicated daytime cooking and lifestyle talk show airing daily nationwide.

Daphne just released a cookbook called Eat Your Heart Out: All-Fun, No-Fuss Food to Celebrate Eating Clean. It's a collection of 150 recipes free from gluten and refined sugar and full of flavor.
When it comes to health and wellness, Daphne has a way of being that honours moderation while still focusing on keeping healthy – you're going to take a lot away from our chat!
Watch the full video version of this conversation below.
In this episode, we discuss:
Where did Daphne's passion for health and wellness stem from?
Her transition from information-based health to emotional-based health
Why she doesn't believe in restricting foods
Yo-yo dieting is not a sustainable solution
The two-bite rule
Growing up primarily vegetarian
Daphne shares why she doesn't practice intermittent fasting
Create family bonding time in the kitchen
Daphne's supplement recommendations
The positive benefits her family experienced moving from New York to Florida
The importance of connection and making friends
How to cultivate an online community in a healthy way
Following in the footsteps of her father, Dr. Oz
Motherhood + what she's learned as a mom of 4
Make time for yourself
Make a game plan for the following day
Advice on navigating marriage & parenthood
How to tackle picky eaters
Helping moms through their motherhood journeys
The inspiration behind "Eat Your Heart Out"
Daphne's relationship with gluten over the years
Show sponsors:
LMNT <== Get your LMNT Sample Pack for the cost of shipping (5 dollars in the US)
Organifi <== 20% off all Organifi products by using the code ultimatehealth at checkout
Related links:
Daphne Oz – Eat Your Heart Out (book)
Daphne Oz's website
Follow Daphne Oz on Facebook, Instagram, Twitter, and TikTok
Daphne Oz – Dorm Room Diet (book)
Daphne Oz (books)
Lisa Oz (books)
HealthCorps
Dr. Mehmet Oz (books)
Mom Brain with Hilaria Baldwin & Daphne Oz
Institute for Integrative Nutrition
Natural Gourmet Institute
Related episodes:
Use Diet and Lifestyle to Heal Your Chronic Health Condition | Laurel Gallucci aka Sweet Laurel (#422)
The Power of Speaking Your Truth and How It Positively Impacts Your Health | Fearne Cotton (#418)
Laura Prepon on Healing With Real Food (#406)
324: Gabby Reece – Life Isn't Perfect, Motherhood, Developing A Growth Mindset
298: Kate Northrup – Do Less, Surrender Your Control, Yoga Nidra
Daphne Oz photo credit: Kensey Bowen
How can you support our podcast?
1. Apple users, please subscribe and review our show on Apple Podcasts, we make sure to read them all. Android users, be sure to subscribe to our show on Google Podcasts. Subscribers never miss any of the action 😉
2. If you'd prefer to watch vs listen to the interviews, head over to our YouTube channel and enjoy the full video conversations. Be sure and subscribe while you're there.
3. Tell a friend about The Ultimate Health Podcast. They will surely thank you later. You can use the envelope button below to email a friend or tell them about TUHP in person.
4. Join TUHP Facebook community (FREE). This is where we all stay in touch and ask questions in between episodes. Join our community.
5. Follow our adventures on our favourite social media platform, Instagram.
6. Download The Ultimate Health Podcast app (FREE). This way you'll have our whole library of episodes right at your fingertips. Download our iOS/Apple app or our Android app.
7. Share using the buttons below.
Thank you!