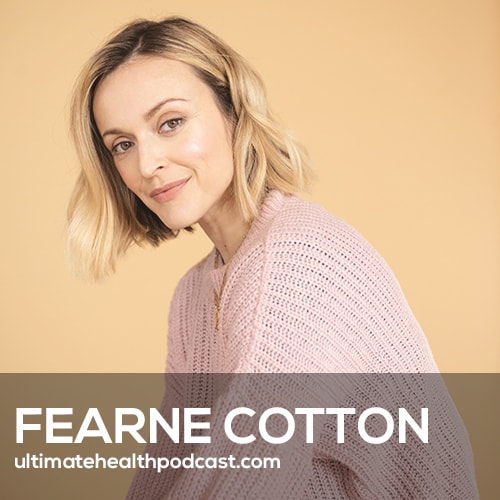 Fearne Cotton (IG: @fearnecotton) is an author, one of the best known and most popular broadcasters in the UK and is most recently known as the Founder of the wellbeing brand, Happy Place.
She hosts the Happy Place podcast that has over 40 million downloads and continues to top the charts.
In 2019 Fearne hosted two live Happy Place Festivals, the Festival went virtual in 2020.
Watch the full video version of this conversation below.
In this episode, we discuss:
Fearne finding out she had a massive cyst on one of her vocal cords
The esoteric meaning behind the throat chakra
How Fearne's life perspective has changed with age
Speaking your truth
Happiness derived from the simple things in life
Being in showbiz can be exciting but it won't make you happy
How Fearne felt the day her book Happy hit the bookshelves
Moving into a new phase of life after suffering from depression
What is stopping us from tapping into spirituality?
Enneagram: the self-awareness tool
Build discipline and structure into your daily routine
Finding more time to be idle
Pivoting into the world of wellbeing
Fearne's mom introduced spirituality to her at a young age
Practice surrendering with yoga nidra meditations
Fearne's dream of being in showbiz from a young age
How planning for motherhood helped Fearne overcome her eating disorder, bulimia
The transition from a vegetarian to a vegan lifestyle
What Fearne eats in a typical day
EMDR therapy for trauma
Focusing on family and work
What to do when you're having a panic attack
The distinction between mental health and mental illness
Show sponsors:
Alitura <== 20% off your first order of Alitura's life-changing skin care products by using the code ultimatehealth at checkout
Organifi <== 20% off all Organifi products
Paleovalley <== 15% off all Paleovalley products by using the code ultimatehealth at checkout
LMNT <== Get your LMNT Sample Pack for the cost of shipping (5 dollars in the US)
Related links:
Fearne Cotton – Speak Your Truth (book)
Fearne Cotton's website
Follow Fearne Cotton on Facebook, Instagram, and Twitter
Fearne Cotton – Happy Vegan (book)
Fearne Cotton – Happy (book)
Fearne Cotton (books)
Happy Place Podcast
Deepak Chopra (books)
Listen to Deepak Chopra previously on TUHP (episode #141)
Jesse Wood
Related episodes:
310: Seane Corn – Revolution Of The Soul, Yoga Is An Art, Understanding The Chakras
298: Kate Northrup – Do Less, Surrender Your Control, Yoga Nidra
208: Gabby Bernstein – Judgment Detox • Forgiveness As A Practice • Why We Avoid Vulnerability
184: Danielle LaPorte – White Hot Truth • You Are Your Own Guru • Boundaries vs. Barriers
104: Carrie-Anne Moss – Life Outside The Matrix • Embracing Imperfection • The Yoga Of Awareness
How can you support our podcast?
1. Apple users, please subscribe and review our show on Apple Podcasts, we make sure to read them all. Android users, be sure to subscribe to our show on Google Podcasts. Subscribers never miss any of the action 😉
2. Tell a friend about The Ultimate Health Podcast. They will surely thank you later. You can use the envelope button below to email a friend or tell them about TUHP in person.
3. Join TUHP Facebook community (FREE). This is where we all stay in touch and ask questions in between episodes. Join our community.
4. Follow our adventures on our favourite social media platform, Instagram.
5. Download The Ultimate Health Podcast app (FREE). This way you'll have our whole library of episodes right at your fingertips. Download our iOS/Apple app or our Android app.
6. Share using the buttons below.
Thank you!