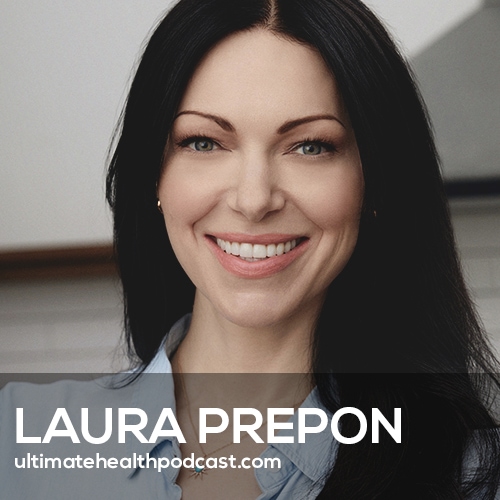 Laura Prepon (IG: @lauraprepon) is a versatile actress and a New York Times bestselling author.
She made her television debut on the long running sitcom "That 70's Show." Laura can be seen in the hit Netflix original series, "Orange is the New Black."
She recently teamed up with HSN to present "PrepOn Kitchen," an exclusive collection thoughtfully designed to make preparing your meals easy, attainable, and fun.
Watch the full video version of this conversation below.
In this episode, we discuss:
Laura struggling with digestive issues, weight gain and low energy in her early 20's
Food as medicine
Reading and researching helped Laura hone her food philosophy
Motherhood isn't talked about the way it should be
Eating small meals throughout the day spikes your insulin
Laura's version of intermittent fasting
Bone broth is a game changer
Spreading meals 5 hours apart
The importance of eating organic and non-GMO foods
Why Laura always brings her own food to set
Putting energy into food prepping
Trying to chew each bite of food 30 times
Make your life sustainable
Laura grew up with a love for food
Inspiring people to adopt healthy habits
Cooking shouldn't be stressful
Being supportive without being preachy
PrepOn Kitchen was inspired by real life kitchen solutions
Show sponsor:
Four Sigmatic <== Save up to 40% off Four Sigmatic
BiOptimizers <== 10% off all BiOptimizers products by using the code ultimatehealth at checkout
Related links:
PrepOn Kitchen
Laura Prepon's website
Follow Laura Prepon on Facebook, Instagram, and YouTube
Laura Prepon – You And I, As Mothers (book)
Laura Prepon – The Stash Plan (book)
That 70's Show
Ashton Kutcher
Jessica Porter – The Hip Chick's Guide To Macrobiotics (book)
Orange Is The New Black
Related episodes:
Danielle Walker on Finding Health After Being Diagnosed With an Autoimmune Disease (#401)
Dr. Will Cole on Intuitive Fasting to Recharge Your Metabolism and Renew Your Health (#393)
Alicia Silverstone On Living A Responsible And Ethical Life, Waldorf Education, And Being Famous (#384)
369: Dr. Jason Fung – Stop Snacking & Start Fasting
353: Dr. Satchin Panda – Time-Restricted Eating (TRE) & Managing Your Light Exposure
Note: Some of the links above are affiliate links. Making a purchase through these links won't cost you anything but we will receive a small commission. This is an easy, free way of supporting the podcast. Thank you!
How can you support our podcast?
1. Apple users, please subscribe and review our show on Apple Podcasts, we make sure to read them all. Android users, be sure to subscribe to our show on Google Podcasts. Subscribers never miss any of the action 😉
2. Tell a friend about The Ultimate Health Podcast. They will surely thank you later. You can use the envelope button below to email a friend or tell them about TUHP in person.
3. Join TUHP Facebook community (FREE). This is where we all stay in touch and ask questions in between episodes. Join our community.
4. Follow our adventures on our favourite social media platform, Instagram.
5. Download The Ultimate Health Podcast app (FREE). This way you'll have our whole library of episodes right at your fingertips. Download our iOS/Apple app or our Android app.
6. Share using the buttons below.
Thank you!