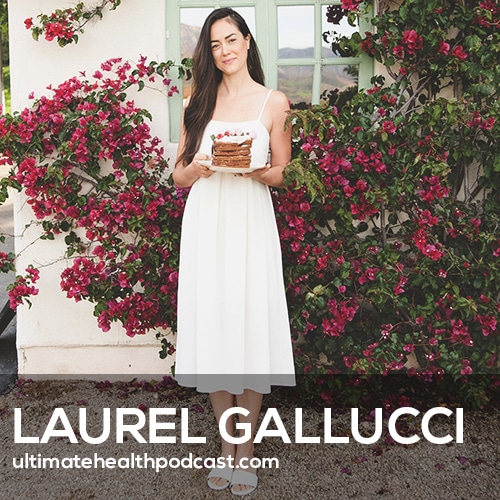 Laurel Gallucci's (IG: @laurelgallucci) world was rocked when she was diagnosed with an aggressive autoimmune disease and told she would never eat cake again. The lifelong baker and dessert lover refused to accept that, which led her to discover the beauty of baking with whole-food ingredients. When Laurel shared a slice of grain-free, refined sugar–free, dairy-free, soy-free, gum-free, filler-free, fudge-frosted chocolate caramel cake with her friend Claire Thomas, Sweet Laurel bakery was born.
Watch the full video version of this conversation below.
In this episode, we discuss:
Laurel's lifelong passion for baking
Dealing with digestive issues & fatigue in college
Laurel's father, a cardiologist, instilled in her the link between health & diet
At age 26, Laurel's OB noticed she had a goiter and was later diagnosed with Hashimoto's
Laurel left her teaching job to take a year off to heal
The biggest challenge transitioning to the paleo diet
Experimenting with paleo baking
Launching Sweet Laurel in 2014 with Claire Thomas
You learn by doing
Healing began by rebuilding the gut wall
Dealing with secondary amenorrhea
Breathwork helps calm the body and manage stress
The mental aspect of Laurel's healing journey
Fostering a sense of community at Sweet Laurel
It is possible to reverse Hashimoto's disease
Synthroid vs. Armour thyroid
Working with a functional medicine practitioner to address deficiencies
Laurel's experience with the AIP diet
The support of Laurel's husband and his involvement in the business
The naming of Sweet Laurel
How the pandemic has impacted the direction of her business
Sweet Laurel is more than just a bakery
Balancing motherhood & friendship
Gardening is fun for the whole family
Educating & inspiring people is the foundation of Sweet Laurel
Kids helping in the kitchen is a great way for them to build motor skills
Show sponsors:
Four Sigmatic <== Save up to 40% off Four Sigmatic Mushroom Coffee bundles
LMNT <== Get your LMNT Sample Pack for the cost of shipping (5 dollars in the US)
BiOptimizers <== 10% off BiOptimizers MassZymes by using the code ultimatehealth10 at checkout
Related links:
Laurel Gallucci & Claire Thomas – Sweet Laurel Savory (book)
Laurel Gallucci & Claire Thomas – Sweet Laurel (book)
Laurel Gallucci's website (Sweet Laurel)
Follow Laurel Gallucci on Instagram
Follow Sweet Laurel Bakery on Facebook, Instagram, and Pinterest
Mark's Daily Apple
Listen to Mark Sisson previously on TUHP (episodes #178 & #416)
Claire Thomas
Margaret Floyd
Paleo Baking Company, Sweet Laurel's Founders Share Their Journey From Bakeshop To Cookbooks To Consumer Packaged Goods (With Recipes) (Meggen Taylor article)
Related episodes:
Dr. Alan Christianson on Healing Your Thyroid by Balancing Your Iodine (#411)
Danielle Walker on Finding Health After Being Diagnosed With an Autoimmune Disease (#401)
Andrea Hannemann (Earthy Andy) on Healing Chronic Health Issues by Embracing a Plant-Based Diet (#386)
285: Dr. Izabella Wentz – Hashimoto's Food Pharmacology • Thyroid Testing • Stress, Trauma & Autoimmune Conditions
258: Samantha Gladish – Healing Hashimoto's • Coming Off The Pill • Tracking Your Cycle
How can you support our podcast?
1. Apple users, please subscribe and review our show on Apple Podcasts, we make sure to read them all. Android users, be sure to subscribe to our show on Google Podcasts. Subscribers never miss any of the action 😉
2. If you'd prefer to watch vs listen to the interviews, head over to our YouTube channel and enjoy the full video conversations. Be sure and subscribe while you're there.
3. Tell a friend about The Ultimate Health Podcast. They will surely thank you later. You can use the envelope button below to email a friend or tell them about TUHP in person.
4. Join TUHP Facebook community (FREE). This is where we all stay in touch and ask questions in between episodes. Join our community.
5. Follow our adventures on our favourite social media platform, Instagram.
6. Download The Ultimate Health Podcast app (FREE). This way you'll have our whole library of episodes right at your fingertips. Download our iOS/Apple app or our Android app.
7. Share using the buttons below.
Thank you!