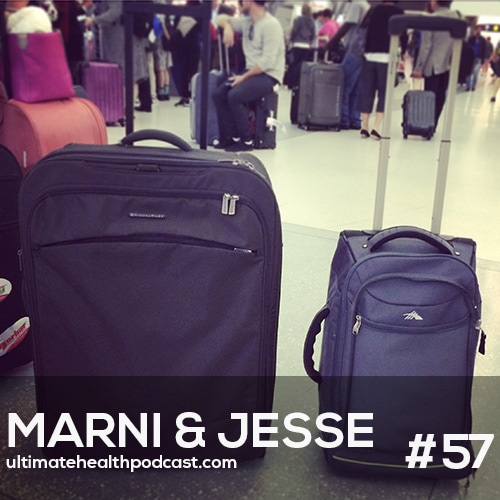 Maintaining a healthy lifestyle in modern society can be challenging on the best of days. It becomes even harder when travelling by plane.
We decided to do a recording on a recent flight, as we take off from Phoenix Airport. We share how we stayed healthy through the whole flight process.
Flying healthy, like anything else, is about doing the best you can in a given situation.
Enjoy our planecast!
In this episode, we discuss:
Healthy foods and drinks we consume in flight
How we minimize EMFs from the flight
Opting for a pat down
Making the most of your time on the plane
Jesse's prickly pear encounter… ouch!
Related links:
Sunwarrior <== 20% off all Sunwarrior products & free shipping over $50 (US only)
Pomegranate Cafe (restaurant, Phoenix)
Kaleidoscope Juice (juice bar, Arizona)
Giddy yoyo
Four Sigmatic <== 15% off all Four Sigmatic products – Your discount will automatically be applied at checkout
Marie Kondo – The Life-Changing Magic of Tidying Up (book)
Listen to Kevin Gianni previously on TUHP (episode #054)
Chip Heath – Decisive (book)
Related episodes:
270: Nicolas Pineault – The Non-Tinfoil Guide To EMFs
264: Daniel DeBaun – Understanding EMFs & How To Protect Yourself
213: Focus Friday – Healthy Travel Toolkit
005: Julie Morris – Optimizing Your Health With Superfoods
225: Focus Friday – Understanding Adaptogens
Note: Some of the links above are affiliate links. Making a purchase through these links won't cost you anything but we will receive a small commission. This is an easy, free way of supporting the podcast. Thank you!
How can you support our podcast?
1. Apple users, please subscribe and review our show on Apple Podcasts, we make sure to read them all. Android users, be sure to subscribe to our show on Google Podcasts. Subscribers never miss any of the action 😉
2. Tell a friend about The Ultimate Health Podcast. They will surely thank you later. You can use the envelope button below to email a friend or tell them about TUHP in person.
3. Join TUHP Facebook community (FREE). This is where we all stay in touch and ask questions in between episodes. Join our community.
4. Follow our adventures on our favourite social media platform, Instagram.
5. Download The Ultimate Health Podcast app (FREE). This way you'll have our whole library of episodes right at your fingertips. Download our iOS/Apple app or our Android app.
6. Share using the buttons below.
Thank you!