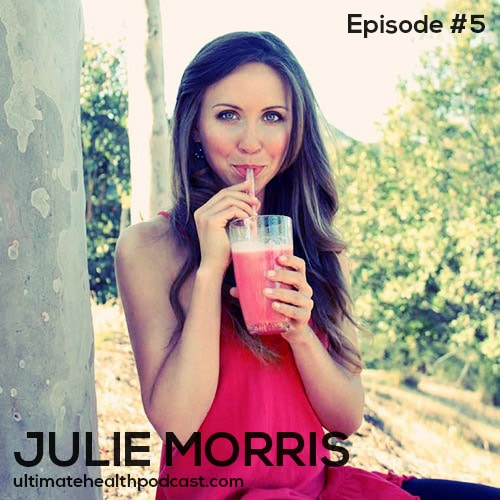 Today we are talking with the superfood queen, Julie Morris. She is the expert when it comes to nourishing the body with these nutrient dense foods from around the world. Julie is the executive chef at Navitas Naturals and is the author of 3 (soon to be 4) exceptional superfood books. If you want to learn more about superfoods and optimizing your health, Julie is your gal!
In this episode, we discuss:
Julie's health journey
How to get more superfoods into your life
What foods fall into the category of superfoods
Superfoods for the newbie
Eating for nutrient density
Exotic vs. local superfoods
Quality control of superfoods
Julie's favourite superfoods when travelling
Julie gives us the details of her morning routine
The power of a big salad
The pillars of a healthy lifestyle
The importance of listening to your body
Maybe a 100% raw food diet isn't the best ever
Related Links:

Julie's website
Follow Julie Morris on Facebook, Instagram, and Twitter
Navitas Organics – Superfoods
Julie Morris (books)
Related Shows:
003: Bethanne Wanamaker – The Power of Superfood Elixirs
015: Tero Isokauppila – Balance Your Hormones And Immune System With Superfood Mushrooms
044: Diana Stobo – Don't Get Stuck In Dietary Dogma | Nut Milk, Made Easy | Is Detoxing Good?
113: Joy Coelho & Jay Denman – JingSlingers • Tonic Herbs vs Adaptogens • The Ultimate Sleep Inducing Elixir
135: The 6 Pillars of Health 2.0
Note: Some of the links above are affiliate links. Making a purchase through these links won't cost you anything but we will receive a small commission. This is an easy, free way of supporting the podcast. Thank you!
How can you support our podcast?


1. Apple users, please subscribe and review our show on Apple Podcasts, we make sure to read them all. Android users, be sure to subscribe to our show on Google Podcasts. Subscribers never miss any of the action ;)


2. Tell a friend about The Ultimate Health Podcast. They will surely thank you later. You can use the envelope button below to email a friend or tell them about TUHP in person.


3. Join TUHP Facebook community (FREE). This is where we all stay in touch and ask questions in between episodes. Join our community.


4. Follow our adventures on our favourite social media platform, Instagram.


5. Download The Ultimate Health Podcast app (FREE). This way you'll have our whole library of episodes right at your fingertips. Download our iOS/Apple app or our Android app.
6. Share using the buttons below.
Thank you!