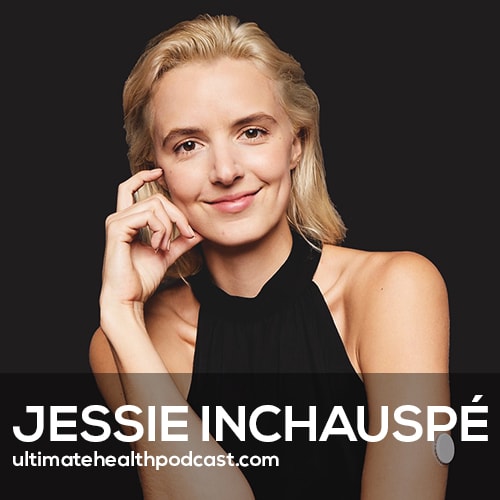 Jessie Inchauspé is on a mission to translate cutting-edge science into easy advice to help people improve their physical and mental health.
She's the founder of the wildly popular Instagram account @GlucoseGoddess, where she teaches hundreds of thousands of people about healthy food habits.
In her first book, Glucose Revolution, Jessie shares her startling discovery about the essential role of blood sugar in every aspect of our lives, from cravings to fertility, and the surprising hacks to optimize it while still eating the foods we love.
Today Jessie and I go deep into these hacks so you can take control of your blood sugar starting today.
Watch the full video version of this conversation below.
In this episode, we discuss:
What happens when glucose spikes in your body?
The difference between starch and sugar
Invisible insulin spikes explained
How does caffeine relate to insulin
The problem with injecting insulin if you have type 2 diabetes
How Jessie got into studying the science of glucose
A simple hack if you don't have a glucose monitor
Eat your food in this order to minimize glucose spikes
The impact of drinking juices & smoothies on blood glucose
Debunking the fruit myth + why you should eat it last
Never eat your carbs naked
Breakfast: what to eat + what not to eat
The truth about sugar and other sweeteners
Hacks to battle sugar cravings
How to manage reactive hypoglycemia
Drinking vinegar water to reduce a glucose spike
Moving your body after meals
Starting your meals with veggies
The nuances of glucose and alcohol
Jessie shares her dietary experiments
Jessie's typical day of eating + applying the hacks
The growth of the Glucose Goddess community
"Calories in, calories out" is outdated information
Jessie's thoughts on dairy
How quickly do people start to see changes after controlling their glucose?
Fixing blood glucose improves mental health
Show sponsors:
BiOptimizers <== 10% off BiOptimizers' Magnesium Breakthrough by using the code ultimatehealth10 at checkout
Organifi <== 20% off all Organifi products by using the code ultimatehealth at checkout
Related links:
Jessie Inchauspé – Glucose Revolution (book)
Jessie Inchauspé's website
Follow Jessie Inchauspé (aka Glucose Goddess) on Facebook, Instagram, and Twitter
23andMe
Related episodes:
The Bitter Truth About Sugar: It's Poisoning You! | Dr. Robert Lustig (#474)
Intermittent Fasting Is the Key to Weight Loss | Dr. Jason Fung (#467)
Eliminate These Foods to Lose Weight & Prevent + Reverse Disease | Dr. David Perlmutter (#457)
Kick Sugar to the Curb to Reduce Inflammation & Restore Your Health | Julie Daniluk (#450)
The Hidden Root Cause of Most Chronic Disease | Dr. Benjamin Bikman (#448)
How can you support our podcast?
1. Apple users, please subscribe and review our show on Apple Podcasts, we make sure to read them all. Android users, be sure to subscribe to our show on Google Podcasts. Subscribers never miss any of the action 😉
2. If you'd prefer to watch vs listen to the interviews, head over to our YouTube channel and enjoy the full video conversations. Be sure and subscribe while you're there.
3. Tell a friend about The Ultimate Health Podcast. They will surely thank you later. You can use the envelope button below to email a friend or tell them about TUHP in person.
4. Join TUHP Facebook community (FREE). This is where we all stay in touch and ask questions in between episodes. Join our community.
5. Follow our adventures on our favourite social media platform, Instagram.
6. Download The Ultimate Health Podcast app (FREE). This way you'll have our whole library of episodes right at your fingertips. Download our iOS/Apple app or our Android app.
7. Share using the buttons below.
Thank you!