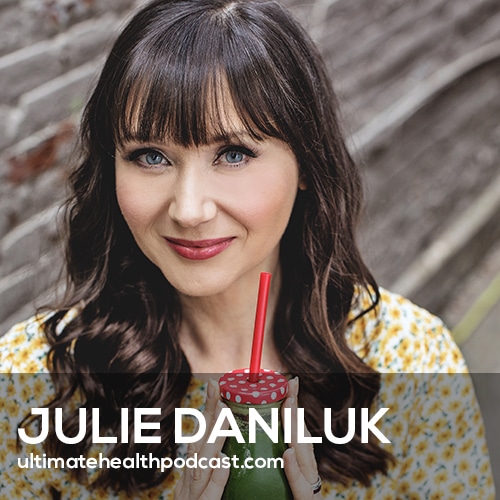 Julie Daniluk (IG: @juliedaniluk) is a nutritionist and TV personality and the award-winning, bestselling author of Meals That Heal Inflammation, Slimming Meals That Heal & Hot Detox.
Her 4th book, Becoming Sugar-Free, was released in September 2021 and quickly became a Canadian bestseller.
Julie has appeared on hundreds of television and radio shows, including The Dr. Oz Show. She is in her 11th season as a resident expert for The Marilyn Denis Show.
If you're looking to break up with sugar for good and still have plenty of options for adding healthy sweetness to your diet – this episode is for you.
Watch the full video version of this conversation below.
In this episode, we discuss:
Sugar = inflammation
Eliminating sugar can improve ADHD symptoms
Sugar is as addictive as cocaine
Sugar ages us head to toe
Healthy alternatives to sugar
Buffer your blood sugar by eating fiber
Cane sugar vs. white sugar
Raw honey is healing for your gut
Inositol can reduce panic attacks and PCOS
Why Julie gave up sugar for good, 14 years ago
Emotional eating is a form of self-harm
Eating disorders and EMDR therapy
Julie recalls her life-threatening food poisoning incident
Focusing on a gut healing & anti-inflammatory lifestyle
90% of your serotonin is made in your gut
The best healing foods
Julie's intermittent fasting routine + what she eats in a day
Focus on fat-fueled snacks
True fasting means no caffeine
Julie's favourite adaptogenic herbs for adrenal support
The benefits of obscure alternative sweeteners
Choose coconut sugar over maple syrup
Break up with high levels of fructose
Vitamin P helps transport vitamin C
Try wearing a continuous glucose monitor
Why you should avoid agave syrup
Julie's top 4 alternative sweetener recommendations
What's 3 food interference?
Bitter foods impact our tastebuds
What happens with cortisol when you extend your fast?
Julie suffered a hormonal heart attack in 2016
Supplements that heal your heart
What is POTS?
Types of exercise to introduce when healing
Stimulating the vagus nerve
Sarcopenia is the robber of health
What do I need to do today?
Practicing radical gratitude
Show sponsors:
BiOptimizers <== 10% off BiOptimizers' Biome Breakthrough by using the code ultimatehealth at checkout
Rancho La Puerta – Use the code RLP-UHP and save $250 off your first 7-night visit at Rancho
Paleovalley <== 15% off all Paleovalley products by using the code ultimatehealth at checkout
Organifi <== 20% off all Organifi products by using the code ultimatehealth at checkout
Related links:
Julie Daniluk – Becoming Sugar-Free (book)
Julie Daniluk's website
Follow Julie Daniluk on Facebook, Instagram, and Twitter
Julie Daniluk – Hot Detox (book)
Julie Daniluk – Slimming Meals That Heal (book)
Julie Daniluk – Meals That Heal Inflammation (book)
Listen to Julie Daniluk previously on TUHP (episode #022, #071, #136, and #180)
Becoming Sugar-Free (website)
3 Steps to Becoming Sugar-Free (Julie's guide)
Dr. Ben Feingold – Why Your Child is Hyperactive (book)
Related episodes:
The Hidden Root Cause of Most Chronic Disease | Dr. Benjamin Bikman (#448)
Dr. Valter Longo on How to Get All the Health Benefits of Fasting Without the Hunger (#442)
Use Diet and Lifestyle to Heal Your Chronic Health Condition | Laurel Gallucci aka Sweet Laurel (#422)
Alyson Stoner on Surviving the Entertainment Industry, Minimalism & Healing With Movement (#421)
369: Dr. Jason Fung – Stop Snacking & Start Fasting
How can you support our podcast?
1. Apple users, please subscribe and review our show on Apple Podcasts, we make sure to read them all. Android users, be sure to subscribe to our show on Google Podcasts. Subscribers never miss any of the action 😉
2. If you'd prefer to watch vs listen to the interviews, head over to our YouTube channel and enjoy the full video conversations. Be sure and subscribe while you're there.
3. Tell a friend about The Ultimate Health Podcast. They will surely thank you later. You can use the envelope button below to email a friend or tell them about TUHP in person.
4. Join TUHP Facebook community (FREE). This is where we all stay in touch and ask questions in between episodes. Join our community.
5. Follow our adventures on our favourite social media platform, Instagram.
6. Download The Ultimate Health Podcast app (FREE). This way you'll have our whole library of episodes right at your fingertips. Download our iOS/Apple app or our Android app.
7. Share using the buttons below.
Thank you!