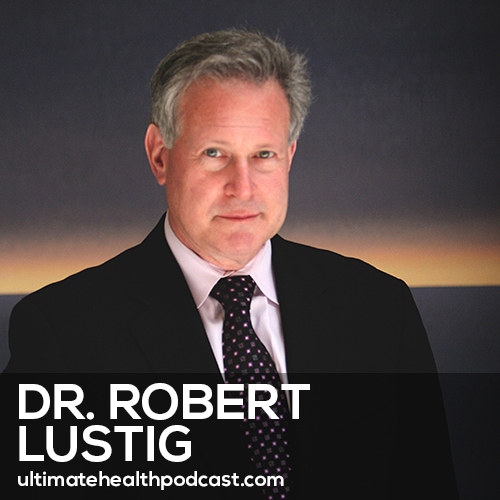 Dr. Robert Lustig (IG: @robertlustigmd) is a neuroendocrinologist, New York Times bestselling author, and Professor of Pediatric Endocrinology at the University of California, San Francisco. He's authored 125 peer-reviewed articles and 73 reviews.
Rob has become a leading public health authority on the impact sugar has on fueling the diabetes, obesity and metabolic syndrome epidemics, and on addressing changes in the food environment to reverse these chronic diseases.
Today we're discussing his latest book, Metabolical: The Lure and the Lies of Processed Food, Nutrition, and Modern Medicine.
If you're addicted to sugar, you're going to want to watch or listen to this!
Watch the full video version of this conversation below.
In this episode, we discuss:
Why we should be talking about metabolic health… not nutrition
Understanding the science of fiber
The definition of sugar
Fructose is destroying your health
Do you absorb the fructose from fruit?
Stop eating "dessert" for breakfast, lunch and dinner
Are there limits on the amount of sugar being added to foods?
How to determine the amount of fat in your liver
Causes of fatty liver
Fructose consumption increases insulin resistance
How to reverse metabolic syndrome in 10 days
You can't outrun a bad diet
Why eating properly is complicated + what to avoid
The 3 supplements Rob recommends
The history of processed sugar
Why low-fat diets became popular in the 70s
Understanding LDL and heart disease
Rob's approach to breaking your sugar addiction
Show sponsors:
Oura Ring <== Buy the Oura Ring Generation 3 and get 6 free months of Oura membership
Paleovalley <== 15% off all Paleovalley products by using the code ultimatehealth at checkout
BiOptimizers <== 10% off BiOptimizers' Magnesium Breakthrough by using the code ultimatehealth10 at checkout
Related links:
Dr. Robert Lustig – Metabolical (book)
Dr. Robert Lustig's website
Follow Dr. Robert Lustig on Facebook, YouTube, and Twitter
Dr. Robert Lustig (books)
Dr. Efrat Monsonego Ornan
Sidney Mintz – Sweetness and Power (book)
Elizabeth Abbott – Sugar: A Bittersweet History (book)
Paul Dudley White
John Yudkin (books)
Ancel Keys
Ancel Keys – Seven Countries Study
Michael Brown
Joseph Goldstein
Related episodes:
Intermittent Fasting Is the Key to Weight Loss | Dr. Jason Fung (#467)
The Complete Guide to Intermittent Fasting for Women | Cynthia Thurlow (#465)
A New Take On the Keto Diet With More Benefits & No Deprivation | Dr. Steven Gundry (#461)
The Secret to Balancing Your Hormones & Burning Body Fat | Dr. Sara Gottfried (#453)
Kick Sugar to the Curb to Reduce Inflammation & Restore Your Health | Julie Daniluk (#450)
Dr. Robert Lustig photo credit: Roberto Candia
How can you support our podcast?
1. Apple users, please subscribe and review our show on Apple Podcasts, we make sure to read them all. Android users, be sure to subscribe to our show on Google Podcasts. Subscribers never miss any of the action 😉
2. If you'd prefer to watch vs listen to the interviews, head over to our YouTube channel and enjoy the full video conversations. Be sure and subscribe while you're there.
3. Tell a friend about The Ultimate Health Podcast. They will surely thank you later. You can use the envelope button below to email a friend or tell them about TUHP in person.
4. Join TUHP Facebook community (FREE). This is where we all stay in touch and ask questions in between episodes. Join our community.
5. Follow our adventures on our favourite social media platform, Instagram.
6. Download The Ultimate Health Podcast app (FREE). This way you'll have our whole library of episodes right at your fingertips. Download our iOS/Apple app or our Android app.
7. Share using the buttons below.
Thank you!