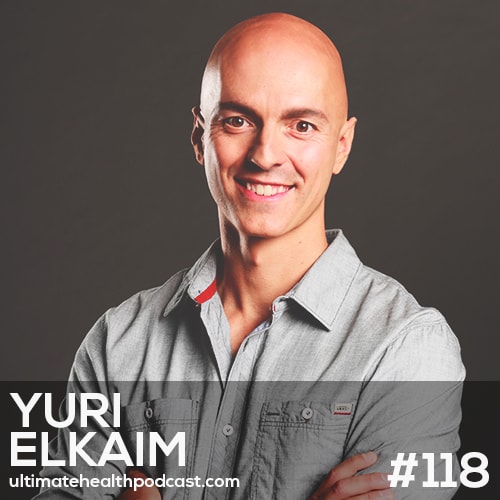 Yuri Elkaim is a nutrition, fitness, and fat loss expert and a two-time NY Times bestselling author of The All-Day Energy Diet and The All-Day Fat Burning Diet. He's a former professional soccer player turned health crusader. Yuri helps people achieve breakthrough results when it comes to having more energy and losing weight, even if you feel like you've already tried everything.
In this episode, we discuss:
Yuri's health crisis that shook him in his teens
If you are chronically tired, something inside you isn't working properly
The big things that are zapping your energy
A simple at home test for your adrenal glands
You should assume you're allergic to gluten
How gluten can lead to thyroid dysfunction
Sugar robs your energy
Caffeine masks what is really happening in your body
How to naturally rebuild your adrenal glands
Food first, supplements second
Having a handful of healthy go-to recipes for you and your family
Acid vs. alkaline foods
Exercising for energy
Simple bodyweight exercises you can do at home
Stress is nothing more than the meaning you give to a particular situation
You can't be stressed when you're in a state of gratitude
Strategies for the ultimate sleep
Yuri's morning routine
Related links:
Sunwarrior <== 20% off all Sunwarrior products & free shipping over $50 (US only)
Raw Elements <== 10% off all Raw Elements products – Apply the code TUHP at checkout (free shipping over $100)
Yuri Elkaim – The All-Day Energy Diet (book)
Yuri Elkaim's website
Follow Yuri Elkaim on Facebook, Instagram, and YouTube
Yuri Elkaim – The All-Day Fat-Burning Diet (book)
Listen to Dave Asprey previously on TUHP (episode #61)
f.lux software
Related episodes:
153: Dr. William Davis – Gluten Free Isn't Enough • Undoctored • The Importance Of A High Potency, Multi-Species Probiotic
241: Dr. Aviva Romm – The Adrenal Thyroid Revolution • Permission To Pause • Embracing Adaptogens
180: Julie Daniluk – Performance Enhancement • Your Adrenals Love Sea Salt • Stimulants vs. Adaptogens
080: Josh Gitalis – Getting To The Root Of Depression & Anxiety | Protect Your Adrenals With Adaptogenic Herbs | Synthetic vs. Whole Food Supplements
116: Dr. Michael Breus – The Mystery Of Sleep • What Is Your Chronotype? • The Best Pillow And Mattress
Note: Some of the links above are affiliate links. Making a purchase through these links won't cost you anything but we will receive a small commission. This is an easy, free way of supporting the podcast. Thank you!
How can you support our podcast?
1. Apple users, please subscribe and review our show on Apple Podcasts, we make sure to read them all. Android users, be sure to subscribe to our show on Google Podcasts. Subscribers never miss any of the action 😉
2. Tell a friend about The Ultimate Health Podcast. They will surely thank you later. You can use the envelope button below to email a friend or tell them about TUHP in person.
3. Join TUHP Facebook community (FREE). This is where we all stay in touch and ask questions in between episodes. Join our community.
4. Follow our adventures on our favourite social media platform, Instagram.
5. Download The Ultimate Health Podcast app (FREE). This way you'll have our whole library of episodes right at your fingertips. Download our iOS/Apple app or our Android app.
6. Share using the buttons below.
Thank you!