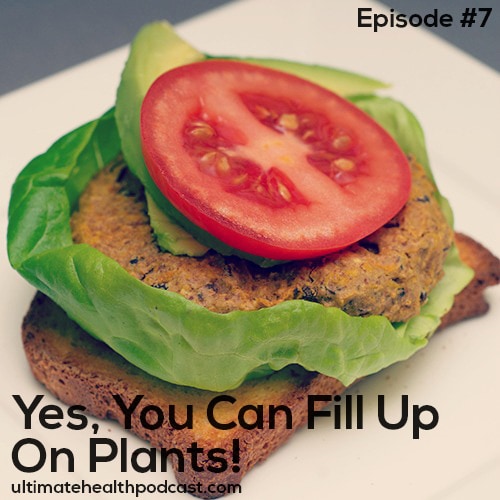 On today's episode, we address the common misconception that people on a plant-based diet have trouble satisfying their hunger. This diet includes an array of delicious and filling options in the form of healthy carbs, fats and proteins. Knowing how and when to consume these macronutrients is the key to staying satiated.
In this episode, we discuss:
What we eat
What supplements we take
What does the term plant-based mean?
How to build the ultimate, sustaining smoothie
The different types of oats and how to prepare them
How to make a chia pudding
Our own breakfast creation – banana mush
How to make an epic elixir
Why you need to stick with organic soy products
A delicious guacamole recipe
How quinoa can save the day when it comes to family dinners
The recipe for a hearty quinoa bowl
Some great healthy snack ideas
How to soak your nuts and seeds for optimal digestion
How to easily make coconut yogurt and kefir at home
Why chocolate milk is a poor choice for after a workout and what to drink instead
We give some healthy alternatives to classic dishes such as hamburgers, mac and cheese, pizza, bacon and eggs, cereal, BTLs and ice cream
Related Links:
Healthforce Superfoods – Vitamineral Green (supplement)
Garden of Life – Vitamin Code (supplement)
Sunwarrior – Liquid Light (supplement)
Marni Wasserman – Plant Based Diet Dummies (book)
Our Instagram Accounts: @drjessechappus, @marniwasserman
Our Twitter Accounts: @drjessechappus, @marniwasserman
Blendtec Blender
Vitamix Blender
NutriBullet
Four Sigmatic <== 10% off all Four Sigmatic products & free shipping over $100
Wildwood Tofu
San-J – Organic GF Tamari
Vega – Omega Oil Blend (supplement)
Marni Wasserman – Fermenting For Dummies (book)
Yoso Coconut Yogurt
Mary's Gone Crackers
Neal Brothers – Organic Corn Chips
Sea Snax
Rizopia Rice Pasta
Tinkyada Rice Pasta
Marni's Mac And Cheese Recipe
Coconut Bliss Ice Cream
Related Shows:
006: Joe Cross – Reboot Your Body With Juice
011: Jason Wrobel – High Raw, Vegan Living For High Energy
018: Dr. Joel Kahn – Prevent & Reverse Heart Disease With Plants, Stop Fearing Flax & Soy, Whole Grains Are Healthy
023: Smoothies, Juices, Elixirs & Everything In Between
026: We Love Fermented Foods! (minicast)
Note: Some of the links above are affiliate links. Making a purchase through these links won't cost you anything but we will receive a small commission. This is an easy, free way of supporting the podcast. Thank you!
How can you support our podcast?


1. Apple users, please subscribe and review our show on Apple Podcasts, we make sure to read them all. Android users, be sure to subscribe to our show on Google Podcasts. Subscribers never miss any of the action ;)


2. Tell a friend about The Ultimate Health Podcast. They will surely thank you later. You can use the envelope button below to email a friend or tell them about TUHP in person.


3. Join TUHP Facebook community (FREE). This is where we all stay in touch and ask questions in between episodes. Join our community.


4. Follow our adventures on our favourite social media platform, Instagram.


5. Download The Ultimate Health Podcast app (FREE). This way you'll have our whole library of episodes right at your fingertips. Download our iOS/Apple app or our Android app.
6. Share using the buttons below.
Thank you!