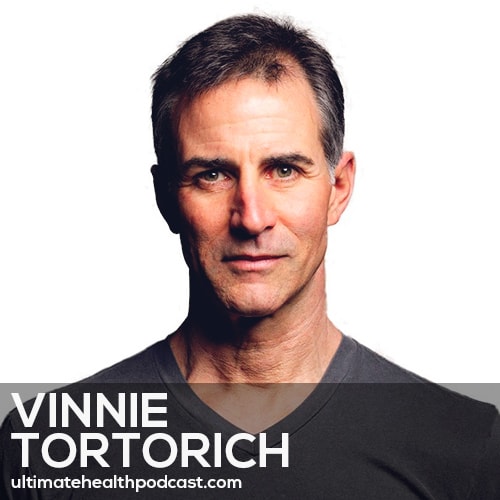 Vinnie Tortorich is a celebrity fitness trainer, speaker, podcaster, and best-selling author of Fitness Confidential: Adventures in the Weight-Loss Game.
In this episode, we discuss:
Why is Vinnie know as America's Angriest Trainer?
What's it like working with actors, writers, directors, executives (Hollywood types)?
Making the move from New Orleans to LA
Living a minimalistic lifestyle
Vinnie was turned onto weightlifting after watching Jack LaLanne on TV
Choosing the right gym
Most trainers suck
What to look for in a great trainer
Exercise isn't a good way to lose weight
You can't do high intensity interval training (HIIT) daily, if you're doing it correctly
Is ultra athletics healthy?
The best piece of fitness equipment that does it all and it's dirt cheap
Fitness is more mental than physical
The time Vinnie got fat and he didn't even realize it
How a hypoxic tent lead to Vinnie finding out he had leukaemia
No Sugar No Grains (NSNG)
What does Vinnie eat?
Getting nutrients through food vs. supplementation
Everyone is lacking in magnesium
Vinnie's morning routine
Don't wait until tomorrow… start today
In life, always take the garbage out
Show sponsors:
Raw Elements <== 10% off all Raw Elements products – Apply the code TUHP at checkout (free shipping over $100)
Sunwarrior <== 20% off all Sunwarrior products & free shipping over $50 (US only)
Related links:
Vinnie Tortorich – Fitness Confidential (book)
Vinnie Tortorich's website
Follow Vinnie Tortorich on Facebook, Instagram, and Twitter
Vinnie's recent interview with us on Fitness Confidential (his podcast)
Badwater 135
Specialized
Dr. John Ratey (books)
Dean Lorey (books, tv, film)
Listen to Dr. William Davis previously on TUHP (episode #153)
Pure Vitamin Club
Adam Carolla – In Fifty Years We'll All Be Chicks (book)
Serena Scott Thomas
Related episodes:
299: Drew Manning – Complete Keto, Embracing Vulnerability As A Strength, Learn To Love Yourself
289: Dr. David Perlmutter – Brain Maker • Reconnecting With Nature • Exercise Impacts The Microbiome
233: Aubrey Marcus – Own The Day, Own Your Life • Get Weird With Lunch • Start With The Hardest Thing First
075: Abel James – Live More By Buying Less | Long-Term Weight Loss Strategies | HITT Wins Over Long Endurance Exercise
047: Peggy Kotsopoulos – Boost Your Metabolism With HIIT | Natural Ways Of Reducing PMS | Eating For Vibrancy
Note: Some of the links above are affiliate links. Making a purchase through these links won't cost you anything but we will receive a small commission. This is an easy, free way of supporting the podcast. Thank you!
How can you support our podcast?
1. Apple users, please subscribe and review our show on Apple Podcasts, we make sure to read them all. Android users, be sure to subscribe to our show on Google Podcasts. Subscribers never miss any of the action 😉
2. Tell a friend about The Ultimate Health Podcast. They will surely thank you later. You can use the envelope button below to email a friend or tell them about TUHP in person.
3. Join TUHP Facebook community (FREE). This is where we all stay in touch and ask questions in between episodes. Join our community.
4. Follow our adventures on our favourite social media platform, Instagram.
5. Download The Ultimate Health Podcast app (FREE). This way you'll have our whole library of episodes right at your fingertips. Download our iOS/Apple app or our Android app.
6. Share using the buttons below.
Thank you!