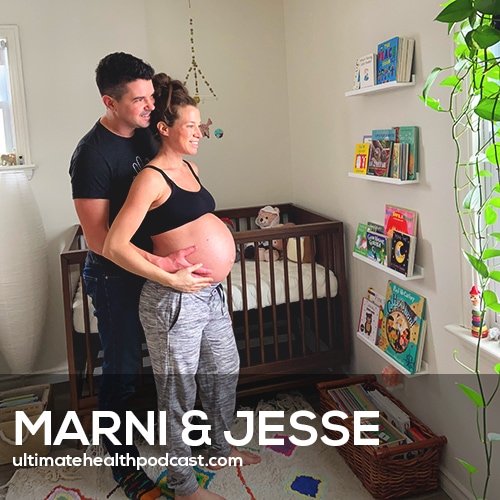 We're nearing the end of our 3rd and final trimester and all is well! We can't wait to meet our bundle of joy very soon 🙂
We're both as prepared as can be and are ready for the birthing and parenting adventures ahead.
Today we discuss our unique baby shower, preventing constipation, (lack of) sleep, consuming dates, natural remedies for fighting a cold during pregnancy and so much more!
Again, thanks for joining us on our baby journey!
(Subscribe in Apple Podcasts)
(Subscribe in Google Podcasts)
In this episode, we discuss:
Our tea party themed baby shower
Receiving books instead of cards to grow TUB's library
We're grateful for the gifts and continued support
Capturing your pregnancy with a photoshoot
What is belly mapping?
At 32 weeks, baby was in a frank breech position
Chiropractic care and Spinning Babies exercises
The home visit with the midwives ended in a hospital visit at 37 weeks
Always look for the silver lining in a situation you can't control
Shortness of breath is still an ongoing struggle in trimester 3
Eating high fiber foods and staying hydrated helps prevent constipation
Glowing skin and thick lush hair
How our sleep has been impacted during this stage
Exercises to tune into your pelvic floor
Listen to your body
Can you prevent tearing with the EPI-NO?
Start planning for postpartum
Stockpile your freezer with ready-to-go meals & snacks
Minimize any stress and be prepared as possible
Consuming dates can reduce the intensity & duration of labour
The benefits of drinking red raspberry leaf tea
Marni's new breastmilk tea helps increase milk supply
Pregnancy safe natural remedies for fighting a cold
Enjoying the nesting phase of pregnancy
Creating a nursing station for breastfeeding area
Getting the car seat properly installed
Trust and surrender to what comes next
Related links:
Listen to Focus Friday – The Ultimate Baby – Our 1st and 2nd Trimester
Follow Marni Wasserman on Instagram
Follow The Ultimate Health Podcast on Instagram
Penny Simkin – The Birth Partner (book)
Spinning Babies
Listen to Jen Oliver previously on TUHP (episode #262)
Jen Oliver – The Love FitMama Way (book)
FitMama Podcast
Glowing Mama Health & Fitness Program – Use the code "ultimatehealth15" for 15% off
Tracy Anderson Pregnancy Project Workouts
EPI-NO
Kim Vopni – Prepare To Push (book)
Bellies Inc.
Listen to Genevieve Howland aka Mama Natural previously on TUHP (episode #315)
Larabar
Chalice Spice – The Ultimate Baby (TUB) Tea Collection
Traditional Medicinals – Red Raspberry Leaf Tea
Chalice Spice – The Ultimate Breastmilk Tea For Nursing Mothers
Beekeeper's Naturals – Propolis Spray (SAVE 15% off all Beekeeper's Naturals products + Free Shipping over $60)
Listen to Focus Friday – Close the Loops previously on TUHP (episode #314)
Seeking Health – Prenatal
Related episodes:
329: Dr. Shefali Tsabary – Conscious Parenting, Vipassana Meditation, Letting Go Of Perfection
251: Dr. Sarah Buckley – Gentle Birth, Gentle Mothering • Preconception Planning • The Role Of Oxytocin
206: Josh Gitalis – Support During Pregnancy • Boost Your Immunity • Testing For Heavy Metals
204: Meghan Telpner – A "Natural" Birth Story
079: Joy McCarthy – Natural Pregnancy | Work-Life Balance As A New Mom | Should You Exercise While You're Pregnant?
Note: Some of the links above are affiliate links. Making a purchase through these links won't cost you anything but we will receive a small commission. This is an easy, free way of supporting the podcast. Thank you!
How can you support our podcast?
1. Apple users, please subscribe and review our show on Apple Podcasts, we make sure to read them all. Android users, be sure to subscribe to our show on Google Podcasts. Subscribers never miss any of the action 😉
2. Tell a friend about The Ultimate Health Podcast. They will surely thank you later. You can use the envelope button below to email a friend or tell them about TUHP in person.
3. Join TUHP Facebook community (FREE). This is where we all stay in touch and ask questions in between episodes. Join our community.
4. Follow our adventures on our favourite social media platform, Instagram.
5. Download The Ultimate Health Podcast app (FREE). This way you'll have our whole library of episodes right at your fingertips. Download our iOS/Apple app or our Android app.
6. Share using the buttons below.
Thank you!