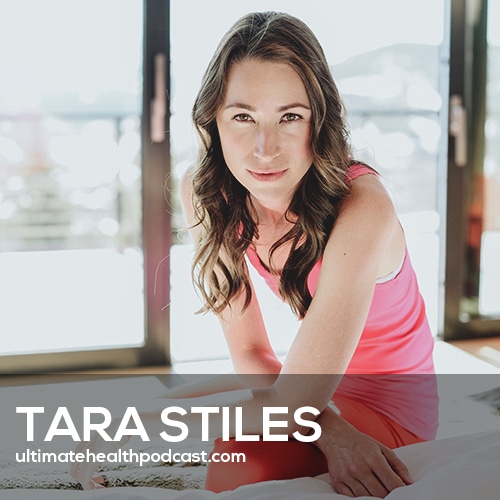 Tara Stiles (IG: @tarastiles) is the founder of Strala, the revolutionary approach to being, moving and healing. Strala teaches yoga, tai chi, and Traditional Chinese Medicine, to help people release stress, let go of bad habits, and move easily through all kinds of challenge.
Tara has authored several best-selling books and is a sought-after speaker on topics of entrepreneurship, health, and wellbeing.
She has a new book coming out on December 29th, Clean Mind, Clean Body: A 28-Day Plan for Physical, Mental, and Spiritual Self-Care.
(Subscribe in Apple Podcasts)
(Subscribe in Google Podcasts)
In this episode, we discuss:
The message Tara received from the universe when she was 7 years old
Growing up with straight edge hippy parents in a passive solar home
The love of dance and movement
The ballet teacher who introduced Tara to yoga
Learning the history and art of yoga
Tara met her now husband Mike at a yoga retreat
Making yoga relatable
Why doesn't everybody do yoga?
Yoga transitioned Tara into the world of eating better
Do you love the life you lead?
Tara's early days of teaching yoga
Forming a supportive community
The meaning behind the name Strala
Traveling the world teaching yoga and retreats
How do you balance your own stress level & excitement?
Being raw & vulnerable on social media when you are struggling
Reaching out to the community for support
The barrier Tara put between her Mike after their miscarriage
Learning how to slow down doesn't mean not pursuing your goals
The epiphany moment Tara experienced on an airplane
Everything changed after Tara's daughter Daisy was born
Moving from NYC to Utah
Living life at a slower pace back on the east coast
Tara's dream to live in a little eco house with solar panels
Creating movement through feeling
Lessons learned along the journey
Show sponsors:
Organifi <== 20% off all Organifi products
Sunwarrior <== 20% off all Sunwarrior products (free shipping on orders over $50)
Beekeeper's Naturals <== 15% off all Beekeeper's Naturals products (free shipping on orders $60 or more)
Paleovalley <== 15% off all Paleovalley products by using the code ultimatehealth at checkout
Related links:
Tara Stiles – Clean Mind, Clean Body (book)
Tara Stiles' website
Follow Tara Stiles on Facebook, Instagram, and YouTube
Strala Yoga
Tara Stiles (books)
Mike Taylor
Rory Foster – Ballet Pedagogy (book)
Paramhansa Yogananda – Autobiography of a Yogi (book)
Krishna Das
Amy Ippoliti
Kris Carr (books)
Ram Dass
Jane Fonda (books)
Tao Porchon-Lynch
Listen to Deepak Chopra previously on TUHP (episode #141)
Related episodes:
310: Seane Corn – Revolution Of The Soul, Yoga Is An Art, Understanding The Chakras
303: Emily Fletcher – Stress Less… Accomplish More, Mindfulness vs. Meditation, Secrets To Manifesting
163: Kathryn Budig – The Yoga Community Has Changed • Positive Affirmations • Aim True
104: Carrie-Anne Moss – Life Outside The Matrix • Embracing Imperfection • The Yoga Of Awareness
067: Koya Webb – What To Eat Before Yoga | Meditate Daily | The Best Vegan Burgers, Ever!
Tara Stiles photo credit: Jen Fauset
Note: Some of the links above are affiliate links. Making a purchase through these links won't cost you anything but we will receive a small commission. This is an easy, free way of supporting the podcast. Thank you!
How can you support our podcast?
1. Apple users, please subscribe and review our show on Apple Podcasts, we make sure to read them all. Android users, be sure to subscribe to our show on Google Podcasts. Subscribers never miss any of the action 😉
2. Tell a friend about The Ultimate Health Podcast. They will surely thank you later. You can use the envelope button below to email a friend or tell them about TUHP in person.
3. Join TUHP Facebook community (FREE). This is where we all stay in touch and ask questions in between episodes. Join our community.
4. Follow our adventures on our favourite social media platform, Instagram.
5. Download The Ultimate Health Podcast app (FREE). This way you'll have our whole library of episodes right at your fingertips. Download our iOS/Apple app or our Android app.
6. Share using the buttons below.
Thank you!