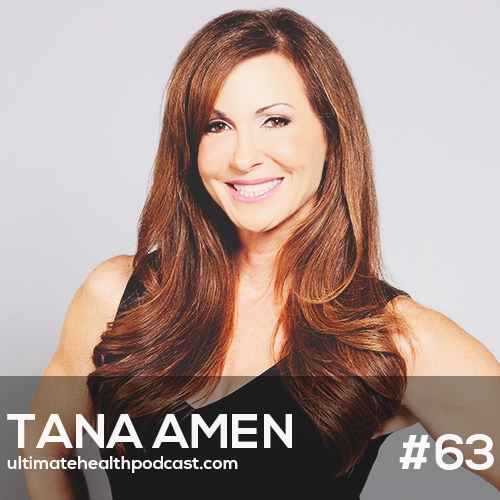 On this week's episode, we are speaking with Tana Amen, the New York Times Bestselling author of The Omni Diet. She is a highly respected health and fitness expert who shares her healthy eating tips on The Huffington Post blog. Tana is a black belt in Tae Kwon Do and a brown belt in Kenpo Karate.
In this episode, we discuss:
Tana's health journey
The Omni Diet… what is it?
No one diet is right for everyone, ever
You've gotta be a warrior
Supplements that are great for brain health
The best way to supplement with magnesium
Vegan omega-3 supplementation
Having a partner who supports your health goals
Drinking wine is linked to breast cancer in women
If you overdo caffeine is shuts down blood flow to your brain
Captive gorillas get sick when they stray from their natural diet – an experiment
How you live your life determines the health of your children and grandchildren
Trans fat never leaves your body
Exercising 30 minutes a day and live 11 years longer
The research shows gluten is bad for the brain and gut
Raising a health conscious child
Is your autoimmune issue linked to your lifestyle?
Related links:
Sunwarrior <== 20% off all Sunwarrior products & free shipping over $50 (US only)
Tana Amen – The Omni Diet (book)
Tana's Amen's website
Follow Tana Amen on Facebook, Instagram, and Twitter
The Amen Clinics
BrainFitLife – includes brain type report
TUHP Episode 23: Smoothies, Juices, Elixirs & Everything In Between
brainMD Omega-3 Power – fish oil
Listen to Dave Asprey previously on TUHP (episode #061)
The Pure Wraps
Dr. David Perlmutter (books)
True Food Kitchen
Related episodes:
273: Dr. David Perlmutter – Grain Brain • Cholesterol Is Your Friend • What Is Keto Cycling?
256: Dr. Datis Kharrazian – Why Do I Still Have Thyroid Symptoms? • Understanding Iodine • Vitamin D & Autoimmunity
244: Dr. Will Cole – Plant-Based Keto Diet • Women & Ketosis • Fats For Brain Health
092: Dr. Kelly Brogan – Depression, Myths & Misconceptions • Medications That Commonly Cause Psychiatric Side Effects • Gut Health Impacts Brain Health
143: Tero Isokauppila – Medicinal Mushrooms Have The Power To Regulate Your Immunity, Boost Your Brain, And Improve Your Gut Health
Note: Some of the links above are affiliate links. Making a purchase through these links won't cost you anything but we will receive a small commission. This is an easy, free way of supporting the podcast. Thank you!
How can you support our podcast?
1. Apple users, please subscribe and review our show on Apple Podcasts, we make sure to read them all. Android users, be sure to subscribe to our show on Google Podcasts. Subscribers never miss any of the action 😉
2. Tell a friend about The Ultimate Health Podcast. They will surely thank you later. You can use the envelope button below to email a friend or tell them about TUHP in person.
3. Join TUHP Facebook community (FREE). This is where we all stay in touch and ask questions in between episodes. Join our community.
4. Follow our adventures on our favourite social media platform, Instagram.
5. Download The Ultimate Health Podcast app (FREE). This way you'll have our whole library of episodes right at your fingertips. Download our iOS/Apple app or our Android app.
6. Share using the buttons below.
Thank you!