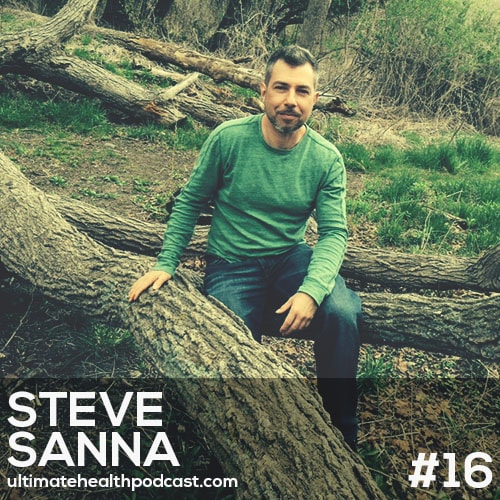 On today's show, we are speaking with the owner of Sanna's Farmacia, Steve Sanna. He has a wealth of knowledge in the realm of natural health especially when it comes to dry fasting, fermented foods and superherbs. Sanna's Farmacia is the place to be in Toronto for next level liquid nutrition!
In this episode, we discuss:
Steve's health journey
How Sanna's Farmacia came to be
The difference between juices and smoothies
The health benefits of dry fasting
What to expect during a dry fast
The power of fermented foods and beverages
Jun… a mysterious fermented tea
Strengthen your three treasures (jing, qi and shen) with schisandra
Tonic herbs are perfect for someone just getting into herbalism (along with everyone else)
Does caffeine have a role in a healthy lifestyle?
Steve's #1 strategy for longevity
The importance of superherbs and micronutrients
Grounding to help block electromagnetic fields (EMF)/electromagnetic radiation (EMR)
Steps to take for an amazing sleep
The food highest in magnesium… Can you guess?
Related Links:
Farmacia Health Bar website
Follow Farmacia Health Bar on Facebook, Instagram, and Twitter
Absolute Dry Fasting (Facebook Page)
Listen to David Wolfe previously on TUHP (episode #014)
David Wolfe (books)
Nadine Artemis
Daniel Vitalis
GoEarthing
Related Shows:
188: Nadine Artemis – Redefining Beauty • Your Natural Deodorant Solution • Our Skin Is Designed For Sunshine
040: Ruth Tal – Eat, Juice, Sweat, Thrive | Fresh Restaurants | Fuelled By Passion + Plants
094: Tess Masters (The Blender Girl) – The Perfect Smoothie • Does Blending Destroy Nutrients? • Vitamix vs. Blendtec
116: Dr. Michael Breus – The Mystery Of Sleep • What Is Your Chronotype? • The Best Pillow And Mattress
113: Joy Coelho & Jay Denman – JingSlingers • Tonic Herbs vs Adaptogens • The Ultimate Sleep Inducing Elixir
Note: Some of the links above are affiliate links. Making a purchase through these links won't cost you anything but we will receive a small commission. This is an easy, free way of supporting the podcast. Thank you!
How can you support our podcast?


1. Apple users, please subscribe and review our show on Apple Podcasts, we make sure to read them all. Android users, be sure to subscribe to our show on Google Podcasts. Subscribers never miss any of the action ;)


2. Tell a friend about The Ultimate Health Podcast. They will surely thank you later. You can use the envelope button below to email a friend or tell them about TUHP in person.


3. Join TUHP Facebook community (FREE). This is where we all stay in touch and ask questions in between episodes. Join our community.
4. Follow our adventures on our favourite social media platform, Instagram.


5. Download The Ultimate Health Podcast app (FREE). This way you'll have our whole library of episodes right at your fingertips. Download our iOS/Apple app or our Android app.
6. Share using the buttons below.
Thank you!