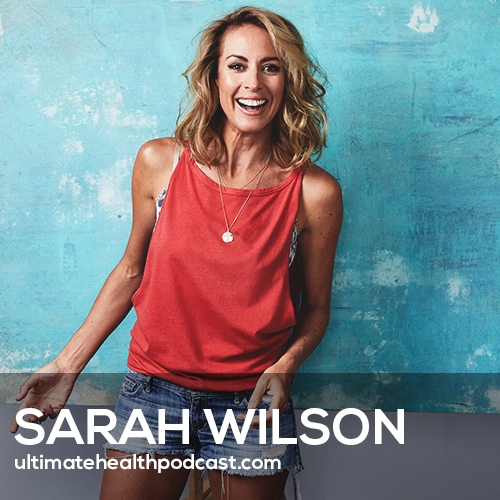 Sarah Wilson (IG: @_sarahwilson_) is a former journalist and TV presenter, author and activist. She wrote the New York Times bestsellers I Quit Sugar and First, We Make the Beast Beautiful. Sarah is the author of another 11 cookbooks that sell in 52 countries.
Previously she was editor of Cosmopolitan Australia, host of Masterchef Australia and founder of the largest wellness website in Australia, IQuitSugar.com. In May 2018, Sarah closed the business and gave all money to charity.
Sarah lives minimally, rides a hand-built bike and is known for travelling the world for eight years with one bag.
Sarah's latest book This One Wild and Precious Life is a soul's journey through the complexities of climate change, coronavirus, racial inequalities and our disconnection from what matters… back to life.
Watch the full video version of this conversation below.
In this episode, we discuss:
Sarah is working on discernment and deliberateness during the pandemic
COVID-19… the great revealer
Building resilience
Facing uncertainty
Shaking off anxiety with intense physical exercise
Seeking out meaningful relationships
The lost art of handwriting letters
Slowing down and reprioritizing your values
Stop buying into consumerism
It's not about saving the planet, it's about saving us
Start where you are
Care begets care
Radical hope
Loving this one wild and precious life
Being in nature
What is spiritual materialism?
Sarah's mental health throughout 2020
Writing helps express emotions
Living life to the max
Do something every day that scares you
Taking responsibility
Sarah's renewed energy and embracing who she is
Now is the time
Listening to the signs
Blogging is the new Zoom
Show sponsors:
Organifi <== 20% off all Organifi products
Paleovalley <== 15% off all Paleovalley products by using the code ultimatehealth at checkout
LMNT <== LMNT's tasty electrolyte drink mix comes in 7 flavours and is formulated to help anyone with their electrolyte needs
Related links:
Sarah Wilson – The One Wild And Precious Life (book)
Sarah Wilson's website
Follow Sarah Wilson on Facebook, Instagram, and Twitter
Sarah Wilson – First We Make The Beast Beautiful (book)
Sarah Wilson (books)
Sarah Wilson Hikes
Listen to Sarah Wilson previously on TUHP (episode #196, #232, and #268)
Milton Friedman (books)
Philip Shepherd (books)
Gretchen Rubin – The Happiness Project (book)
Listen to Gretchen Rubin previously on TUHP (episode #037 and #207)
Pema Chodron (books)
Sister Joan Chittister – The Time Is Now (book)
Erica Chenoweth (books)
Greta Thunberg (books)
George Monbiot (books)
Jane Fonda (books)
Dr. James Hollis (books)
Related episodes:
381: Dr. Dan Siegel – The Mind Is Broader Than The Brain
366: Dr. Andrew Weil – Spontaneous Happiness
321: Neil Pasricha – You Are Awesome, Intentional Living, Becoming Anti-Fragile
293: Mark Manson – We All Need Hope • Meditation Makes You Stronger • Happiness Is Overrated
382: Dr. Pedram Shojai – Becoming A Taoist Monk, Meditation Is the Ultimate Drug, Managing Your Life Garden
Sarah Wilson photo credit: Rob Palmer
Note: Some of the links above are affiliate links. Making a purchase through these links won't cost you anything but we will receive a small commission. This is an easy, free way of supporting the podcast. Thank you!
How can you support our podcast?
1. Apple users, please subscribe and review our show on Apple Podcasts, we make sure to read them all. Android users, be sure to subscribe to our show on Google Podcasts. Subscribers never miss any of the action 😉
2. Tell a friend about The Ultimate Health Podcast. They will surely thank you later. You can use the envelope button below to email a friend or tell them about TUHP in person.
3. Join TUHP Facebook community (FREE). This is where we all stay in touch and ask questions in between episodes. Join our community.
4. Follow our adventures on our favourite social media platform, Instagram.
5. Download The Ultimate Health Podcast app (FREE). This way you'll have our whole library of episodes right at your fingertips. Download our iOS/Apple app or our Android app.
6. Share using the buttons below.
Thank you!