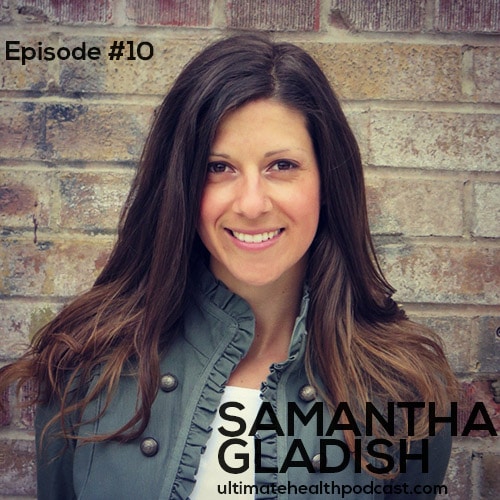 On today's show, we are talking with holistic nutritionist, Samantha Gladish. She is known as the Qualitarian and emphasizes the importance of quality food. As a Holistic Wellness Coach, Sam has helped transform the health of hundreds of people. She is the author of three ebooks and is the creator of a number of holistic body care products including Salty Kisses Toothpaste and Hippie Floss Oil. We dig deep into her vast knowledge of natural oral care.
In this episode, we discuss:
Sam's health journey
The importance of quality when it comes to food
Sam's passion for healthy teeth
How Sam reversed a cavity
How to make your own natural mouthwash
How to properly brush your teeth
Why you should use an ionic toothbrush
Upping your oral care with essential oils
Oil pulling – how to and why this is important
Making the switch to a holistic dentist
Should you have your mercury fillings removed?
The issue with root canals
The problem with glycerin in natural toothpastes
The problems caused by fluoride in conventional toothpastes
Nasties to avoid in oral care products such as SLS, parabens and artificial colourings
How to properly care for your gums
Is it ok to chew natural gum?
Vitamins, minerals and foods that help maintain health teeth
Does a vegan diet lead to teeth issues?
Sam's morning routine
Related Links:
Sam's website
Follow Samantha Gladish on Facebook, Instagram, and Twitter
The Qualitarian Life (Sam's ebook)
Gillian McKeith
Salty Kisses Toothpaste
Hippie Floss Oil
Dr. Tung's – Tongue Scraper
Dr. Tung's – Smart Floss
Hal Huggins
Weston A. Price
Nadine Artemis – Living Libations
Redmond Earthpaste – Toothpaste
Pur Gum
The Best Kale Salad You'll Ever Have!
Rice Krispies Squares- All Grown Up!
Marianne Williamson – The Law of Divine Compensation (book)
Related Shows:
083: Dr. Mark Burhenne – You Could Have Sleep Apnea (And Not Know It) | Start Taking Snoring Seriously | Is Fluoride All Bad?
086: Dr. Roger Lucas – Diet Alone Can Prevent 100% Of Cavities | Is Lemon Water Bad For Your Teeth? | Stay Away From "Sticky" Foods
088: Nadine Artemis – Heal Cavities & Receding Gums | Your Oral Mircrobiome Matters | Simply Brush With Baking Soda
248: Evan Brand – Parasites, H. pylori, & Candida • Cavitation Surgery • Addressing Mental Health
258: Samantha Gladish – Healing Hashimoto's • Coming Off The Pill • Tracking Your Cycle
Note: Some of the links above are affiliate links. Making a purchase through these links won't cost you anything but we will receive a small commission. This is an easy, free way of supporting the podcast. Thank you!
How can you support our podcast?


1. Apple users, please subscribe and review our show on Apple Podcasts, we make sure to read them all. Android users, be sure to subscribe to our show on Google Podcasts. Subscribers never miss any of the action ;)


2. Tell a friend about The Ultimate Health Podcast. They will surely thank you later. You can use the envelope button below to email a friend or tell them about TUHP in person.


3. Join TUHP Facebook community (FREE). This is where we all stay in touch and ask questions in between episodes. Join our community.
4. Follow our adventures on our favourite social media platform, Instagram.


5. Download The Ultimate Health Podcast app (FREE). This way you'll have our whole library of episodes right at your fingertips. Download our iOS/Apple app or our Android app.
6. Share using the buttons below.
Thank you!