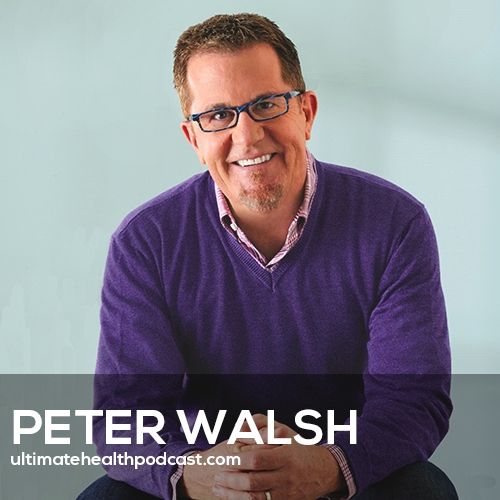 Peter Walsh (IG: @peterwalshorganizer) is a New York Times bestselling author who has written seven previous books.
He appears regularly on The Rachael Ray Show and is a columnist for O, the Oprah Magazine. Peter has hosted several TV shows, including Clean Sweep and Extreme Clutter.
Today we're focusing in on his new book, Let It Go: Downsizing Your Way to a Richer, Happier Life.
(Subscribe in Apple Podcasts)
(Subscribe in Google Podcasts)
In this episode, we discuss:
Helping people downsize
Time to re-evaluate what is important
Are you using stuff as a diversionary tactic to avoid dealing with your feelings?
Peter's career journey
What has caused society to lose a hierarchy of value?
Establish rituals with your kids to remove items from your home
Don't let memory clutter hold you back
What is malignant clutter?
Passing on heirlooms
Are you hoarding digital photos?
Do you suffer from "I might need it one day" clutter?
Creating zones in your home for storage
Treat your space with honour & respect
Give time to what you believe is important
Living within your means is about more than money
Show sponsors:
Sleep On Latex <== All mattresses ship same day and can be returned for free within 100 days
Sunwarrior <== 20% off all Sunwarrior products & free shipping over $50 (US only)
Perfect Keto <== 20% off all Perfect Keto products (free shipping in the US)
Organifi <== 20% off all Organifi products
Related links:
Peter Walsh – Let It Go (book)
Peter Walsh's website
Follow Peter Walsh on Facebook, Instagram, and Twitter
Peter Walsh (books)
Related episodes:
343: Bea Johnson – Zero Waste Home, Experiences Over Stuff, Minimizing Junk Mail
330: Meik Wiking – The Art Of Making Memories
350: Courtney Carver – Simplify Your Life & Closet
268: Sarah Wilson – Zero Waste Cooking • Minimal Consumption • Start Thinking Differently
132: Ryan Nicodemus – The Minimalists • Gift Giving… The Healthy Way • Give Yourself A Pay Raise By Spending Less
Peter Walsh photo credit: Thomas MacDonald
Note: Some of the links above are affiliate links. Making a purchase through these links won't cost you anything but we will receive a small commission. This is an easy, free way of supporting the podcast. Thank you!
How can you support our podcast?
1. Apple users, please subscribe and review our show on Apple Podcasts, we make sure to read them all. Android users, be sure to subscribe to our show on Google Podcasts. Subscribers never miss any of the action 😉
2. Tell a friend about The Ultimate Health Podcast. They will surely thank you later. You can use the envelope button below to email a friend or tell them about TUHP in person.
3. Join TUHP Facebook community (FREE). This is where we all stay in touch and ask questions in between episodes. Join our community.
4. Follow our adventures on our favourite social media platform, Instagram.
5. Download The Ultimate Health Podcast app (FREE). This way you'll have our whole library of episodes right at your fingertips. Download our iOS/Apple app or our Android app.
6. Share using the buttons below.
Thank you!