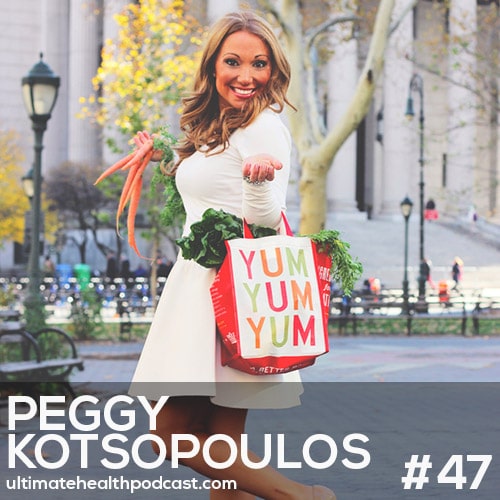 On this week's show, we are speaking with holistic nutritionist, Peggy Kotsopoulos. Her story is very inspiring, Peggy followed her passion, transitioning from a 7 year career in investments into a new life in the health and wellness world. She is the author of Must Have Been Something I Ate & Kitchen Cures. Peggy's mission is to make REAL health mainstream!
In this episode, we discuss:
Peggy's leap from the corporate world to pursue her passion for nutrition
Feeling the fear and pushing through it
Believe in yourself even when no one else does
Peggy's dietary evolution
Food affects your health, mentally and physically
When it comes to mood, food is more powerful than any antidepressant
Eating for vibrancy
Green powders are an insurance policy
Chlorella = chlorophyll
Natural ways of reducing PMS
Is calcium supplementation a good thing?
Countries with highest dairy consumption have the highest rates of osteoporosis
Fiber is fantastic for managing PMS symptoms
Can you get enough omega-3s on a vegan diet?
Barriers to adopting a healthy lifestyle
Adding in the good foods to push out the bad
Evolving to a healthier lifestyle without abrasion from the family
Foods for the best skin ever
Proper hydration can decrease the appearance of cellulite
Turn leftover coffee grinds into a cellulite-busting paste
Boost your metabolism for the day, with HIIT
Maca balances your endocrine system (hormones)
Related Links:
Peggy Kotsopoulos' website
Peggy Kotsopoulos – Kitchen Cures (book)
Follow Peggy Kotsopoulos on Facebook, Instagram, and Twitter
Living Light Culinary Institute
Hippocrates Health Institute
Vega One
Vitamineral Green
Ormus Supergreens – Sunwarrior <== 20% off all Sunwarrior products & free shipping over $50 – Your discount will automatically be applied at checkout (US only)
Natural Calm
Ascenta
Vega Sport Electrolyte Hydrator
ABC Kitchen (New York)
Related episodes:
258: Samantha Gladish – Healing Hashimoto's • Coming Off The Pill • Tracking Your Cycle
080: Josh Gitalis – Getting To The Root Of Depression & Anxiety | Protect Your Adrenals With Adaptogenic Herbs | Synthetic vs. Whole Food Supplements
267: Dr. Datis Kharrazian – Why Isn't My Brain Working?
075: Abel James – Live More By Buying Less | Long-Term Weight Loss Strategies | HITT Wins Over Long Endurance Exercise
215: Robyn Youkilis – Thin From Within • Hot Button Foods • Let Your Intuition Guide You
Note: Some of the links above are affiliate links. Making a purchase through these links won't cost you anything but we will receive a small commission. This is an easy, free way of supporting the podcast. Thank you!
How can you support our podcast?
1. Apple users, please subscribe and review our show on Apple Podcasts, we make sure to read them all. Android users, be sure to subscribe to our show on Google Podcasts. Subscribers never miss any of the action 😉
2. Tell a friend about The Ultimate Health Podcast. They will surely thank you later. You can use the envelope button below to email a friend or tell them about TUHP in person.
3. Join TUHP Facebook community (FREE). This is where we all stay in touch and ask questions in between episodes. Join our community.
4. Follow our adventures on our favourite social media platform, Instagram.
5. Download The Ultimate Health Podcast app (FREE). This way you'll have our whole library of episodes right at your fingertips. Download our iOS/Apple app or our Android app.
6. Share using the buttons below.
Thank you!