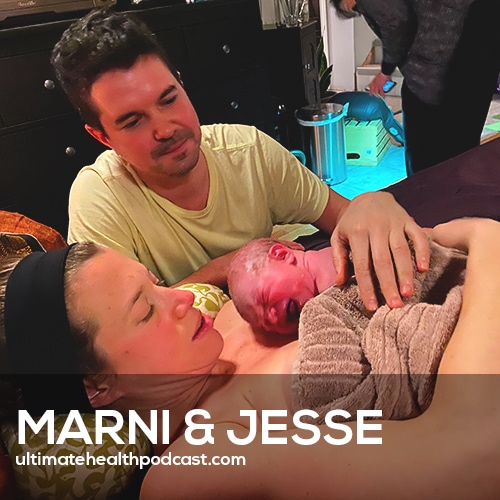 TUB is now earthside!! Sarelle Jolie was born on February 11th at 1:11am weighing 7lbs 12oz. Mom and baby are both doing amazing.
We're so excited to share our ultimate birth story with you! There is a lot to our story and it almost involved a hospital and an induction with Pitocin. With some luck and every natural protocol we could implement – we got to have our dream birth, at home 🙂
Thanks for joining us on our birth journey!
(Subscribe in Apple Podcasts)
(Subscribe in Google Podcasts)
In this episode, we discuss:
Acknowledging all the women who have given birth
Hitting the 40 week milestone
Natural induction protocols
Potential risks involved with a hind water leak
Our home birth nearly turned into a hospital birth
Trying one last natural induction remedy… castor oil
Finally contractions, home birth is back on!
The arrival of our doula & midwives
Trying various birthing positions & techniques throughout the day
Manually breaking the water
Our birthing tub experience
Moving through the long and exhausting stages of labour
Tough love from midwives at the end of labour
The miraculous arrival of our baby girl!!
Her name… Sarelle Jolie
Delaying cord cutting and delivering the placenta
The start of our breastfeeding journey
We're so grateful for our birthing team
The meaning behind Sarelle Jolie's name
Thank you for your love & support throughout our pregnancy & birth
Related links:
The Ultimate Birth Story (Marni's blog post)
Listen to Focus Friday – The Ultimate Baby – Our 1st, 2nd, and 3rd Trimester
Our Doula – Jessica Ienna Mendez (IG: @gymdoula)
Midwives of Windsor
Joe Rogan episode #1425 with Garrett Reisman
Medley pull out couch (formerly called Stem Goods)
Rallis Olive Oil
Related episodes:
315: Genevieve Howland aka Mama Natural – Preparing For A Healthy Pregnancy & Childbirth
251: Dr. Sarah Buckley – Gentle Birth, Gentle Mothering • Preconception Planning • The Role Of Oxytocin
206: Josh Gitalis – Support During Pregnancy • Boost Your Immunity • Testing For Heavy Metals
204: Meghan Telpner – A "Natural" Birth Story
079: Joy McCarthy – Natural Pregnancy | Work-Life Balance As A New Mom | Should You Exercise While You're Pregnant?
Note: Some of the links above are affiliate links. Making a purchase through these links won't cost you anything but we will receive a small commission. This is an easy, free way of supporting the podcast. Thank you!
How can you support our podcast?
1. Apple users, please subscribe and review our show on Apple Podcasts, we make sure to read them all. Android users, be sure to subscribe to our show on Google Podcasts. Subscribers never miss any of the action 😉
2. Tell a friend about The Ultimate Health Podcast. They will surely thank you later. You can use the envelope button below to email a friend or tell them about TUHP in person.
3. Join TUHP Facebook community (FREE). This is where we all stay in touch and ask questions in between episodes. Join our community.
4. Follow our adventures on our favourite social media platform, Instagram.
5. Download The Ultimate Health Podcast app (FREE). This way you'll have our whole library of episodes right at your fingertips. Download our iOS/Apple app or our Android app.
6. Share using the buttons below.
Thank you!