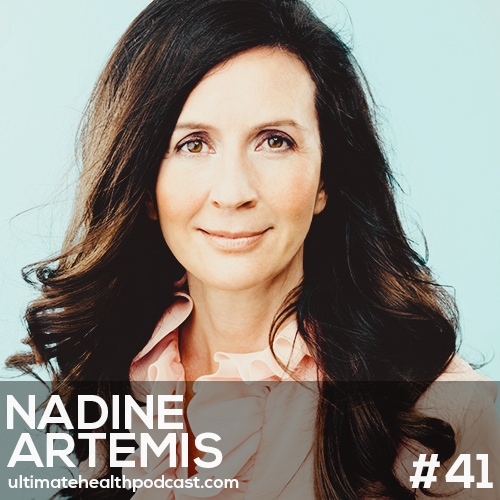 On today's episode, we feature Nadine Artemis of Living Libations, a company that specializes in pure botanical health and beauty products. Their lineup includes essential oils, serums and elixirs. Living Libations also has a line of raw chocolate bars that are made through a unique process of pressing cacao beans. These beans are combined with an array of superfoods. Nadine, her husband Ron, and their son Leif, live on a lake in beautiful northern Ontario.
In this episode, we discuss:
Nadine's story and how Living Libations came to be
Bringing a new form of chocolate bar to the market
Preserving the skin's natural micro biome
Traditional beauty products only temporarily moisturize, causing reliance
Naturals alternatives to K-Y Jelly
Traditional lubricants can negatively affect fertility
A healthy gut = healthy skin
The importance of a shower filter
Does supplementing with vitamin D3 replace the sun?
Vitamin D receptors are everywhere, even where the sun don't shine
Sunscreen blocks you from getting vitamin D
Harmonize your circadian rhythm by sungazing
Sunglasses block the healing benefits of the sun
Sun on the testicles increases testosterone
Home remedies to help protect you from the sun + soothe a burn
DNA is meant to deal with a sunburn
Stop using soap on your face
The best way to wash your face – a step by step guide
The science + mystical magic of essential oils
The scary truth about perfumes
Many essential oils are not real
Combating cellulite, naturally
Related links:
Living Libations (Nadine's website & products)
Follow Living Libations on Facebook, Instagram, and Twitter
Niels Ryberg Finsen
Dr. Auguste Rollier (The Sun Doctor)
Jacob Liberman – Take Off Your Glasses and See (book)
Aldous Huxley – The Art of Seeing (book)
Related episodes:
088: Nadine Artemis – Heal Cavities & Receding Gums | Your Oral Mircrobiome Matters | Simply Brush With Baking Soda
188: Nadine Artemis – Redefining Beauty • Your Natural Deodorant Solution • Our Skin Is Designed For Sunshine
012: Joy McCarthy – Get Your Skin To Glow Naturally
134: Dr. Sanjiv Chopra – Coffee, Exercise, Vitamin D, Nuts & Meditation… The Big Five
206: Josh Gitalis – Support During Pregnancy • Boost Your Immunity • Testing For Heavy Metals
Note: Some of the links above are affiliate links. Making a purchase through these links won't cost you anything but we will receive a small commission. This is an easy, free way of supporting the podcast. Thank you!
How can you support our podcast?
1. Apple users, please subscribe and review our show on Apple Podcasts, we make sure to read them all. Android users, be sure to subscribe to our show on Google Podcasts. Subscribers never miss any of the action 😉
2. Tell a friend about The Ultimate Health Podcast. They will surely thank you later. You can use the envelope button below to email a friend or tell them about TUHP in person.
3. Join TUHP Facebook community (FREE). This is where we all stay in touch and ask questions in between episodes. Join our community.
4. Follow our adventures on our favourite social media platform, Instagram.
5. Download The Ultimate Health Podcast app (FREE). This way you'll have our whole library of episodes right at your fingertips. Download our iOS/Apple app or our Android app.
6. Share using the buttons below.
Thank you!