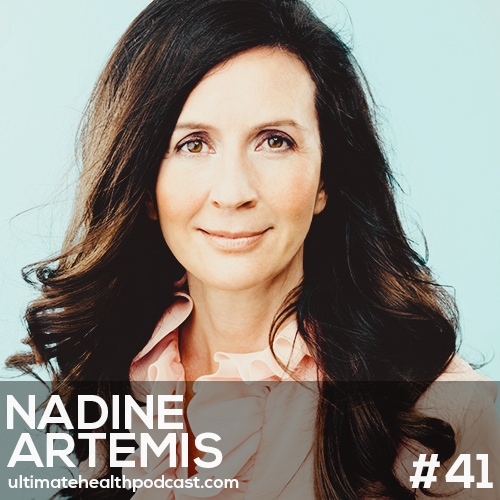 On today's episode, we feature Nadine Artemis of Living Libations, a company that specializes in pure botanical health and beauty products. Their lineup includes essential oils, serums and elixirs. Living Libations also has a line of raw chocolate bars that are made through a unique process of pressing cacao beans. These beans are combined with an array of superfoods. Nadine, her husband Ron, and their son Leif, live on a lake in beautiful northern Ontario.
In this episode, we discuss:
Nadine's story and how Living Libations came to be
Bringing a new form of chocolate bar to the market
Preserving the skin's natural micro biome
Traditional beauty products only temporarily moisturize, causing reliance
Naturals alternatives to K-Y Jelly
Traditional lubricants can negatively affect fertility
A healthy gut = healthy skin
The importance of a shower filter
Does supplementing with vitamin D3 replace the sun?
Vitamin D receptors are everywhere, even where the sun don't shine
Sunscreen blocks you from getting vitamin D
Harmonize your circadian rhythm by sungazing
Sunglasses block the healing benefits of the sun
Sun on the testicles increases testosterone
Home remedies to help protect you from the sun + soothe a burn
DNA is meant to deal with a sunburn
Stop using soap on your face
The best way to wash your face – a step by step guide
The science + mystical magic of essential oils
The scary truth about perfumes
Many essential oils are not real
Combating cellulite, naturally
Links to things we mentioned:
Living Libations website
Nadine's Instagram
Niels Ryberg Finsen
Dr. Auguste Rollier (The Sun Doctor)
Jacob Liberman – Take Off Your Glasses and See (book)
Aldous Huxley – The Art of Seeing (book)
Nadine Artemis – Wise Interaction with the Sun (article)
Everybody Loves the Sunshine
Nadine Artemis – Deciphering Cosmetic Codes: Ingredients Your Skin Can Live Without (article)
Living Libations: Best Skin Ever Seabuckthorn – we LOVE this!
Nadine Artemis – Lovely Lipids Getting Cellular about Cellulite (article)
Living Libations – Cell-U-Light Formula
How can you support our podcast?
1. Subscribe and review our show on iTunes and Stitcher. We make sure to read them all.
2. Tell a friend about The Ultimate Health Podcast. They will surely thank you later.
3. Share using the buttons below.
Thank you!