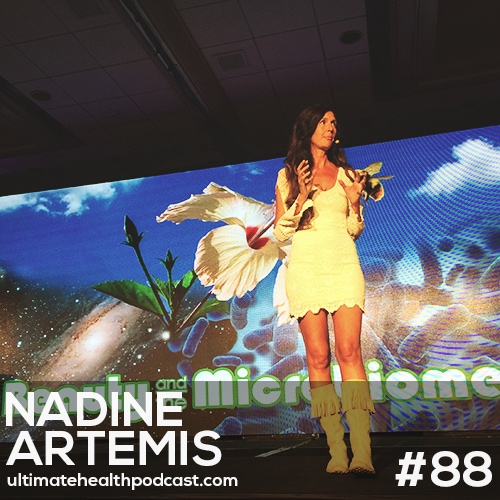 This week we are speaking with Nadine Artemis of Living Libations, for a second time. She is the author of Holistic Dental Care: The Complete Guide to Healthy Teeth and Gums. Listen and learn how to take the best care of your mouth, naturally.
In this episode, we discuss:
Not all essential oils are created equally
Nadine, the younger years
The role of essential oils when it comes to oral care
A happy healthy microbiome is key for health and vitality of your body AND your mouth
The true way cavities form
Conventional mouthwash can cause oral cancer
Stop, seal, and seed
Always spit out the oil when you finish oil pulling
Whiteness comes from within the tooth
A diet rich in fat soluble vitamins (D3, K2, & A) leads to whiter teeth
Baking soda is great for polishing your teeth on a daily basis
Essential oils have been used for thousands of years for oral health
How to properly store your toothbrush
If the bristles of your toothbrush become deformed, you're brushing too hard
Remove 40% more plaque by using an ionic toothbrush
Why Nadine recommends we all have two different toothbrushes, ionic and electric
Always avoid glycerin in "natural toothpastes"
Bleeding gums and gum recession can be things of the past
Teeth grinding can cause gum recession
You want to look for a biological dentist
Braces make your face grow unnaturally
Saliva is a main player when it comes to healing cavities
The myriad of negative effects from mercury fillings
Dentistry isn't black and white
Your teeth reflect your overall bone health
Fluoride, it's really that bad
The work of Weston A. Price showed that nutrition is key when it comes to oral health
Links to things we mentioned:
Nadine Artemis' website – Living Libations
Nadine Artemis – Holistic Dental Care (book)*
Successful Self-Dentistry in 8 Steps
Heavy Metal or Harmonized Health
Questions To Ask A Prospective Dentist
Dr. Tung's
Essential Oxygen
Joy McCarthy previously on TUHP (episode #79)
The Weston A. Price Foundation
Hal Huggins
Sunwarrior <== 10% off all Sunwarrior products (free shipping over $100)*
Join TUHP Facebook group
Add us on Snapchat
Note: Links marked with an asterisk (*) are affiliate links. Making a purchase through these links won't cost you anything but we will receive a small commission. This is an easy, free way of supporting the podcast.
How can you support our podcast?
1. Subscribe and review our show on iTunes and Stitcher. We make sure to read them all.
2. Tell a friend about The Ultimate Health Podcast. They will surely thank you later.
3. Share using the buttons below.
Thank you!