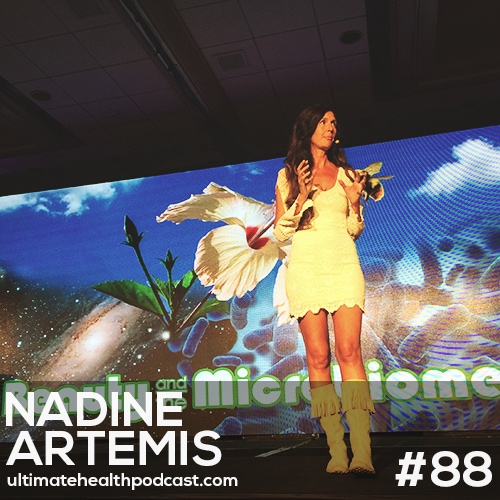 This week we are speaking with Nadine Artemis of Living Libations, for a second time. She is the author of Holistic Dental Care: The Complete Guide to Healthy Teeth and Gums. Listen and learn how to take the best care of your mouth, naturally.
In this episode, we discuss:
Not all essential oils are created equally
Nadine, the younger years
The role of essential oils when it comes to oral care
A happy healthy microbiome is key for health and vitality of your body AND your mouth
The true way cavities form
Conventional mouthwash can cause oral cancer
Stop, seal, and seed
Always spit out the oil when you finish oil pulling
Whiteness comes from within the tooth
A diet rich in fat soluble vitamins (D3, K2, & A) leads to whiter teeth
Baking soda is great for polishing your teeth on a daily basis
Essential oils have been used for thousands of years for oral health
How to properly store your toothbrush
If the bristles of your toothbrush become deformed, you're brushing too hard
Remove 40% more plaque by using an ionic toothbrush
Why Nadine recommends we all have two different toothbrushes, ionic and electric
Always avoid glycerin in "natural toothpastes"
Bleeding gums and gum recession can be things of the past
Teeth grinding can cause gum recession
You want to look for a biological dentist
Braces make your face grow unnaturally
Saliva is a main player when it comes to healing cavities
The myriad of negative effects from mercury fillings
Dentistry isn't black and white
Your teeth reflect your overall bone health
Fluoride, it's really that bad
The work of Weston A. Price showed that nutrition is key when it comes to oral health
Related links:
Nadine Artemis – Holistic Dental Care (book)
Living Libations (Nadine's website & products)
Follow Nadine Artemis (Living Libations) on Facebook, Instagram, and Twitter
Listen to Nadine Artemis previously on TUHP (episode #041)
Dr. Tung's
Essential Oxygen
Listen to Joy McCarthy previously on TUHP (episode #079)
The Weston A. Price Foundation
Dr. Hal Huggins
Sunwarrior <== 20% off all Sunwarrior products & free shipping over $50 (US only)
Join TUHP Facebook group
Add us on Snapchat
Related episodes:
188: Nadine Artemis – Redefining Beauty • Your Natural Deodorant Solution • Our Skin Is Designed For Sunshine
288: Dr. Steven Lin – The Dental Diet • Oxygen Is The Most Crucial Nutrient • Vitamin K1 vs. K2
086: Dr. Roger Lucas – Diet Alone Can Prevent 100% Of Cavities | Is Lemon Water Bad For Your Teeth? | Stay Away From "Sticky" Foods
083: Dr. Mark Burhenne – You Could Have Sleep Apnea (And Not Know It) | Start Taking Snoring Seriously | Is Fluoride All Bad?
010: Samantha Gladish – Natural Oral Care And Quality Nutrition
Note: Some of the links above are affiliate links. Making a purchase through these links won't cost you anything but we will receive a small commission. This is an easy, free way of supporting the podcast. Thank you!
How can you support our podcast?
1. Apple users, please subscribe and review our show on Apple Podcasts, we make sure to read them all. Android users, be sure to subscribe to our show on Google Podcasts. Subscribers never miss any of the action 😉
2. Tell a friend about The Ultimate Health Podcast. They will surely thank you later. You can use the envelope button below to email a friend or tell them about TUHP in person.
3. Join TUHP Facebook community (FREE). This is where we all stay in touch and ask questions in between episodes. Join our community.
4. Follow our adventures on our favourite social media platform, Instagram.
5. Download The Ultimate Health Podcast app (FREE). This way you'll have our whole library of episodes right at your fingertips. Download our iOS/Apple app or our Android app.
6. Share using the buttons below.
Thank you!