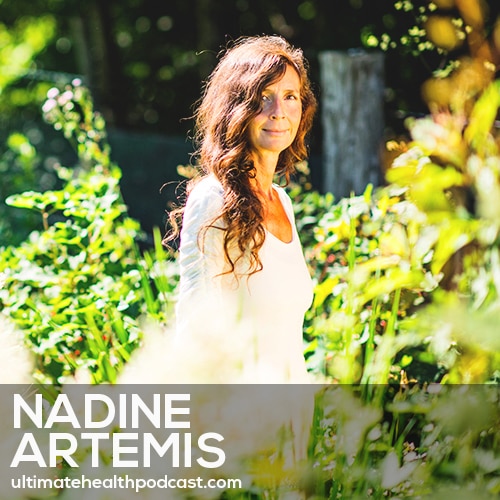 Nadine Artemis is the creator of Living Libations, an exquisite line of serums, elixirs, and essentials oils for those seeking the purest of the pure botanical health and beauty products on the planet. She is the author of Renegade Beauty and Holistic Dental Care and her products have received rave reviews in the New York Times, the National Post, and the Hollywood Reporter.
In this episode, we discuss:
Redefining beauty
For beauties sake, we must befriend our bacteria
Stop, seal, and seed your skin
Only use soap on your pits and privates
The impact of glycerin on the yoni, skin, and teeth
The ancient practice of washing the face with oil
Essential oils: botanicalbiotics
Using probiotics on the skin and for oral care
Soil based probiotics vs. traditional probiotics
We don't have different types of skin, these are just symptoms
Healthy fats to consume and healthy fats to put on our skin
Our skin is designed for sunshine
Don't overdo your sunglasses
What is sungazing?
Wise interaction with the sun
You can forest bathe in your home with essential oils
Shortly after Nadine and her husband Ron created Living Libations, they moved to the woods
Your ears are a self cleaning system
Frankincense essential oil is great for scars and for rejuvenating the skin
Using essential oils for breast health
Your natural deodorant solution
Show sponsors:
Thrive Market <== Get your membership for as low as $5 a month & receive $20 in shopping credit with a 1 year membership (US only)
Perfect Keto <== 20% off Perfect Keto products and they ship worldwide (free shipping in the US)
Raw Elements <== 10% off all Raw Elements products – Apply the code TUHP at checkout (free shipping over $100)
Sunwarrior <== 20% off all Sunwarrior products & free shipping over $50 (US only)
Related links:
Nadine Artemis – Renegade Beauty (book)
Nadine Artemis – Holistic Dental Care (book)
Living Libations (Nadine's website & products)
Follow Nadine on Instagram
Listen to Nadine previously on TUHP (episode #41 & #88)
Dr. Martin Blaser – Missing Microbes (book)
Bernard Ackerman – Sun and the Epidemic of Melanoma (book)
Dr. Auguste Rollier (The Sun Doctor)
dminder app – iOS and Android
Related episodes:
304: Trina Felber – Primal Skincare, Remineralize Your Teeth, Foods That Cause Acne
189: Focus Friday – Ultimate Beauty Care
158: Dr. Trevor Cates – Clean Skin From Within • The Stress-Skin Connection • Should We Be Using Sunblock?
072: Dr. Kellyann Petrucci – Everything You Ever Wanted To Know About Bone Broth | Foods For Glowing Skin
012: Joy McCarthy – Get Your Skin To Glow Naturally
Note: Some of the links above are affiliate links. Making a purchase through these links won't cost you anything but we will receive a small commission. This is an easy, free way of supporting the podcast. Thank you!
How can you support our podcast?
1. Apple users, please subscribe and review our show on Apple Podcasts, we make sure to read them all. Android users, be sure to subscribe to our show on Google Podcasts. Subscribers never miss any of the action 😉
2. Tell a friend about The Ultimate Health Podcast. They will surely thank you later. You can use the envelope button below to email a friend or tell them about TUHP in person.
3. Join TUHP Facebook community (FREE). This is where we all stay in touch and ask questions in between episodes. Join our community.
4. Follow our adventures on our favourite social media platform, Instagram.
5. Download The Ultimate Health Podcast app (FREE). This way you'll have our whole library of episodes right at your fingertips. Download our iOS/Apple app or our Android app.
6. Share using the buttons below.
Thank you!