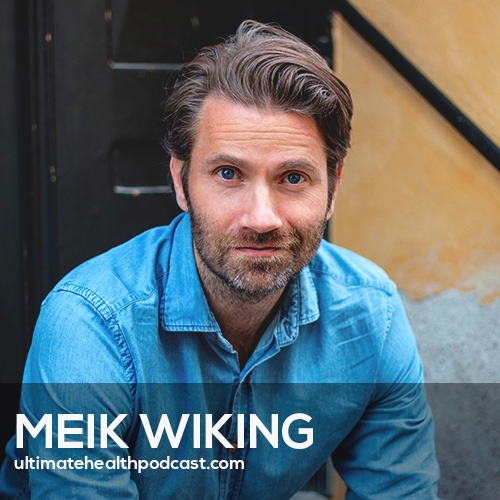 Meik Wiking (IG: @meikwiking) is the CEO of The Happiness Research Institute.
He's a New York Times bestselling author and has written several books and reports on happiness, subjective well-being, and quality of life. Meik's books have sold over 1 million copies worldwide.
He's is a frequent speaker at a variety of conferences and seminars on happiness around the world.
(Subscribe in Apple Podcasts)
(Subscribe in Google Podcasts)
In this episode, we discuss:
Influencing your memories
Balance positive memories vs. negative memories
What were my happiest moments in life?
Remembering events through association
How your 5 senses help you retrieve memories
Attention is the foundation for memory
Using scent as a memory trigger
Staying present in the moment
Establishing healthier habits around smartphones
Photographing your everyday life
Be Marie Kondo's arch enemy
Curating the happy hundred
Harnessing the power of firsts
What is the Apollo Picnic?
Using the emotional highlighter pen
The impact of sharing embarrassing stories
Storytelling helps solidify our memories
The peak-end effect
Ending on a high note
The Mandela effect
Plan and create a memorable year ahead
Show sponsors:
Vuori Clothing <== 20% off your first Vuori order
Beekeeper's Naturals <== 15% off all Beekeeper's Naturals products (free shipping on orders $60 or more)
Organifi <== 20% off all Organifi products
Perfect Keto <== 20% off all Perfect Keto products (free shipping in the US)
Related links:
Meik Wiking – The Art of Making Memories (book)
Follow Meik Wiking on Facebook, Instagram, and Twitter
Happiness Research Institute
Meik Wiking – The Little Book of Lykke (book)
Meik Wiking – The Little Book of Hygge (book)
Listen to Meik Wiking previously on TUHP (episode #211)
Andy Warhol
Marie Kondo (books)
Related episodes:
321: Neil Pasricha – You Are Awesome, Intentional Living, Becoming Anti-Fragile
286: Cal Newport – Digital Minimalism • Create Time For Solitude • Stop Socializing On Social Media
274: Ryder Carroll – The Bullet Journal Method • Declutter Your Mind • Avoid The Perfectionism Trap
252: Srinivas Rao – Creating For An Audience Of One • Creativity Leads To Happiness • Cognitive Bandwidth
157: Jim Kwik – The Key To A Better Memory • Brain Boosting Foods • The Power Of Intention
Note: Some of the links above are affiliate links. Making a purchase through these links won't cost you anything but we will receive a small commission. This is an easy, free way of supporting the podcast. Thank you!
How can you support our podcast?
1. Apple users, please subscribe and review our show on Apple Podcasts, we make sure to read them all. Android users, be sure to subscribe to our show on Google Podcasts. Subscribers never miss any of the action 😉
2. Tell a friend about The Ultimate Health Podcast. They will surely thank you later. You can use the envelope button below to email a friend or tell them about TUHP in person.
3. Join TUHP Facebook community (FREE). This is where we all stay in touch and ask questions in between episodes. Join our community.
4. Follow our adventures on our favourite social media platform, Instagram.
5. Download The Ultimate Health Podcast app (FREE). This way you'll have our whole library of episodes right at your fingertips. Download our iOS/Apple app or our Android app.
6. Share using the buttons below.
Thank you!