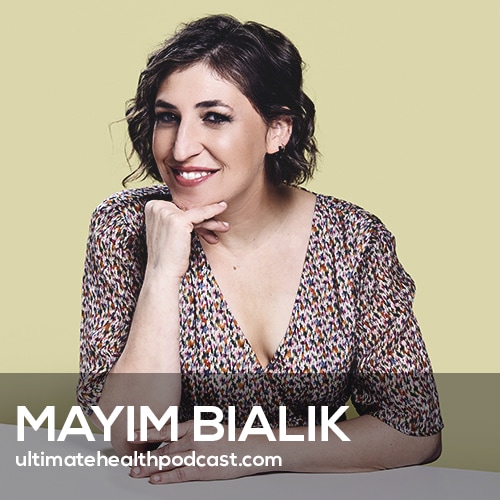 Mayim Bialik (IG: @missmayim) is an American actress, neuroscientist, author and film director. From 1991 to 1995, she played the title character of the NBC sitcom Blossom. Mayim later played neuroscientist Amy Farrah Fowler on the CBS sitcom The Big Bang Theory from 2010 to 2019.
She hosts Mayim Bialik's Breakdown, a quirky, informative, and interactive podcast breaking down the myths and misunderstandings about mental health and emotional well-being.
Watch the full video version of this conversation below.
In this episode, we discuss:
The inspiration behind Mayim Bialik's Breakdown
Mayim's mental health struggles over the years
The impact of the pandemic on introverts/extroverts
Practicing self-care during lockdown
Connecting & bonding with your children through attachment parenting principles
The boundaries of gentle discipline
Mayim's decision to leave academia to raise her children
Consciously preparing to be a mother
Navigating celebrity life with young kids
Teaching your kids about the internet & access to information
Why Mayim isn't a fan of watching her work afterwards
The Waldorf & RIE homeschool philosophy
The college system is adjusting to the rise of homeschoolers
Becoming vegetarian at age 19, later transitioning to veganism
How Mayim's sinus infections stopped after eliminating dairy from her diet
Raising healthy vegan children
Learn how to quiet your mind through meditation
Religion provides a foundation to build an ethical & spiritual framework for life
Falling in love with Judaism
Appreciating the wonder of the human experience
Teaching your kids to talk about their feelings
Mayim's OCD diagnosis
The challenges filming a sitcom during a pandemic
Mayim's future goals & upcoming projects
Show sponsors:
BiOptimizers <== 10% off BiOptimizers Magnesium Breakthrough by using the code ultimatehealth10 at checkout
Organifi <== 20% off all Organifi products
Paleovalley <== 15% off all Paleovalley products by using the code ultimatehealth at checkout
Related links:
Mayim Bialik's Breakdown (podcast)
Mayim Bialik's website
Follow Mayim Bialik on Facebook, Instagram, and YouTube
Call Me Kat, Season 1
Big Bang Theory, Season 1
Blossom: The Complete Series
Mayim Bialik – Boying Up (book)
Mayim Bialik – Girling Up (book)
Mayim Bialik – Vegan Table (book)
Mayim Bialik – Beyond The Sling (book)
Jim Parsons
Waldorf Education
Resources For Infant Educarers (RIE)
Black Lives Matter
Khan Academy
Insight Timer (app)
Sharon Salzberg (books)
Listen to Sharon Salzberg previously on TUHP (episode #105)
Hillel at UCLA
Darlene Hunt
As Sick As They Made Us
Dustin Hoffman
Candice Bergman
Simon Helberg
Related episodes:
Laura Prepon on Healing With Real Food (#406)
Andrea Hannemann (Earthy Andy) on Healing Chronic Health Issues by Embracing a Plant-Based Diet (#386)
Alicia Silverstone On Living A Responsible And Ethical Life, Waldorf Education, And Being Famous (#384)
317: Dr. Will Cole – The Inflammation Spectrum, Managing Anxiety, Homeschooling
283: Katie Wells aka Wellness Mama – Maintaining A Healthy Family, Home & Business
How can you support our podcast?
1. Apple users, please subscribe and review our show on Apple Podcasts, we make sure to read them all. Android users, be sure to subscribe to our show on Google Podcasts. Subscribers never miss any of the action 😉
2. Tell a friend about The Ultimate Health Podcast. They will surely thank you later. You can use the envelope button below to email a friend or tell them about TUHP in person.
3. Join TUHP Facebook community (FREE). This is where we all stay in touch and ask questions in between episodes. Join our community.
4. Follow our adventures on our favourite social media platform, Instagram.
5. Download The Ultimate Health Podcast app (FREE). This way you'll have our whole library of episodes right at your fingertips. Download our iOS/Apple app or our Android app.
6. Share using the buttons below.
Thank you!