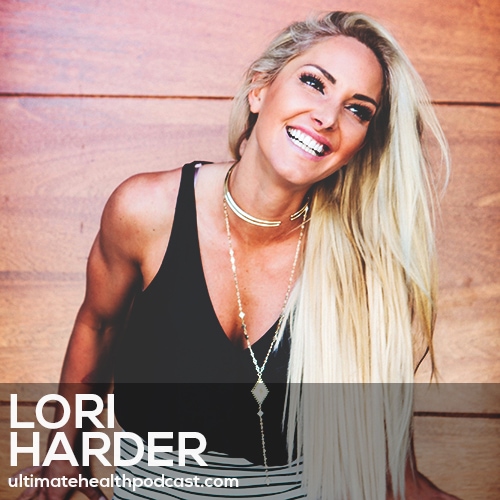 Lori Harder is a leading expert in the field of fitness, transformational work, mindfulness, and self-love. She has grown two multi-million dollar businesses as a successful entrepreneur and network marketing professional. Lori is also an author, cover model, and three-time fitness world champion. Her new book hits shelves today – A Tribe Called Bliss.
In this episode, we discuss:
Writing A Tribe Called Bliss – the unexpected
The story of Lori trading in her bliss
Changing your exterior (body) vs. changing your mindset
Lori's first panic attack in middle school
The two reasons Lori was homeschooled
Moving out at 18 years old
The party phase
Slowly changing her tribe and environment
Our beliefs can only go as far as the beliefs of those around us
Forming a small tribe of local people to meet with on a consistent basis
You can have more than one tribe
Collecting people
Forming a tribe with complete strangers
Are you attached to old relationships that aren't serving you anymore?
Remove the expectations
Stepping away from old friends
A lot of people aren't going to like seeing you change and evolve
Where there's no boundaries there is massive anxiety and resentment
What's gossip doing to us?
How Lori winds down at the end of the day
Show sponsors:
Thrive Market <== Get your membership for as low as $5 a month & receive $20 in shopping credit with a 1 year membership (US only)
Perfect Keto <== 20% off all Perfect Keto products and they ship worldwide (free shipping in the US)
Raw Elements <== 10% off all Raw Elements products – Apply the code TUHP at checkout (free shipping over $100)
Sunwarrior <== 20% off all Sunwarrior products & free shipping over $50 (US only)
Related links:
Lori Harder – A Tribe Called Bliss (book)
Lori Harder's website
Follow Lori Harder on Facebook, Instagram, and Twitter
Listen to Lori Harder previously on TUHP (episode #108)
Lindsay Sukornyk
Listen to Christiane Northrup previously on TUHP (episode #230 & #73)
Related episodes:
238: Tara Mackey – WILD Habits • Natural Ways To Calm Your Anxiety • Approaching Gratitude Differently
236: Candice Kumai – Embracing Imperfection • Connecting With Our Elders • Matcha 101
232: Sarah Wilson – Normalizing Anxiety • The Impact Of Gratitude On Your Brain • Just Walk
217: Melissa Ambrosini – Rocking Relationships • Open Wide • Vulnerability Is Vital
147: Ido Portal – It's Never Too Late To Start Moving • Find Your Tribe • Don't Stop Playing
Note: Some of the links above are affiliate links. Making a purchase through these links won't cost you anything but we will receive a small commission. This is an easy, free way of supporting the podcast. Thank you!
How can you support our podcast?
1. Apple users, please subscribe and review our show on Apple Podcasts, we make sure to read them all. Android users, be sure to subscribe to our show on Google Podcasts. Subscribers never miss any of the action 😉
2. Tell a friend about The Ultimate Health Podcast. They will surely thank you later. You can use the envelope button below to email a friend or tell them about TUHP in person.
3. Join TUHP Facebook community (FREE). This is where we all stay in touch and ask questions in between episodes. Join our community.
4. Follow our adventures on our favourite social media platform, Instagram.
5. Download The Ultimate Health Podcast app (FREE). This way you'll have our whole library of episodes right at your fingertips. Download our iOS/Apple app or our Android app.
6. Share using the buttons below.
Thank you!