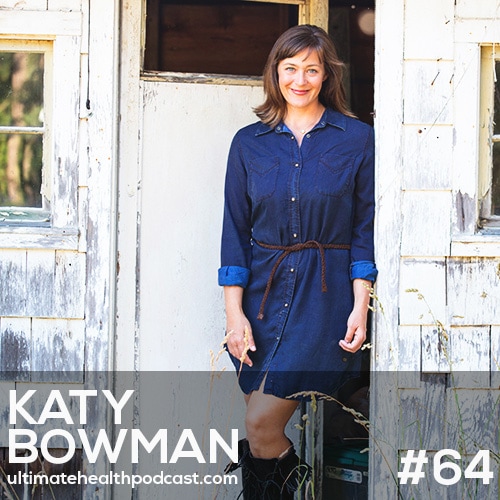 This week, we are speaking with biomechanist, Katy Bowman. She is the author of Move Your DNA and has a podcast of her own, Katy Says. Katy's thesis is to differentiate exercise and movement, she refers to movement as nutrition for our bodies.
In this episode, we discuss:
The road to becoming a biomechanist
Movement vs. exercise
Active people are typically sedentary outside their exercise time
Movement is a form of nutrition
Transitioning to minimalistic footwear
Where we are with movement now is where we were with nutrition 100 years ago
Your body evolves to its environment, for better or worse
As humans, we like to segment the body and look at individual parts
Minimalistic shoes – top brands
Consider going furniture free or using your couch less
Furniture is like junk food
Have better bowel movements by using a Squatty Potty + why it works
Anything that limits the full use of your body is a cast
An orca whale's dorsal fin flops over in captivity due to its environment (a cast)
Humans in the 21st century, what are our folded fins?
Anatomy and physiology textbooks represent sedentary human beings
The healthiest parts of your skin are the calluses
Pillows and mattresses weaken your body
Standing all day at work, isn't the answer
Related links:
Sunwarrior <== 20% off all Sunwarrior products & free shipping over $50 (US only)
Katy Bowman – Move Your DNA (book)
Katy Bowman's website
Follow Katy (Nutritious Movement) on Facebook, and Instagram
Katy Says – Episode 29: The Skin Show (iTunes)
Related episodes:
093: Dr. Kelly Starrett – The Ultimate Standing Desk • Sleep Better After Smashing Your Tissues • Create A Movement Rich Environment
175: Focus Friday – How We Move
147: Ido Portal – It's Never Too Late To Start Moving • Find Your Tribe • Don't Stop Playing
103: Erwan Le Corre – Reconnect With Your Body's Natural Ability To Move
075: Abel James – Live More By Buying Less | Long-Term Weight Loss Strategies | HITT Wins Over Long Endurance Exercise
Note: Some of the links above are affiliate links. Making a purchase through these links won't cost you anything but we will receive a small commission. This is an easy, free way of supporting the podcast. Thank you!
How can you support our podcast?
1. Apple users, please subscribe and review our show on Apple Podcasts, we make sure to read them all. Android users, be sure to subscribe to our show on Google Podcasts. Subscribers never miss any of the action 😉
2. Tell a friend about The Ultimate Health Podcast. They will surely thank you later. You can use the envelope button below to email a friend or tell them about TUHP in person.
3. Join TUHP Facebook community (FREE). This is where we all stay in touch and ask questions in between episodes. Join our community.
4. Follow our adventures on our favourite social media platform, Instagram.
5. Download The Ultimate Health Podcast app (FREE). This way you'll have our whole library of episodes right at your fingertips. Download our iOS/Apple app or our Android app.
6. Share using the buttons below.
Thank you!